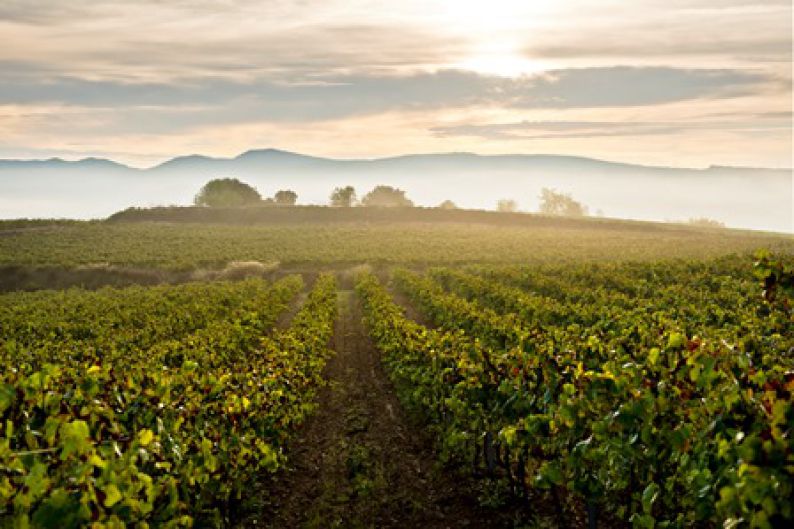 There are occasions when you feel fortunate not only to taste great wines, but because you have the impression of experiencing a defining 'before and after' moment in the way you understand certain wines. This moment occurred during an unforgettable tasting organized by Bodegas Gramona, which helped confirm for us various facets of sparkling wines that challenge the established clichés, and reveal to us a new dimension of what these types of wine are like and just what levels they can reach. Xavier Gramona, one of the bodega's proprietors, led the tasting in magisterial fashion, introducing us to the secrets of this historic winery.
Pau Batlle was a wine trader who, in the mid-19th century, made a fortune enabling him to buy an estate called "La Plana", on which his father had already worked. Pau Batlle's daughter married Josep Gramona and started the production of sparkling wines.
In 1951, thanks to an accident of history, production of long-aged Cavas began. During the Spanish Civil War, part of the winery in which they were storing old wines made from the xarel.lo grape was bordered up. This grape variety was being sold to Champagne producers and showed a remarkable capacity for ageing.
Their first long-aged Cava was a Brut called II Lustros, a name subsequently registered by the Castellblanc winery. Hence a change to the current III Lustros, a sparkling wine that has been classified as a Brut Nature since the 1980's and is aged in bottle for seven years. Later came Celler Batlle, aged for ten years and, more recently, Enoteca, a cava aged for 12 years.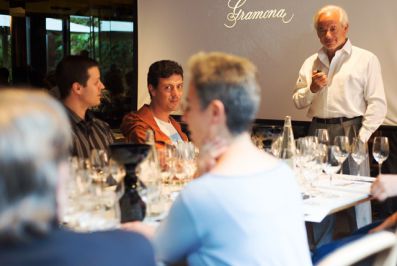 A moment of the vertical tasting of Gramona carried out at Monvínic Most of Gramona's long-aged cavas come from grapes of the xarel.lo variety grown at "La Plana", an estate situated in the basin of the river Anoia on clay-limestone soils with sand and river stones. Consequently, they are some of the few long-aged cavas to come from a single estate. In recent years the winery has undergone a transition towards biodynamic growing, something which has enabled its vineyards to become better prepared for the adverse effects of climate change which viticulturists know all-too-well.
We mentioned above that certain myths relating to cava were dismantled after trying these wines, first and most obviously the one which states that cava must be consumed in one year at most after disgorgement. Xavier Gramona asked an interesting question: what is a great wine? Among the diverse characteristics a great wine must display such as balance, complexity, and persistence, there is one that is essential for every great wine, namely the capacity to age, refine itself and gain in complexity. Gramona's long-aged cavas show that they are complex, age-worthy wines, capable of evolving, and which are far from the stereotype of thirst-quenching wines with bubbles.
This then was a tasting which invited us wine professionals and wine lovers to cellar-age bottles of fine sparkling wine to enable them to reach their finest expression and balance, just as we would any other fine wine.

GRAMONA III LUSTROS GRAN RESERVA BRUT NATURE 2007
The tasting started with a wine that has upheld the prestige of the brand. A wine of great aromatic complexity, thanks to its seven years of ageing, but, only six months after its disgorgement, undoubtedly very young and somewhat undeveloped. Colour-wise, there are still greenish glints, while strong aniseed aromas offset the ageing notes. The delicate bubbles and crisp, thirst-quenching acidity merge in a vibrant palate that delivers a dry finish.
An ideal wine for those who value the subtly spicy and refreshing sensation produced by carbon dioxide, but which over time becomes more complex and settled.
GRAMONA CELLER BATLLE GRAN RESERVA BRUT 2005
With two more years on the lees than the III Lustros and Gramona's unique dosage of aged oxidised rancio wines, this has been a reference wine among long-aged cavas. Subtle and delicate on the nose, but with all the nuances and complexity brought by ten years ageing. A Brut cava, which is fresh and creamy on entry to the palate, with a long, dry finish, despite the unique house liqueur d'expédition.
GRAMONA ENOTECA GRAN RESERVA BRUT NATURE 2001
After twelve years ageing and six months after disgorgement, this is a wine of great complexity with aromas of brioche, pastries and honey. Full-bodied and juicy on the palate, with fresh, vibrant acidity, it reveals a long, dry and subtly citric finish. A wine already capable of giving pleasure, it may bring intense joy to those willing to wait.
GRAMONA ENOTECA GRAN RESERVA BRUT 2001
The previous wine's Brut version, in which aniseed aromas and refreshing balsamic aromas take centre stage, together with the classic hints of pastries typical of ageing and an elegant note of orange peel. The delicate bubbles and liqueur combine to furnish a rather opulent and full-bodied mouth-feel, counteracted by a tangible and delicious citric acidity and a dry finish that balances the dosage.
GRAMONA III LUSTROS GRAN RESERVA BRUT NATURE 2003
A bold decision at first glance, faced as we were with one of the toughest vintages in recent memory. The blazing heat of 2003 lasted many months with no respite, truly uncompromising conditions which led to the decision not to produce either Celler Batlle or Enoteca. Yet in difficult years like these, great vineyards measure up and so, five years after disgorgement, the wine has taken on a golden colour indicating a certain evolution. On the nose, it moves between sweet notes and hints of toast and hazelnuts; its entry on the palate is soft and full-bodied thanks to a creamy mousse which gives way to still-fresh acidity and a dry, reasonably long and subtly warm finish.
GRAMONA CELLER BATLLE GRAN RESERVA BRUT 2002
Three years after its disgorgement, this Celler Batlle is still lively, if perhaps one of the lightest-bodied (no doubt owing to the vintage). Fragrant, if a little austere, on the nose, it becomes very fresh and nervy on the palate. A straightforward wine with a rather short finish, it does have a certain complexity, exhibiting the classic toasty aromas acquired through long ageing.
GRAMONA ENOTECA GRAN RESERVA BRUT NATURE 2000
We now return to Enoteca, in this case the first vintage to come onto the market. Three years have passed since it was separated from the protection of the lees and its evolution in the bottle began. At present, its liveliness is maintained by a refreshing acidity which adds depth. The carbon dioxide appears well-integrated, increasing the impression of body on the palate, combining with perfumed aromas of aniseed and orange peel over the classic sweet backdrop of pastries.
GRAMONA ENOTECA GRAN RESERVA BRUT 2000
Here again is the Brut version, also three years after disgorgement. Very closed on the nose, this wine requires time and a relatively large glass. Displaying classic aromas of ageing, it has a pleasant, rather opulent entry on the palate and a fresh, elegant ambience. Already giving great pleasure, this wine may possibly reveal greater complexity over time.
GRAMONA CELLER BATLLE GRAN RESERVA BRUT 1999
Seven years since disgorgement!!! This is irrefutable proof of the first-rate ageing ability of a great cava from a great vintage. Closed on the nose, it needs time to unfold the full nature of its aromatic complexity made up of sweet notes of honey, brioche and perfumed hints of cinnamon against a pleasing balsamic backdrop. Like all great wines, it is compact, dense and full on the palate, with a near-perfect balance. With a long lasting finish of dried fruits and honey, its lively acidity augurs a lengthy future.
[GAL]
Recommended articles
Comments