Grenaches du Monde 2022. The result are out!!!
Last week, the 10th edition of Grenaches du Monde was held in Navarre (Spain). Nearly 900 wines were tasted by a panel of international experts of 12 different nationalities. A premiere! This is the 10th edition of this competition, which has been travelling through the great Grenache terroirs since 2013: Roussillon, Navarre, Catalonia, Aragon, Sardinia, Languedoc, Châteauneuf-du-Pape, Sierra de Gredos, Italian Marches... Breaking news: the next edition of the competition will take place in New York in the USA!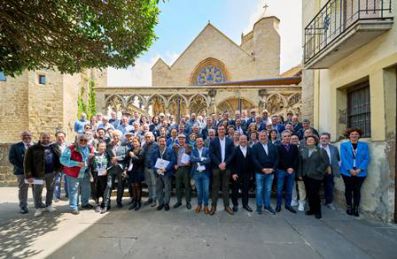 The great journey of the Grenaches du Monde continues. The 10th edition of this travelling competition was held in Olite in Navarre on May 5 and 6. Some 80 tasters from 12 different countries (Korea, Japan, USA, Belgium, Germany, UK, Andorra, Colombia, Uruguay, France, Italy, and Spain) took part. This was a perfect edition thanks to a solid partnership with the Spanish appellation of Navarra wines, which thus reaffirmed its commitment to the identity of Grenache, the historic and emblematic grape variety of the region.
"For the contest and its initiator, the Conseil Interprofessionnel des Vins du Roussillon, it is with pride that we see the great family of Grenaches du Monde grow with Navarre as a partner. In Olite we have found a partner of choice who has enabled us to celebrate our 10th anniversary in perfect conditions", explains Fabrice Rieu, President of the Contest. "We are very pleased to have been selected to organise this prestigious international contest. This recognition encourages the wineries and winegrowers of Navarre to continue the effort and work they have done to put Navarre on the world map of Grenache", confirms Javier Santafé, Director General of the D.O. Navarra Regulatory Council.
The organisation of the contest ended in the Salle d'Armes of the Citadel of Pamplona, with the Garnoche: a festive Night of the Grenaches of Navarre (and of the World!) open to a public of enlightened amateurs. The occasion for Stéphane Zanella, president of the Conseil Interprofessionnel des Vins du Roussillon, to confirm the next stage of the contest which will leave the European Grenache terroirs for the first time in 2023: "We have been working on the New York edition for two years, but Covid has forced us to postpone the event. In 2023, the contest will be a luxury showcase for Grenache and its wines in the world's largest market," he explains.

The results, marked by an impressive increase in the quality of the wines entered in the competition, are available online at grenachesdumonde.com.

Recommended articles
Comments