La symphonie des 13 cépages
Châteauneuf-du-Pape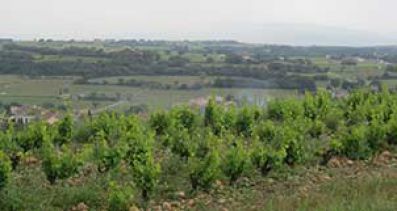 The saying goes that there are lands touched by God's hand where the fruit of the vines becomes a blessing. Among these lands 'chosen' by divine hand, you could not fail to include Châteauneuf-du-Pape, a French Appellation d'Origine Contrôlée (AOC) with a very long track record and global prestige, a region located four hours from Barcelona.
Intensity, balance, authenticity and rusticity, elegance and an extraordinary freshness are qualities ascribed to these heavenly wines which have their considerable corpulence, tannicity and high alcohol content carefully controlled and concealed. They are wines singled out for their puissance, effectively for their power and potency. The story goes that the Knights Templar had already started growing vines in this delightful place in the 12th Century, long before they came to the notice of the Popes of Avignon.
Despite that, the planting of the present-day Châteauneuf-du-Pape AOC vineyards, which cover around 3,200 hectares, is attributed to the Valencian pontiff, Juan XXII (the Papa Luna). Yields are not allowed to exceed 35 litres per hectare. Ahead of other illustrious regions, Châteauneuf wines were already being subjected to rigorous quality control procedures, established by Baron Le Roy de Boiseaumarié in 1923. The AOC was formally recognised in 1931. Mention is frequently made of the variety of soils, from calcareous and clayey to sandy and those with a predominance of the famous pebbles (cailloux).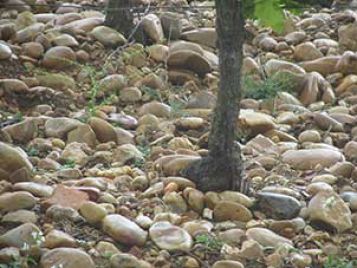 Although its wines are known for the composition resulting from an assamblage of 13 grape varieties (6 of them white), in the countryside of the southern vineyards lying in the valley of the swiftly-flowing Rhône, varieties which have been successfully cultivated and combined are Grenache Noir, Mourvèdre (it has been suggested that it is not exactly the same variety as the Spanish Monastrell), Syrah, Cinsault, Vaccarèse, Picpoul Noir, Counoise, Terret Noir, Muscardin, Grenache Blanc, Clairette Blanche and Rose, Picpoul Blanc, Roussanne, Marsanne, Bourboulenc, Picardan… Especially important is the Grenache red wine grape which endows an aromatic potency and a wealth of nuances, with notes of Cassis, Kirsch, liquorice and fleshy stone fruits such as apricots and plums.
The great expert on viticulture and writer, Mauricio Wiesenthal, reminds us that "wine connoisseurs know that some of the best red wines in the world, from ancient times, originate from Mediterranean vineyards. Vigorous and spirited, the Rhône flows down through the French Midi towards the south in search of the sun. Extending over its two banks are the famous vineyards, acknowledged to be the oldest in France, which give exceptional wines". I would add that in Châteauneuf they also make memorable whites capable of considerable ageing.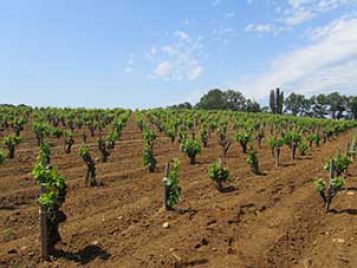 I have recently had the opportunity of taking an in-depth look at some of the wineries spearheading Châteauneuf-du-Pape, where staunch tradition and modernity in the Burgundian style co-exist harmoniously. Together with the use of a fair amount of wood in old and extremely old casks, fermentations occur in concrete vats, ceramic tanks, barrels and stainless steel tanks. Organic and biodynamic farming are gaining recognition in Châteauneuf-du-Pape, known for its exemplary viticulture, and some people there are also opting for the lutte raisonnée (the reasoned struggle) where fermentations with native (indigenous) yeasts and the scant use of sulphur have triumphed. Few producers filter their wines.
Domaine du Banneret
Among the more traditional I came across the Domaine du Banneret of Jean-Claude Vidal (73 years old and a direct descendent of the owners of some ancient vineyards situated in several parcels in the old ruins of the castle belonging to the Avignon Popes). He has spent 22 years using native yeasts and has never had any problem with fermentation. He sells his wines from his ramshackle winery, costing from 30 Euros for the 2009 vintage to 150 Euros for the 1990. These wines have great cellar potential, they are complex, rounded, with ripe jammy fruit (red and black) blending with liquorice, fennel, undergrowth (herb infusions) cocoa, leather and barnyard notes. They even produce Marc (a distilled brandy selling at 35 Euros). Jean-Claude Vidal's daughter, who has an acute sense of smell according to her mother, could provide this wine-growing project with continuity.
Château Rayas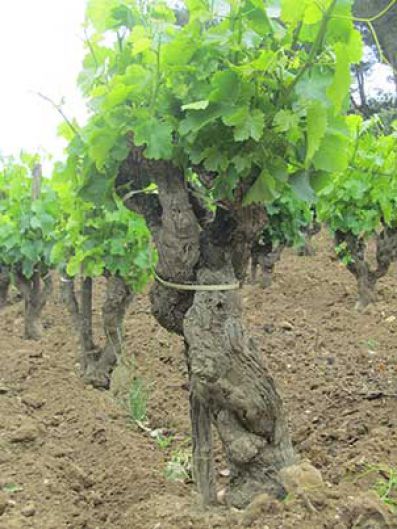 In the same classic vein is one of the most mythical companies in the world, Emmanuel Reynaud's Château Rayas. This vine-grower and wine-maker is straightforward, honest, incisive, passionate and categorically clear-cut in his ideas. He might seem somewhat unapproachable from his countenance and bearing. He is, however, a fascinating person who began the visit to his estate on foot by showing the special features of some grapevines planted on sandy and clayey ground surrounded by woodland. It is an exceptional terroir, with endearingly lovely vineyards excellently worked and laid out. Emmanuel took charge of the domaines in 1997 (Château Rayas, Château de Fonsalette and Château des Tours) after the sudden death of his uncle, Jacques Reynaud. Rayas is a small domaine of ten hectares of vines set amongst woods that channel the air as it passes through. The soils are very sandy and poor. They give rise to wines of great finesse made from red Grenache, Syrah and Clairette Blanche.
I was lucky enough to taste with Emmanuel some Grenaches and Syrahs from the old casks and, more importantly, I imbibed his philosophy. He maintains that what is really important is "each person's sensitivity", and what constitutes the significant work is carried out in the vineyard rather than what transpires in his dismally dark cellar. Therefore, he fervently believes that "each plot of land has a story to tell". He also feels that it is "great stupidity" to claim that acidity brings freshness to wines. His Grenaches are mineral, spicy (pepper, cloves and cardamom), fruit-forward (red and black berries) and floral, with alcohol strength but fresh, silky and fine. I tasted the splendid Rayas Grenache, the magnificent Pignan Grenache and the fascinating Fonsalette Grenache and Syrah. I tasted them and was totally enthralled.
La Vieille Julienne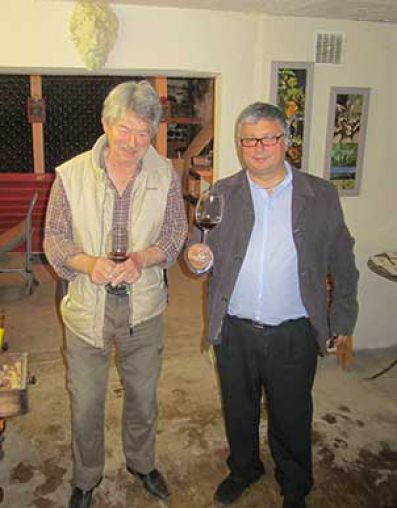 A visit to La Vieille Julienne also aroused very positive sensations, an exceptional domaine acquired in 1905 by the great-grandfather of the present owner, Jean-Paul Daumen. It comprises ten hectares in Châteauneuf-du-Pape and another five in the Côtes du Rhône (Lieu-dit Clavin). Their 2010 white wine made from Clairette Blanche, Marsanne and Bourboulenc offers structure, an oily feel (contact with the lees also provides protection against oxidation), baked apple and fennel notes, and a definite alcohol presence (14.3º). The Grenache (80%), Cinsault, (10%), Syrah (5%) and Mourvèdre (5%) 2010 Côtes du Rhône shows a good extraction of colour and generous fruit intensity, whilst the Grenache (70%) and Cinsault 2009 Châteauneuf-du-Pape is rounded but still tannic.
It is remarkable too for its fruit and, in particular, for its freshness. But a wine that really impressed me at La Vieille Julienne was the 2006 vintage of their Réservé. It is a red in the 200 to 500 Euro price range and a pure thoroughbred. It appears very open right from the start, exhibiting notes of prunes, liquorice, red and black berried fruits, and has excellent acidity. I was thrilled with its depth and its great elegance. It has been aged in cask for 12 months and attained 16.5%. The creation of a house style and type through a firm belief in the terroir and by using the most natural vinification processes possible forms the basis of Jean-Paul Daumen's philosophy. It comes as no surprise that some of his Réservé vintages have been awarded 100 Parker points.
Clos des Papes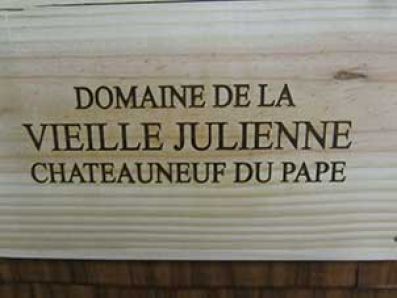 'Le temps est argent. L'exactitude est la première qualité de l'ouvrier consciencieux. Remarquez! Ce sont toujours les mêmes qui arrivent en retard'. These sentiments, expressing a lot of truth, can be seen on a sign from the days of the present owner's great grand-father and welcomes visitors to the Clos des Papes winery. Times were different then. Today, this is a project brought right up to date which has incorporated the Burgundian mentality – refined elegance is sought in preference to muscular body and powerfulness- after Paul-Vincent Avril (descended from a family line of wine-makers dating back to the early 17th Century) took charge of the domaine in Avenue Pierre de Luxembourg in Châteauneuf-du-Pape. The brand has gained great international importance, especially since in 2007 the prestigious Wine Spectator magazine placed its 2005 vintage red wine amongst the leaders of their Top 100 with 98 points, and priced at 80 Dollars (it was tenth on the list in 2010 with the 2009 vintage of its excellent white wine which obtained 95 points and cost 75 Euros).
Paul-Vincent Avril works wholeheartedly at showing his terroir all due respect and operates the winery by means of gravity. He uses a crushing machine, heat exchanger cooling systems, ceramic tanks and casks. He carries out gentle pressing with a pneumatic press and malolactic fermentation takes place in the vats, using the residual carbonic acid as a natural preservative for the wines. He does not use the 'pigeage' method (submerging the cap of grape skins during fermentation) or the 'délastage' technique (removal of the must from the tank and then adding it again in order to break down the cap and maximise extraction). Pumping over occurs for 15 minutes twice daily. Production stands at around 70,000 bottles (10% white wines). Yields are obtained of 20 hectolitres per hectare. 80% of production is exported to around 35 countries all over the world.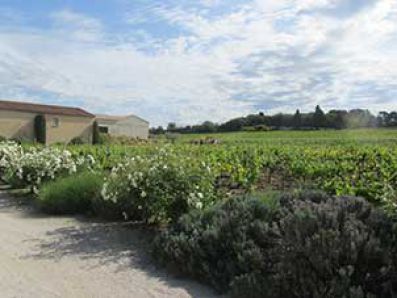 I tasted from the cask red wines of several coupages (Grenache, Mourvèdre and Syrah) which are later blended. There was evidence of the residual carbonic gas, but also present were ripe fruit, fleshiness and richness, liquorice, red and black fruits, floral notes... I tasted as well certain vintages in his winery's informal but pleasant tasting room. The 2008 vintage is floral, displaying notes of red fruits (cherries and forest fruits) and aromatic wild herb infusions (camomile and thyme). The 2005 one is perfect, rounded, hedonistic, balanced, elegant, with silky tannins and fresh although initially a little closed. When I sampled the 2010 (in May) it had only been bottled three weeks before: it is a tannic wine, with marked acidity, explosive and exhibiting plum notes (15.9%). I also liked the 2009 vintage very much, despite it too appearing closed. It is a fine year, noted for its touches of liquorice. However, the one I most enjoyed was the 2006. It is a highly concentrated wine, tannic, with notes of cherries in liquor and great freshness. It is a wine with a long life ahead and most interesting.
I also had the chance to try the 1990 vintage (made with 100% whole stems: the herbaceous part that contains tannins, potassium, calcium and water). This was the third millésimé to be made by Paul-Vincent Avril. It is a strong wine with liquorice notes, mineral and really surprising menthol freshness. I found his whites just as impressive. Paul-Vincent Avril gave me three vintages to taste in order to show how majestically they mature and evolve. It was quite a lesson. The 2011 vintage is full of fruit (peaches and pears) with floral, honey and mineral hints. The 2009 comes over as more floral (camomile infusion) and offers more freshness, despite its honey notes. The one from 2004 surprises with its hydrocarbons (petroleum) but also its honey notes, minerality and extraordinary freshness. The white wine tasting ended with the 2001 vintage, in which the mineral hints (iodine) and elegance stood out remarkably. At Clos des Papes I also liked their Vin de France: Le petit vin d'Avril.
Chêne Bleu
"Rhône tradition in the setting of an innovative perspective". This is by way of introduction for the modern wine-growing project Chêne Bleu, which comprises family-owned vineyards and a luxury residence in an absolutely stunning setting, namely the limestone ridges of Dentelles de Montmirail (Provence), where parts of the landscape are reminiscent of the Sierra de Llaberia, in the Montsant DO. The marketing and project development of the Chêne Bleu venture are under the direction of Nicole Sierra-Rolet, who also presides over the international association Grenache Symposium. At Chêne Bleu (the blue oak) they are aiming to make wines of "excellence" with total regard for nature. Their objective is to create natural, elegant and complex wines. At their winery I tasted their fresh and citrusy Viognier 2010, which exhibits notes of exotic fruits (lychee); their Astralade 2008 (a fairly light and delicate red Grenache and Syrah wine from a difficult year which is on sale at 16 Euros) and the robust but fruit-laden and fresh Héloïsse 2006 (in its assamblage the dominant grape is Syrah, supplying 80%, topped up with Grenache).
Clos de Trias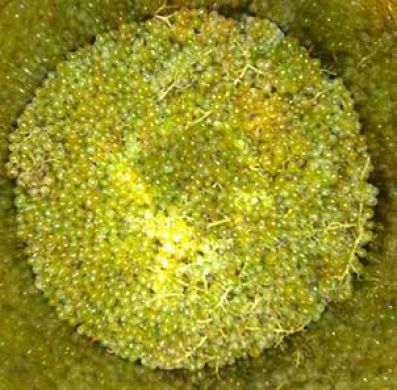 My travels around the Provence region finished up with the wines of a most interesting enterprise, the Clos de Trias (Ventoux AOC) of Even A. Bakke. From his old, calcareous, limestone and fossil vineyards come forth such interesting wines as his Vielles Vignes 2007, a very balsamic, robust and elegant red which has been selling at 25 Euros since last Christmas. Worthy of special mention are its prune and black olive tapenade notes. It is made from Grenache and a small amount of Syrah. I also tasted his very reasonably priced red (8.50 Euros), the Clos de Trias 2008, made from Grenache (75%), Syrah (20%), Carignan and Samsó. But, among the wines of Even A. Bakke, with roots in Norway, I was definitely most impressed with the one dedicated to the wild boar that devastated part of the crop: Pied Porchier 2007, originating from a high altitude, north-facing parcel. Its production run only amounts to 2,200 bottles, priced at 45 Euros. It is a hedonistic red Grenache, mineral, exhibiting notes of plums and wonderful wild roses.
Vinyes Domènech, in the heart of Châteauneuf
In May, Vinyes Domènech de Capçanes (Montsant DO) became the first Catalan and Spanish winery to present their wines to Châteauneuf-du-Pape AOC producers. The event took place in the traditional Provençal auberge La Mère Germaine, which is run with flair and passion by André Mazy and Guillaume Dalverny, and where wine plays a leading role. The presentation of wines by Vinyes Domènech, in the heart of Châteauneuf-du-Pape, incorporated among others their hedonistic Hairy Grenache Teixar 2009 (95 Parker points), and also included an exhibition by the contemporary artist Stephan Venekas and a live jazz performance by the Jazz Mix Quartet of Salon Beaumes.
Joan Ignasi Domènech, the owner of Vinyes Domènech and President of the Catalan association, Terra de Garnatxes, highlighted the geological factors and characteristics of the micro-climates and ampelography that make his project unique, located as it is in the foothills of the Llaberia mountain range, in a landscape that bears a striking resemblance to the setting of projects such as Chêne Bleu (La Verrière) run by Nicole Roulet –the President of the Grenache Symposium Association- and the Clos de Trias (Le Barroux) of Even A. Bakke. The presentation of Vinyes Domènech wines in this hotel and restaurant on Rue Commandant Lemaitre in Châteauneuf-du-Pape also enjoyed the collaboration of Kelly McAuliffe, the American sommelier operating in Provence, and was an event attended by some of the most notable wine producers in this renowned region.
Recommended articles
Comments