A trip round the record-breaking Priorat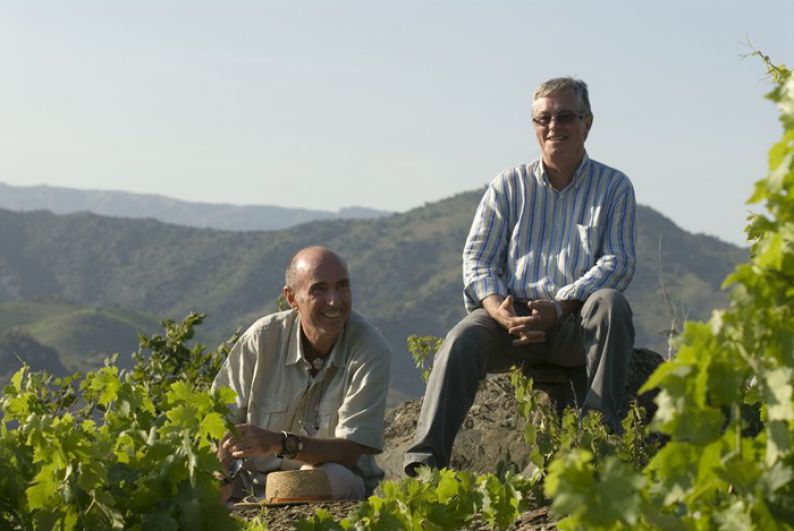 The owners of the winery Vall Llach
Despite the deep-seated economic recession, the Priorat Qualified Denomination of Origin achieved record sales figures for last year. Turnover increased by a significant 30% in the year 2011 (850,000 more bottles), and attained a record total of 3.78 million bottles, with the most notable rise in the last seven financial years. In addition, the Priorat DOQ is continuing to grow and now numbers 96 registered wineries. There has also been an increase in the number of vine growers, with the total up to 637. Although in truth the average price of wines has decreased in recent years, Priorat wines keep conquering new international markets. They are currently exported to more than 60 countries, with the United States and Germany retaining their status as the chief domains. Besides, an emerging market has begun to open up in China and South-East Asia. The President of the Priorat DOQ Regulatory Council, Toni Alcover, pointed out that the latest figures reflect that "the effort targeted on quality and internationalisation has been rewarded within a context of economic problems".
Wines from the Priorat, moreover, continue to emerge as clear favourites in the latest ratings of, in equal measures, the most highly praised and criticised wine guide in the world: The Wine Advocate, of the Baltimore guru, Robert Parker. As many as six Priorats, three Cavas and a Costers del Segre occupy the ten top places in the Parker ratings for Catalunya and the Balearic Islands, which was drawn up for the first time by the British taster, Neal Martin. If an analysis is made of the 20 highest scoring wines, the American guide's preferences appear all the more crystal clear: 12 are Priorats (from Mas Martinet, Clos Mogador, Álvaro Palacios, Terroir al Límit and Portal del Priorat). The Regulatory Council of the Priorat DOQ gave a positive evaluation of the scores "within the context of the recognition that Priorats have obtained in recent years all over the world". They added that these good results represent "a new incentive for wineries and grape growers to keep maintaining high quality standards and their allegiance to the region when it comes to cultivating and producing their wines".
Clos Mogador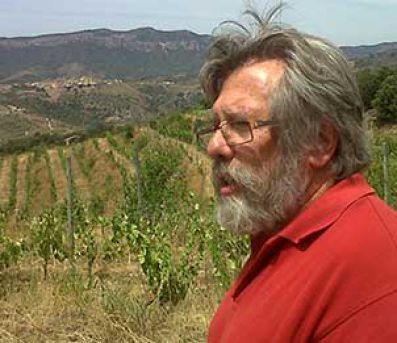 Last summer, I witnessed at first hand some very dedicated wine-producing ventures and went round one of the most important projects in the Priorat region which, despite the difficult times, maintains its position as clear market leader among the most famous wines on the planet. I started off the tour in the middle of July with Clos Mogador, visiting in the company of René Barbier the vines which provide the majority of the grapes for the sensational white wine, Nelin. The strident song of hundreds and hundreds of cicadas in the blazing sunshine, growing so loud that it became a deafening whirr, greeted us at Nelin (Gratallops). On this estate, the grapevines are overrun with aromatic plants and flowers, teeming with insects
René, who has now notched up more than 30 years in vines and more than 20 in wine with his Clos Mogador, the marvellous single vineyard wine emanating from a slate amphitheatre, has not lost one jot of his enthusiasm. He still looks upon himself as "more of a philosopher than a wine grower", and declares that he makes wine where he has fallen in love with the location. He continues, as well, to be a fervent supporter of the philosophy of terroir. As he claims in his splendid book commemorating Clos Mogador: "It is possible to feel and taste the fruits the land provides us with, to capture the DNA of a place by experiencing it. Consequently, it is possible to love a terroir, give it help, work with it, and finally convey it in a bottle".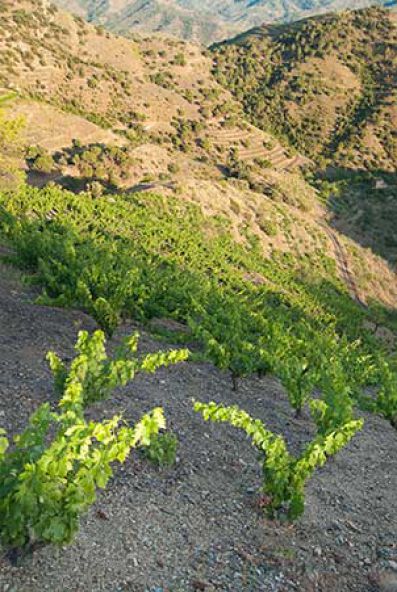 Continuing in the company of René Barbier and the journalist and writer, Empar Moliner, we tasted the seductive Manyetes 2009 (90% Cariñena and 10% Garnacha), a balsamic and mineral Village Wine which, right from the very start, comes over as exuberant, with a strong fruit presence and some very well-defined menthol notes. We tasted too the Nelin 2010, a white with obvious maturity and notes of dried apricots, fruits and nuts. This is a white with the mindset of a red, a white as René informs us that "Is not one to cool you down". This wizard of the new Priorat also presented us with a veritable jewel, the 2002 Clos Mogador, an utterly pleasurable, mature, balsamic and profound red wine which appears more youthful than it really is.
Vall Llach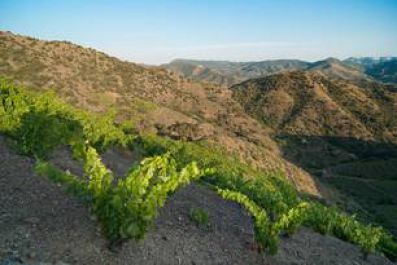 Then in August I visited Vall Llach in Porrera, where they were working on a few rancio types and a natural sweet wine which are made in keeping with a very traditional style. There they were making final preparations for the release of their latest red, a remarkable Village Wine which was going on the market ready for the Christmas campaign at around 60 Euros. Salustià Álvarez, with his usual enthusiasm, is showcasing a project set up by the notary Oriol Costa and the singer-songwriter Lluís Llach, totally committed to the controlled micro-production of the estates and old vineyards "with the objective of ensuring that quality always prevails over quantity". Vall Llach maintains its well-defined mature style with Cariñena and Garnacha variety vines aged between 60 and 90 years old. At Vall Llach they are still working out of their two wineries, one for production (La Final) and the other for ageing (located at the Cal Valdrich manor house), with the aim of obtaining "fascinating and exclusive wines".
Ferrer Bobet
My summer tour round the Priorat also took me to the magnificent Ferrer Bobet project (Sergi Ferrer-Salat and Raül Bobet with the collaboration of the oenologist Isabel Fortuny). They maintain a philosophy of "respect" for the Priorat's wine-making tradition whilst aiming for wines of extreme elegance despite their concentration and robustness. Prime examples of this are the two red wines shown to us by Isabel Fortuny. We tasted the Ferrer Bobet 2010 (70% Cariñena and 30% Garnacha), a wine with plenty of fruit (jelly beans reminiscent of red fruits, such as strawberries with cream), very good acidity, and very fresh (menthol). With a production close to 18,000 bottles, this vintage, according to Isabel Fortuny, "has the freshness of the 2008 and the body of the 2009". We were also offered the tremendous (in spite of the fact that it will improve considerably with the rounding-off it will undergo in bottle) Selecció Especial 2010: black fruits and floral notes (violets) in a really excellent red, very complex and mineral (pencil lead).
Viticultors Mas d'en Gil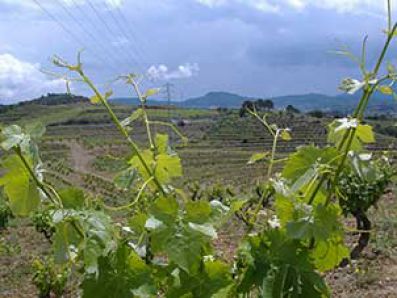 Totally passionate, the owner of Viticultors Mas d'en Gil, Pere Rovira, took me on the umpteenth visit of the 43 parcels comprising his spectacular 125 hectare estate in the municipal district of Bellmunt del Priorat. Mas d'en Gil, according to Pere Rovira, represents a lot more than a winery "engaged in producing top quality wines". It is a dream come true. Above all, for its founder it means the "immense personal satisfaction of finishing off a long career in the wine world with the chance of making a dream come true: after a whole lifetime dedicated to acquiring knowledge about wine and land, it signifies an opportunity to carry out his most personal project and be able to participate in the whole process from the beginning, together with his family and an enthusiastic team, taking consummate care of every detail, from vineyard to wine presentation, as an expression of his dedication and expertise".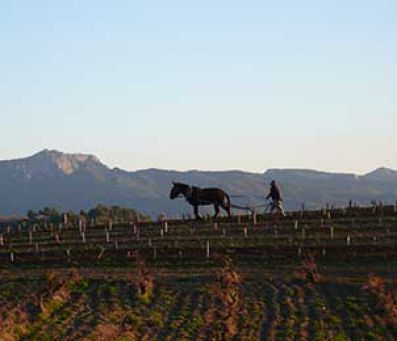 Although they are heading along the biodynamic path and have just enlisted the services of a new mule, Clara, they are also entering the home stretch of their latest major project: at their traditional vinegar-making factory they are making a high quality, very concentrated vinegar which is set to become one of the best in the world despite the fact that they can only provide a very limited production of 6 litres a year. The visit, which lasted for four hours, came to an end with an informative tasting of his wines, capable of doing extremely well with a very good price-quality relationship. The tasting (taking place on a lovely day) started off with the white Coma Alta 2010 (Garnacha and Viognier with a touch of oak): a wine displaying clear notes of peaches, fennel and cocoa. On the palate it reveals a hint of bitter almonds and good acidity. It is a wine which year after year relies more heavily on fruit and gradually reduces the oak. Hard to believe that it is 15%.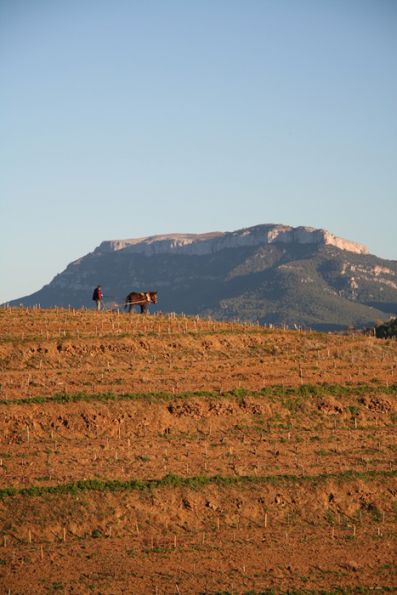 The tasting continued with the 2008 Coma Vella (a difficult year). This Coma Vella, however, is mature, rounded with red fruit notes due to the Garnacha and with definite hints of eucalyptus. The third wine, a Clos Fontà from 2007, showed remarkable depth, notable tannic strength and incredible menthol freshness. It is very long and thoroughly likeable. Worth highlighting are its elegance and notes of candied orange peel and black olives (60% Cariñena with the rest Garnacha). The review of the Mas d'en Gil product range concluded with the great Nus 2009, a natural sweet wine, which comes over on the nose like a still wine, but on the palate the sweetness is apparent but not at all cloying. The 18 grams of sugar per litre are well integrated into this memorable wine.
Scala Dei
At the historic winery of Scala Dei, thanks to oenologist Ricard Rofes and Diego Lo Prete, director of communication and marketing for the Codorníu Group, I learned at first hand of their ambitious new projects. The old, rather gloomy shop at Scala Dei, along with the old wine jars, has been replaced by a comfortable, modern ecotourism centre focussing on the world of wine tasting.
But the main new element, following an important change of course after the 2007 harvest, coinciding with Rofes becoming involved, are the new, very top of the range wines which should start appearing on the market from this March. I tasted the wines in their original vineyards and it is their personality that Scala Dei really intends expressing through their great low-production Garnachas. The llicorella slate of the La Creueta parcel (with vines aged around 48 years old), the pebbles of Artigots (with 55 year-old Garnachas) and the clay at Sant Antoni, with vines also planted over half a century ago, have enabled production of three excellent Garnachas, which will be on sale together in the same box for around 180 Euros. They are wines from the 2010 vintage and what particularly caught my attention was the one made with grapes from La Creueta. It is a very mineral red wine, with black fruit (blackberries) and balsamic notes, and stands out especially because of its long and extremely fresh finish which makes it very elegant indeed. With these three great wines originating in ancient vineyards that were cultivated by the monks of the Cartuja de Scala Dei they hope to obtain the distinction of Vi de Finca (Estate Wine), an honour which for the present only Clos Mogador possesses.
Over the last few years, they have been working at Cellers Scala Dei to make improvements in quality, adapting the winery to their 41 different vineyards. They own 66 hectares of vineyards, to which they can add 12 hectares belonging to suppliers that are under their direct control. In 2011 they managed to carry out 56 different vinifications. Along with Ricard Rofes and Diego Lo Petre, I was able to do an extensive vertical tasting of their wines and two magnificent gems: the 1974 and 1975 Cartoixa (the latter historic vintage was the one I preferred).
Saó del Coster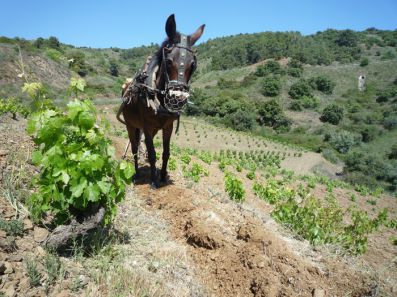 I brought my Priorat tour to a close with a visit to the vineyards and small artisan winery of Saó del Coster, in Gratallops. Fredi Torres from Galicia, quite a reference point for the new Priorat after ending his deejay days in Lausanne, has turned into an up-and-coming vine grower and wine producer. Without hesitation, he claims to prefer working the land with his mules, Morena and Pepe than with the tractor and now has around seventy hens too. Fredi Torres supports farming with animal traction so as to "respect, and not alter, the mountainous geography of the costers (terraced slopes) with the Priorat's old vineyards". Having animals, he maintains, allows them to make compost and continue working biodynamically in all their vineyards. For Fredi Torres it is a personal choice as well, since "I was born on a farm in Galicia and the Saó del Coster project is like returning to my roots where animals played a very obvious part". Torres, in conjunction with various associates, has just extended his old vineyards with the old Canyarets coster: 8 hectares where Garnachas and Cariñenas up to 80 years old will be brought back into action to produce singular wines. We went up to the new estate in a rickety four-by-four to be welcomed, to our great relief, by the first drops of rain during one of the Priorat's driest summers in living memory.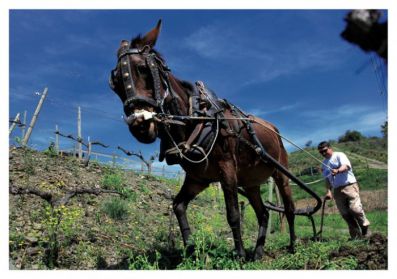 With a production of little more than 20,000 bottles, Saó del Coster, established in 2004, will shortly set about building a new winery, in which, they have announced, they will be investing 400,000 Euros. Fredi Torres is an avid supporter of organic and biodynamic farming but wants nothing to do with official stamps or prescriptive strait-jackets. He produces "S", Terram and his limited but memorable Cariñena wine, Planassos. Along with Fredi Torres and his associate Xavier Barrachina, I tasted their extremely interesting wines, both from the bottle and barrel. A freshness worthy of admiration in spite of great concentration excels in the younger wines, while in the older vintages there is confirmation of a definite classic inspiration from Bordeaux, with maturity and ageing notes (leather) turning their tannic reds velvety.
Recommended articles
Comments