In search of the great Spanish white
From the worship of Chardonnay to the recovery of native grape varieties, Godello, Albariño, Garnacha Blanca, Xarel.lo, etc.,.... in just over a decade Spanish wineries have completely altered their view and have been producing great white wines in a country traditionally dominated by reds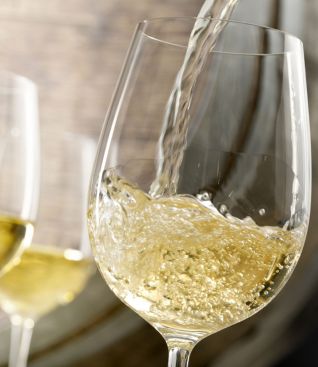 With apologies to the venerable sherry industry, but Spain has been predominantly a red wine country, both in the affections of the Spanish drinker, who believes the absurd saying, "the best white wine is a red", and in the eyes of international markets, which have traditionally demanded red wines from Spanish wineries as if Spanish red were a logical extension to flamenco, bullfighting and the Mediterranean sun.
But it was not always so. There was a time when, even in Rioja, white wine was considered more elegant and suitable for a gentleman of discerning taste. In his historical notes on "the very noble and loyal City of Haro", Domingo de Hergueta confirms the former supremacy of white over red, even in terms of production - 36,266 "cántaras" (16 litres) of white wine and only 6,733 "cántaras" of red were collected in Haro in 1669. A significant difference, although it should be noted that there was a widespread custom at the time of tinting the white wines to make rosés, in order to avoid the higher tax on whites, precisely because they were considered finer.
Odious comparisons
Much water has flowed under the bridge since that time, or rather much wine has been imbibed, until today, when the tables have been turned and red wines are considered a considerably superior beverage, throughout Spain.
This idea has been reinforced, of course, by the ordinary quality of the whites, which with a few exceptions, some Galician wines and some Rioja classics, only just scraped a pass, until recently. In all honesty, there are still only a few Spanish whites able to measure up to a Puligny Montrachet, a great Rhine Riesling or succulent Bordeaux Semillon, to name just a few examples of the world's notable whites.
There was a time when, even in Rioja, white wine was considered more elegant and suitable for a gentleman of discerning taste
But times change (and everything has its time, I add, in a fit of optimism) and just as we have seen the rise of quality reds in all Spanish wine regions in recent decades (not just in the traditionally prestigious regions such as Rioja or Ribera del Duero), it is now time for the whites to step up to the plate.
Some visionary growers and winemakers are striving to produce great white wines, which go beyond the concept of straightforward, refreshing whites, such as those which usually come from Rueda and Rias Baixas (very commercially successful, mind you).
The Burgundy model

Chivite Colección 125 BlancoI must say, however, that the outlook for producing a great Spanish white has changed dramatically in the last fifteen years. Because, although until the very end of the last century, Spanish producers looked to France for a model, as well as the grape varieties, which might inspire them to make their dream white, in the last decade it has been discovered that greatness lies at home. We have seen that it is possible to produce high quality whites from indigenous grape varieties such as Albariño, Godello, Garnacha Blanca, Viura, Xarel.lo, Verdejo, etc.
There are still notable examples which are the result of the obsession with the French, or specifically the Burgundy model, such as the revered Chivite Collection 125 Chardonnay FB or the estate whites from the bodegas of Torres, Milmanda and Fransola.
Chivite's is perhaps the closest to the archetype of the great Spanish Chardonnay, and was released in 1985. to commemorate the 125th anniversary of this Navarran bodega's first export shipment. Although the background to the creation of this wine was not made public at the time, Today we know that the Chivites called on the services of the eminent Bordeaux oenologist, Denis Dubourdieu, to achieve their goal. According to the Frenchman, "they wanted someone to help them produce a great Spanish white, which would be able to age gracefully. When I checked that the Chardonnay vines on the property were planted on calcareous soils in a continental climate and at an average altitude of 500 metres, I knew that, to obtain the great white that the Chivites were dreaming of, we had to follow the Burgundy model".
As for Torres, it devoted two of its iconic vineyards, the one adjacent to the Castillo de Milmanda in the Conca de Barbera D.O., and the Fransola estate in Santa Maria de Miralles in the Alt Penedès, to the production of two high quality single varietal wines, one a Chardonnay (Milmanda) and the other a Sauvignon Blanc (Fransola).
With their proven quality and good aging potential, these wines from Chivite and Torres reigned among Spanish whites for many years, and are still part of the elite, without anyone questioning whether they were really representative of Spanish viticulture.
It should be remembered that "chardonnization" had been in vogue in wine regions around the world and Spain was no exception. At least until other high quality whites, produced with native grape varieties, started to appear.
Verdejo's unsuspected longevity

Pazo de Señorans Selección de Añada 2006The first wine to cause a stir was Belondrade & Lurton produced in Rueda and also following the Burgundy model, undergoing careful fermentation and ageing in barrels. But despite being produced by a Frenchman, Didier Belondrade, this wine revolutionized Spanish whites because it showed that you could aspire to greatness using a local grape, the Verdejo in this instance. Two decades later, a few whites from Rueda have followed the example of Belondrade, fermenting musts in barrel to obtain greater complexity and longevity: Ossian, Naiads and José Pariente, etc.
While Rueda discovered this new facet to the humble Verdejo, which had been considered only fit for the production of young, fragrant whites up until then, something similar was happening in other Spanish wine regions.
In Galicia, for example, where some visionary winemakers in Rias Baixas proved that the Albariño could also go a longer distance, both in terms of expression and longevity in bottle. So some producers dared to put their wines in oak, although those who were most successful opted to age theirs in steel vats and in bottle. This is the case of the Pazo de Señorans Selección de Añada, one of the greatest Spanish whites, which is released on the market after five years cellar ageing.
Today we have already seen that Galicia's greatness extends far beyond the Rias Baixas. There are excellent whites from other areas. In the Ribeira Sacra, for example, where the young Dominio do Bibei produces two excellent wines, Lapena and Lapola from Godello, Albariño and other grapes. The first of these varieties also plays a leading role in another Galician D.O., Valdeorras, where it has proved to be the perfect base material for a white with a delicious, silky expression and good aging capacity. One of the most successful examples of Godello's capability in Valdeorras is As Sortes, the white made by Rafael Palacios, who comes from a long line of wine producers.
Xarel.lo outside Cava

Edetària Blanc 2011In Catalonia, the rediscovery of indigenous grape varieties as the base for the production of high quality whites is taking several fronts. In Penedès in recent years they have really brought out the Xarel.lo in particular, gone from being the third grape in the traditional Cava trilogy alongside Macabeo and Parellada, to shine as a soloist in white wines which have a fine fruity, mineral profile, which can also bear barrel aging without losing their identity and show good ageing potential. This is the case of Initio , one of the most distinguished wines from the Parés Baltà bodega's wide range, made ​​from grapes grown organically by the Finca Cal Miret and matured for 4 months on the lees in French and Hungarian oak barrels.
In other Catalan designations, the quest for great whites is now focusing on the Garnacha Blanca. In the Terra Alta D.O., a very committed grower, Joan Angel Lliberia, now produces one of the best Spanish white, Edetària, using grapes exclusively from vines that are over 60 years old, planted on fossil dunes and matured for eight months in 300 litre French oak barrels. Also in Tarragona, although in this case in the Montsant D.O., the Garnacha Blanca is showing signs of great nobility in Tros Blanc. This white is produced by architect, Alfredo Arribas, from grapes grown in small plots ("trossos" as they are known locally), with sandy and calcareous soils.
Like its sister red grape variety, Garnacha Blanca is creating many interesting wines not only in Catalonia, but in other Spanish wine enclaves such as Méntrida. This is the home of the very original Loco, produced by young bodega, Canopy. The first vintage (2011) of this wine, which is actually presented "strapped up" in a straitjacket, sold out in just a few days.
Returning to Catalonia, we cannot close the section on its great whites without mentioning two exotic yet enjoyable wines: La Calma and El Rocallís, both produced by Carlos Esteva (Can Rafols dels Caus) from varieties which are unusual for Spain: Chenin Blanc (La Calma) and Incroccio Manzoni (El Rocallís). The latter is a Riesling- Pinot Blanc hybrid created by Italian professor, Luigi Manzoni, of which there are only very few hectares planted worldwide.
White Rioja

"Qué bonito cacareaba", from Benjamín RomeoFinally, we cannot deliberate about great Spanish white wines without including Spain's "red wine capital" par excellence: Rioja. Whites made ​​in the old style can still be found, using the might of the Viura variety to age with nobility and often accompanied by other indigenous grapes such as Malvasia and Garnacha Blanca. The finest example of this type of wine is Viña Tondonia Gran Reserva, the most recent vintage of which is... 1991!
Fortunately, the Lopez de Heredia family, who owns Viña Tondonia, is no longer alone in the defense of white Rioja. There are a few, new generation winemakers who are also working to lift the Viura and Garnacha Blanca to the pinnacle of their quality potential, resisting the push of other varieties, such as Verdejo and Chardonnay, which are trying to colonize the Rioja vineyards. Thanks to these producers, the Rioja D.O.Ca has some excellent whites, among which we must mention "Qué bonito cacareaba", from Benjamín Romeo, the architect of the prize- winning red, Contador, produced from a blend dominated by Garnacha Blanca, and Mártires from Finca Allende, a prodigious example of the potential of Viura.
In addition to the wines mentioned above, the new geography of Spanish whites includes a few more eccentric wines, made by bold, perceptive producers, willing to recover grape varieties tucked away in the cupboard of time or to experiment with varietials never before grown in Spain.
Together, these wines bring hope that, in the not too distant future, Spain, as well as being a land of red wines, will also be a country of great whites. By the grace of Bacchus!
Recommended articles
Comments