Champagne's petits vignerons ("small wine growers") have achieved a difficult feat: a mini revolution in the birthplace of the most famous and superb sparkling wine in the world. In this article, we present a selection of some of the protagonists of an uprising that has eclipsed even the big Champagne houses.
In the paradise of bubbles the big Champagne houses dominate, with a market share of over 90%, but savvy champagne lovers know that there are a few, new names (well, new to most people), which have become, in recent years, part of the window display of the best sparkling wines.
Most of them have a similar profile - they are petits vignerons, who have traditionally sold their grapes to the big Champagne houses, but who, at some point in time, decided to change the rules of the game, vinifying their own grapes and marketing a champagne under their own name.
They also share other characteristics: these petits vignerons not only make their champagnes in small quantities, but most of them produce them from grapes grown in the very best vineyards, using biodynamic methods and vinified in traditional style, often fermenting and ageing their base wines in oak barrels and vats, a very old practice that has been virtually abandoned by the big Champagne houses. Most of these producers are great interpreters of the terroir and market their champagnes - Bacchus be praised –at more modest prices.
So who are these Champagne revolutionaries? Which cuvées from these "Bubbly rebels" should you seek out? And what qualifies a grower as a "petit vigneron"? Given the subjectivity prevalent in the wine world, the answers to these questions will of course differ from one champagne expert to the next. The humble writer of this article is therefore taking the liberty of selecting the most representative examples according his own, possibly biased, criteria.
The Selosse model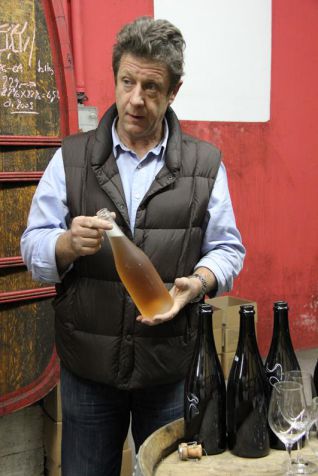 Anselme Selosse, one of the msot respected vingnerons in ChampagneLet's start with Jacques Selosse, who some consider too famous to be classified as "petit". But no one can doubt that this great Champagne guru has been one of the instigators of the "revolution champenoise", mainly because he was the first to offer us a new perspective, in terms of production as well as organoleptic experience.
Of course, when talking about Jacques Selosse, you are really referring to Anselme Selosse, the visionary, demanding and eccentric wine grower, a kind of messiah if you like, who, in 1980, inherited the estate founded by his father in the 1950's. There he soon made a name for himself by using biodynamic methods and barrel fermentation to vinify grapes from 15 hectares of vineyards, mostly Chardonnay (and a little Pinot Noir), from small plots in the crus of Avize, Cramant, Oger, Le Mesnil, Aÿ, Mareuil-sur-Aÿ and Ambonnay. The range from Selosse, who only produces 55,000 bottles per year, includes the "Initial" cuvées - a blend of three Chardonnay vintages, a vintage blanc de blancs and three very rare champagnes: Substance and Contraste, Chardonnay and Pinot Noir single varietals respectively, which employ the Jerez solera method in the winemaking process, and the demi-sec, Exquise.
Young stars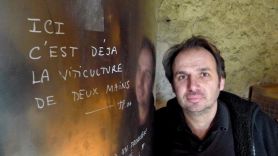 Jérome Prevost is also on the roll-call of Champagne's most renowned vigneronsSelosse's influence in the emergence of the champagnes de vignerons , can above all be seen in the example of a small Champagne house with ambitious quality aspirations. It can also be appreciated in the growing importance of some of his disciples, such as Jérôme Prévost and Olivier Collin (of the Ulysse Collin brand).
The former is notable for working a single terroir, that of the Gueux vineyards, a stone's throw from Reims; one variety, the Pinot Meunier; and only one parcel, Les Béguines, in order to produce just one cuvée, La Closerie Les Béguines. Fermented in oak barrels, this champagne, which boasts a grape variety considered to be the "ugly duckling" of the region, has a surprisingly big personality. Collin, meanwhile, works a 4.6 hectare vineyard in Cogny, a little known terroir with very poor soils, southeast of the Côte des Blancs. His Les Perrières blanc de blancs, a unique Extra Brut, also shows a strong character.
Another rising young vigneron in this "pétite revolution" is Cédric Bouchard, who met some of the stars of organic winemaking when working as a wine merchant in Paris. He decided to return to his native Champagne to work a parcel, given to him by his family, using environmentally-friendly methods - Les Ursules covers just 0.97 hectares in the Aube, the home of the Pinot Noir. Fourteen years later, Bouchard's vineyards have expanded, but he stays true to his philosophy of lower yields and biodynamic viticulture. One of his stellar cuvées is the Inflorescence blanc de noirs.
The 'Club des Petits'
As well as these young stars, there are other maisons, which you might look at if you are keen to try a champagne de vigneron. These include De Sousa, managed by Erick de Sousa since 1986. Its finest treasure are the old Chardonnay vines planted over half a century ago in Avize and other grands crus in the Côte des Blancs (Oger, Cramant and Le Mesnil-sur-Oger), from which this family company produces exquisite champagnes, such as the Cuvée des Caudalies.
Another notable vigneron in the "clubs des petits" is Agrapart, founded in Avize in the late 19th century and today managed by Pascal Agrapart. It has 9.75 hectares of vineyards in the heart of the Côte des Blancs, divided over 62 parcels, which provide the raw material for champagnes of great freshness, elegance and finesse, such as the creamy Les 7 Crus or the superb Avizoise.
Excellent too, are the cuvées of Jacques Lassaigne, whose son, Emmanuel, pampers the vineyards at the foot of the Montgueux hill in the Aube, a terroir known as the "Montrachet of Champagne"and which boasts exceptional geological conditions allowing the Chardonnay to offer a unique expression.
Artisan wine growers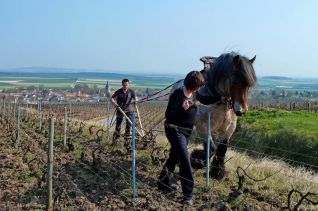 Ploughing the soli in Francis Boulard's vineyardsThis revitalized champagne scene has even more for the champagne lover to discover: take, for example, the young Francis Boulard Maison, established in 2009, following the split of the Raymond Boulard family company, possessing magnificent old Chardonnay vines on the Montagne de Reims; Laherte Frères, run by the Laherte brothers, Thierry and Christian, who are the vignerons behind a very unusual champagne, Les 7 Cepages, made ​​from seven varieties, some almost extinct in the region - Fromenteau, Arbanne, Pinot Noir, Chardonnay, Pinot Blanc, Pinot Meunier and Petit Meslier; José Michel, the great crusader for the Pinot Meunier; the Gimonnets, model "artisan wine growers", focusing purely on Chardonnay grown in grands and premiers crus in the Côte des Blancs; the Moncuits, growers in the famous Le Mesnil cru, capable of producing delicious blancs de blancs, such as the Hugues de Coulmet cuvée, at very reasonable prices.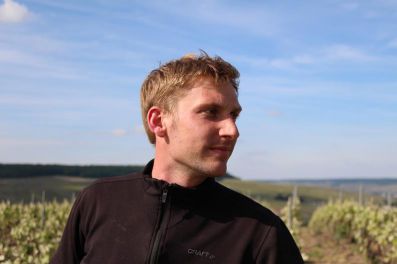 Aurelien LaherteThis piece on small Champagne giants would not be complete without mentioning those traditional Champagne houses, which have managed to keep their production volume down to favour quality. A good example of these is Fleury Père & Fils, a pioneer of biodynamic growing in the region, whose savoir-faire is particularly well illustrated by their Empreinte cuvée. And we should not overlook Jacquesson & Fils, a Champagne house founded in 1798, but which has entered a new golden age since Jean-Hervé and Laurent Chiquet took the helm, reviving the best of Champagne tradition and reducing production volumes to improve the quality of their cuvées. Jacquesson has a range of superb single vineyard champagnes, very limited editions and well worth trying, albeit once in a lifetime: Dizy Terres Rouges, Avize Champ Cain, etc.
The best champagnes at the 1st Salon de Vignerons
Lastly, dear Selectus Wines readers, I would like to recommend some little gems that I uncovered at the 1st Salon de Vignerons de Champagne held in Madrid a few days before this issue went to press. These include Spéciale and Confidence, amazing cuvées created by Bollinger's oenologist, Fabrice Gass, for his own Champagne house, Alexandre Filaine, from wines fermented in century-old barrels; Aubry's exotic Le Nombre d'Or 2009, dominated by the expression of the Pinot Gris; Maurice Vesselle's old vintages (especially the 2000) and, above all, Le Cran 2006, a very fine 100% Pinot Noir blanc de noirs, made ​​by the young vigneron, Raphael Bérèche.
Recommended articles
Comments