Icewines, elixir from the cold
Icewines are one of the rarest of rarities from the world's vineyards: liquid marvels created in virtually impossible conditions, when the vines are in the grip of winter and the grapes have nothing left to do but concentrate their sugars before the inevitable freeze.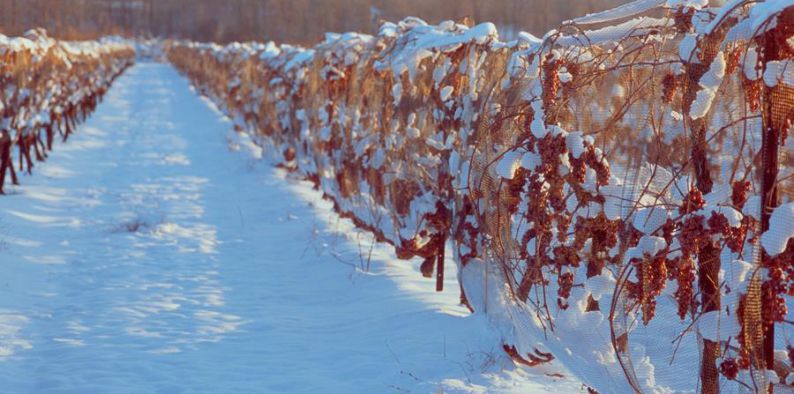 Icewine vineyardsIcewine is one of those lucky accidents which only occur once in blue moon. Like a cheese invaded by mould, a vineyard which is suddenly sheathed in frost would, at first sight, appear to be a calamity for any wine grower. But there are those people who are determined to have their hard work pay off, no matter if everything seems to have gone pear-shaped. Roquefort and Icewine are two products where misfortune has turned out to be a blessing in disguise.
Sweetness and acidity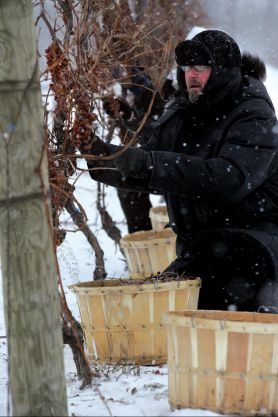 A grape picker at the Terlato winery (Canada)There are a number of theories about who was the first visionary to attempt to vinify frozen grapes. One of the most credible has it that icewines were born in northern Bavaria in 1794, when a sudden frost took some seemingly unlucky growers by surprise but - in for a penny, in for a pound - they decided to vinify the frozen grape berries anyway. The result was surprising: a dense, concentrated wine with an intense fruity expression, sweet but blessed with promising acidity. Naturally they called it "Eiswein".
Since then, many have emulated those bold Bavarian pioneers, both in Germany and neighbouring Austria. Some French producers with vineyards in the northernmost regions of France even took to producing what they called a "Vin de Glacier", which, among other pleasing attributes, proved to be a wine with great ageing potential.
It must be said, however, that producing an icewine is fraught with difficulty and challenging to say the least. First of all, keeping the grapes on the vine until the first frost arrives involves exposing the clusters to numerous risks: mildew, oidium, botrytis, the grapes being gobbled up by birds, or a storm blowing up. These disasters can end up derailing plans for a harvest which can be extremely late, sometimes not taking place until late January or even early February.
If, with luck, the grapes have remained on the vine long enough to tolerate several days at a temperature of -7 ° or -8 º (below -12 ° and the grapes are only good for playing marbles with), then the miracle will occur: the water contained in the grapes will freeze and the pulp concentrate its sugars. The fruit must then be collected, grape by grape, and quickly pressed before the ice crystals disintegrate.
If all goes well, a very concentrated must, rich in fruit flavours and sugar (about 28% of the weight), and with high acidity (14 g/l or more), will be obtained. As pressing progresses, these conditions change and the must is no longer fit for the production of icewine, so quantities are inevitably very small.
Fermentation is also a complicated affair because the cold and the must's high sugar content slow down the process and bring it to a halt when the liquid has barely exceeded 5% alc/vol. Because of this, icewines have a low alcohol content (5-10 %) and retain a characteristic sweetness.
Once these difficulties have been overcome, the rest of the process is not dissimilar to the production of still wine. Some winemakers choose to keep their strange liquid gold in stainless steel vats, others opt for aging in barrels ... someone even carries out a second fermentation in the bottle using the champagne method to create bubbles.
From Germany and Austria to Canada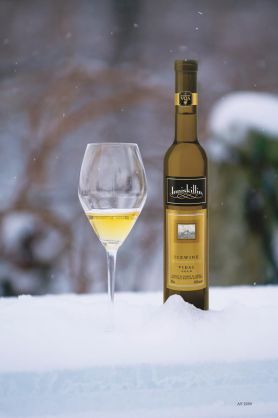 InniskillinThe above serves to explain why icewines are few and far between and, of course, pricey, particularly those which are blessed by the hand of a great grower or winemaker. This is the case of the Austrians (Kracher, Schloss Gobelsburg, Müller and Nittnaus), or the Germans (Dr. Loosen, Burklin Wolf or Hermann Dönnhoff). The last of these, Dönnhoff, located in Nahe, produces one of the most famous "eisweins", Oberhäuser Brüche, boasting 100 Parker points! The Germans all produce their icewines from Riesling, Gewurztraminer, Sylvaner and the Austrians, from Grüner-Vetliner.
Apart from the famous Austrian and German eisweins, if we take a tour of elixirs from the frozen vineyards of the world, we cannot ignore the Canadian icewines, which have been a big hit in recent years.
The draw of icewines from this great North America country really began in 1991, when the Inniskillin winery, based in the Niagara Peninsula (Ontario) amazed everyone by picking up the Grand Prix d'Honneur at Vinexpo with its 1989 vintage icewine made from the Vidal grape, thereby thrusting Canadian wines onto the world stage. Since then, there has been no shortage of wines from Canada competing in international competitions and almost invariably winning top medals.
The huge success of Canadian wine has been due to the fact that they have worked out what wine would work best in a decidedly extreme climate. The work of those behind Inniskillin has been fundamental in paving the way, setting the quality standards and building awareness of Canadian icewines around the world.
The Inniskillin experience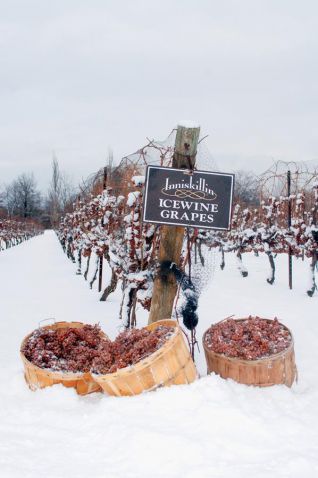 Bodega Inniskillin, Ontario (Canadá)The Inniskillin experience has played an important role in creating the explosive, new Ontario wine scene phenomenon with new wineries seeming to pop up overnight.
The Inniskillin winery was founded in1975 by Canadian, Donald Ziraldo and Austrian, Karl Kaiser, who embarked on their adventure after obtaining a license to produce wines, the first one granted in the province of Ontario since 1929. Entrust with the responsibility of resurrecting the Niagara-on-the-Lake region's winemaking spirit, they set up shop in an old farm (a natural wooden construction inspired by the style of architect, Frank Lloyd Wright) and followed the guidelines of Walter Hainle, a German who had retired to Canada and discovered that its harsh winters were ideal for the production of icewine. They first had to convert the vineyards, replacing the coarser grape varieties, which had become acclimatized there, such as the Lambrusca, by varieties with greater finesse such as the Riesling, Gewurztraminer, Chardonnay, etc.
They devoted themselves to producing their fledgling Inniskillin wines and also decided to plant a hybrid variety which would eventually give Canadian icewine a particular identity: the Vidal. They continued in their endeavours, producing not only good icewine but also excellent table wines, especially those made from Pinot Noir and Chardonnay, as well as a sparkling icewine which is the company's pride and joy, taking even the most experienced wine drinkers by surprise.
Of course there are many other Canadian icewine producers worth mentioning: Pilliteri, Peller Estate (Terlato Wines Group) and Jackson Triggs are some of the wineries of note in the Niagara region. Icewine is also produced in the province of Nova Scotia, in Quebec, and even across the U.S. border (a noteworthy example being Bel Lago Vineyards in Michigan).
Frozen yet Mediterranean ...
Before closing this feature, we should perhaps mention that not all icewines come from northern wine regions. In warmer climes, some wine producers are experimenting with freezing grapes by artificial methods.
Some have obtained good results, as is the case with Gramona, who a few years ago surprised us all with the first Catalan "vi de gel" (now renamed "vi de glass", for legal reasons) which are Gewurztraminer and Riesling single varietals. More recently, the Sant Sadurní d'Anoia based bodega has even pulled a sparkling icewine out of the bag, baptizing it "Frisant de gel". Could it be the first icecava?
GALLERY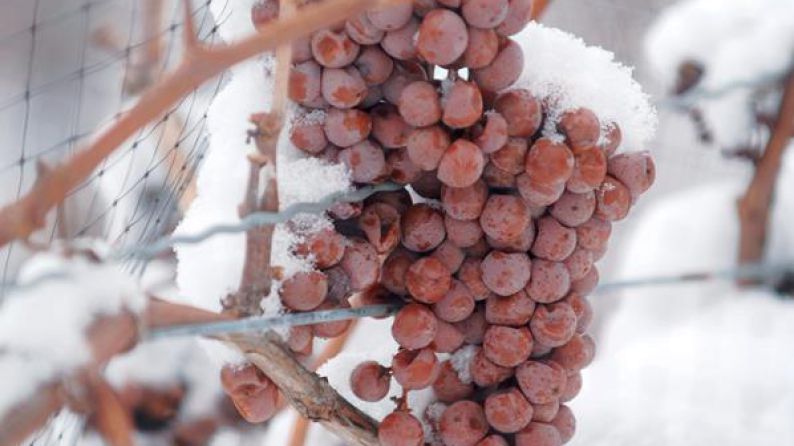 Recommended articles
Comments