The mystery of underwater wines
Vina Maris (Calpe, Alicante) and Crusoe Treasure (Plentzia, Vizcaya) are the first two Spanish wineries exclusively dedicated to the ageing of wines on the seabed. What are the advantages of this unusual underwater ageing method?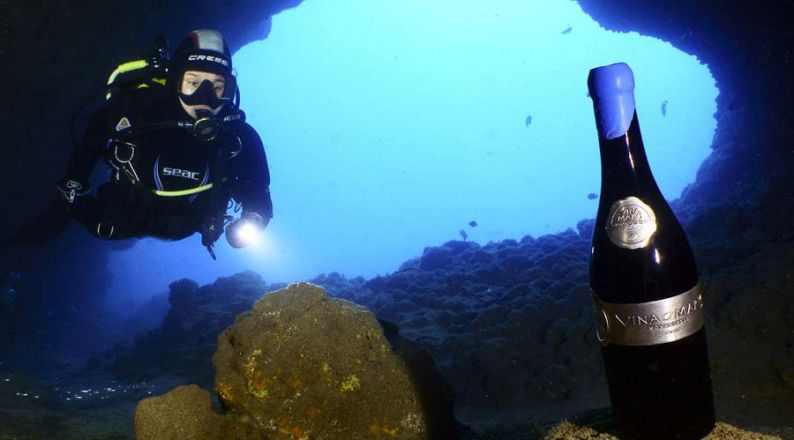 Just when it seemed that everything had already been tried in the world of wine, new, intrepid innovators pop up: those who age their wines at the bottom of the sea, ensuring that, in this aquatic environment, our noble beverage is matured in ideal conditions of temperature, light and pressure. And not only that: these underwater winemakers maintain that, down on the seabed, the wines mature much faster than on terra firma. "We believe that three months' ageing on the seabed, at a depth of 30 metres, is equivalent to seven or eight years of ageing in bottle in a traditional cellar", states Israel Padrino, the founding partner of Vina Maris, a pioneer in the ageing of wines under the waters of the Mediterranean Sea.
Early maturity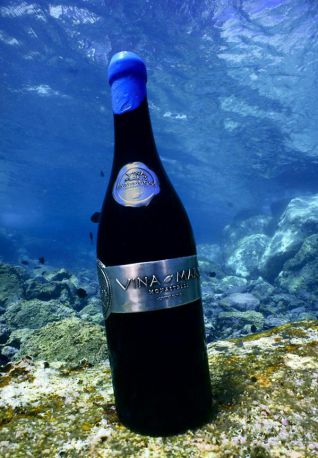 Skeptics, of which there are always a few, and in this case probably many, will argue that its benefits are the invention of dreamers or charlatans. However, anyone who has been able to taste some of these underwater wines, will agree with me - ageing in bottle, submerged in seawater, does have an obvious effect on the wine, and one which is not entirely negative: in an objective tasting, the wines that have undergone an "aquatic" ageing show a maturity that is early but no less harmonious.
Although there is currently no scientific evidence to support this, the University of Almería and the Catholic University of Valencia have started investigative studies, which will soon remove any doubts. Padrino believes that there are four factors present in underwater ageing that are beneficial to the wine: "pressure, constant temperature (around 14 degrees), salinity, absence of light and noise, and the gentle, constant currents of the sea".
These claims made by the owner of Vina Maris are borne out of his own experience. When Padrino decided to start ageing wines on the seabed, he was unaware that there were other wineries already doing this. "I actually did it to combine two of my great passions, diving and wine, having been inspired by the news that the bottles found in the holds of shipwrecks on the seabed had often aged surprisingly well. The most recent case is that of the wreck found in the Aland archipelago in 2010, containing 47 bottles of Veuve Clicquot 1840 vintage champagne in perfect condition", he explains.
After starting his adventure with Vina Maris, Israel Padrino discovered that he was not the only "nutter" investing in underwater ageing: in California, the Mira Winery ages its Cabernet Sauvignon in Charleston Bay; the Chilean Viña Casanueva produces a Pinot Noir aged under the sea and the Italian Bisson also ages its sparkling wine in the sea, off Portofino.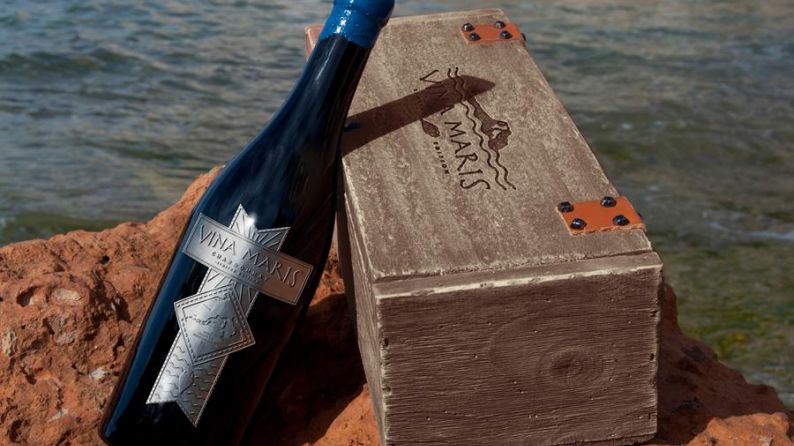 Vina Maris had to obtain a seabed concession from the authorities in order to submerge its cages containing the bottles of wine just off the Rock of El Faralló in Calpe (Alicante). Along with the bottles of wines, the site is also home to an array of decorative objects, including statues and casks, to make the underwater wine tourism experience even more appealing to those aquatic oenophiles brave enough to dive into these waters to see at first hand the work of the first underwater wine cellar in Eastern Spain.
I should state that the winery does not make its own wines: it ages a red and a white wine which it has selected from Enrique Mendoza's wide range: Estrecho, a single-varietal Monastrell, and Enrique Mendoza FB, a single-varietal Chardonnay. After ageing underwater, these wines are reborn with new names: Vina Maris Monastrell and Vina Maris Chardonnay.
Red wine from the Bay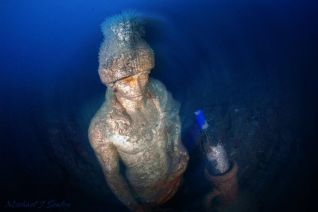 The other Spanish wine company pioneering underwater wine ageing is Crusoe Treasure, in this case in the Bay of Plentzia on the northern coast of Spain. It started its research into ageing wine on the seabed in 2009. It analyzed the behaviour of wines and other drinks from 27 bodegas and 14 different Spanish D.O.s, before setting up its activity. For technical expertise, it calls on the services of Riojan winemaker, Antonio Palacios, head of the Excell Ibérica wine research laboratory in Logroño.
Like Vina Maris, Crusoe Treasure offers two wines, in this case, two reds aged in oak barrels before undergoing bottle ageing under the waters of the Bay of Plentzia: CT Classic, with one year's ageing in oak and another in underwater cages; and CT Passion, with six months in barrel and one year's ageing in the sea. Although the company does not reveal the origin of its wines, the first would appear to be a classical Rioja red and the second, a robust Castilian Tempranillo.
Other underwater wines
As well as these two companies, there are other intrepid winemakers experimenting with underwater ageing in Spain, but without the same resources or structure of Crusoe Treasure or Vina Maris. The most notable example is Sketch, an Albariño submerged in the Ria de Arousa Estuary (Galicia), made by one of the Spanish wine world's most talented and maverick personalities, Raúl Pérez.
No less eccentric is Luis Pérez, who ages his Garum Submarino in 50 amphoras submerged at a depth of 12 metres between the beaches of Sancti Petri and Conil de la Frontera (Cadiz). Last but not least, on La Palma in the Canary Islands, Vinos Tendal collaborates with the Cueva Bonita diving school to produce a wine which undergoes six months ageing at a depth of 15 metres beneath the sea.
Recommended articles
Comments