Even if markets seem to put greater store in the ephemeral virtues of youth, old wines continue to appeal to wine lovers seeking more than just fruity exuberance in the glass. In Spain, the magic of old vintages lives on in Jerez, in the sweet wines of Montilla and the Mediterranean, in the long-aged cavas, and, of course, in the venerable Riojas.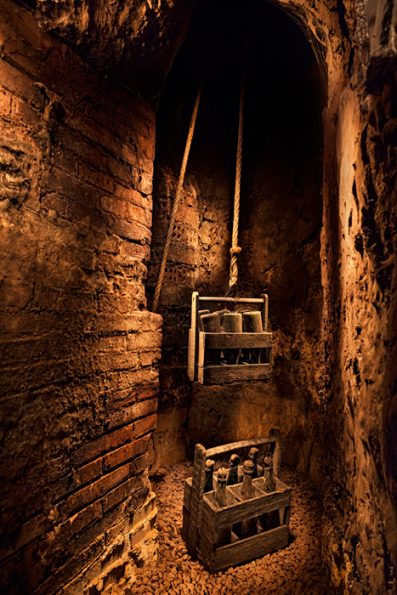 RecaredoAlthough it seems obvious, it never hurts to restate that there are wines for all tastes. Especially when it comes to older wines, the ones which have rested for more than a couple of decades before they reach the glass. These are much coveted by collectors and wine buffs but, in actual fact, they do not suit the tastes of the majority of wine drinkers.
Which is really quite logical, at least in Spain, where we have spent the last few decades touting fruity exuberance, as well as new oak, to the detriment of those virtues that set older wines apart: a fragile structure, subtle aromas of faded flowers, spice, occasionally incense, fine oak aromas, notes of oxydation, and so on.
With a few notable exceptions, there are no wine shops or restaurant wine lists in Spain which offer bottles with over ten years of cellar ageing. Therefore, unless you are lucky enough to have had a forward-thinking grandparent with the good sense to preserve the noblest bottles from the past for the pleasure and enjoyment of future generations, opportunities to try a Spanish wine older than twenty years are few and far between.
However, anyone determined to dig up these dusty old bottles, will find real gems, which will certainly make for memorable drinking experiences.
Fortified Relics
The most fertile ground for finding these rare gems is, obviously, the Jerez area. There, the traditional method of dynamic ageing (with criaderas and soleras) produces wines that are estimated to have an average age of 20 years (referred to as V.O.S., Vinum Optimum Signatum), or up to 30 years (the category known as V.O.R.S. , Vinum Optimum Rare Signatum).
Almost all the major sherry bodegas have sherries in these categories, particularly those that have been aged by the oxydative method: olorosos, amontillados, palos cortados, etc. Recently, González Byass has shown that fino sherries, aged under a film of flor, can also greatly exceed the usual average age: Tres Palmas boasts over ten years bottle ageing and Cuatro Palmas, a very old amontillado, has an average of 48 years.
The same bodega also markets another exceptional "generoso" sherry: a vintage Palo Cortado from the 1982 harvest, which is a rare contradiction in a region where it is usual to blend the wines from different vintages.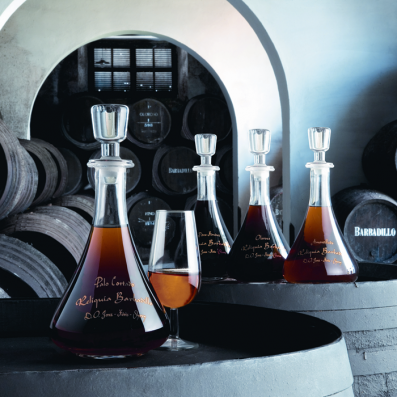 However, anyone wishing to appreciate the oldest generosos available on the market, would have to head down to Sanlúcar de Barrameda. There Barbadillo has a collection of elixirs over a hundred years old, presented under the Reliquia brand name: amontillado, PX, oloroso and the famous palo cortado awarded 100 points by the Robert Parker team.
Another extraordinary "museum" of ancient wines is Toro Albalá in Montilla, who has some old amontillado vintages (1951, 1971) and, above all, some old Pedro Ximenez, its great specialty. Its Amén de Don PX Convento Selección 1946, rose to fame after it was awarded 100 Parker points. The bodega has a few PX from old soleras as well as some vintage ones: PX Ginés Liébana 1910, Don PX 1962, 1976, 1981, 1983, etc.
As they are sweet, fortified wines, the PXs preserve their qualities almost in eternum, the addition of alcohol having slowed their development. For this reason, other traditional Spanish sweet wines such as the very old Malagas or the legendary Fondillóns from Alicante can also age for centuries without losing their charm. Anyone wishing to try them, can find some of the very old Fondillóns, such as the Primitivo Quiles Solera 1948, still on the market.
Venerable sparkling and still wines
Another delightful "old wine drinking experience" is provided by long-aged sparkling wine. Champagne lovers know this, of course. And in recent years, cava lovers do too. Fortunately, some of the most forward looking producers of this type of wine have ventured to extend the time spent ageing in bottle, "sur lattes", to over ten years, with excellent results.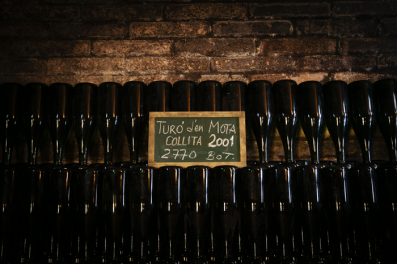 Gramona pioneered this trend, with its Celler Batlle Brut Nature (eight years "sur lattes"), and last Christmas it went a step further with the release of its Enoteca range with a Brut and Brut Nature from the 2000 vintage boasting twelve years bottle ageing.
Recaredo, meanwhile, shows off with Turo d'en Mota, a single vineyard, single varietal (Xarel.lo) cava, whose latest vintage, 2001, has been released on the market after 142 months ageing.
As far as still wines are concerned, hunting down old vintages is an arduous task unless you are willing to spend your time at auctions, where the bottles virtually always come from private cellars, without any great assurances about their storage. Or else you can take the risk of buying them off the Internet.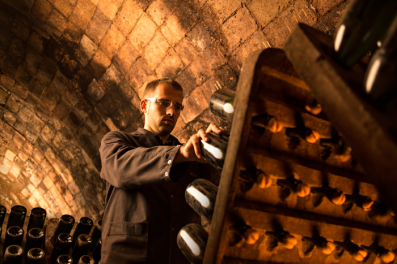 Turning bottles during the riddling process. RecaredoThe supply of old wines is scarce even in Rioja, which has paradoxically built much of its prestige on the longevity of its wines.
Very often, even the wineries with the greatest pedigree, do not offer anything more than wines from recent vintages. With a few exceptions: Marqués de Riscal, whose wines have traditionally shown impressive ageing potential, serves some of its oldest reservas at the restaurant in the hotel designed by architect, Frank Gehry. Specifically, the red Reserva from 1945, 1947, 1948, 1956, 1958 and the legendary, 1964.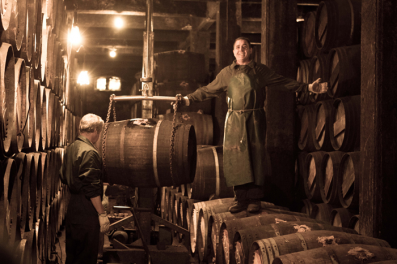 In the López de Heredia winery, they remain faithful to the traditional production methodsLópez de Heredia, perhaps the Rioja bodega which has remained the most faithful to the region's old style production methods and old style wine, preserves incredibly long-lived wines in its ancient cellars, which still show well when uncorked. But most of these are only brought up from the cellars for professional tastings. The Decendientes de Rafael López de Heredia y Lendeta continues to mature the Viña Tondonia gran reservas as in the past, for much longer than the average age now imposed by the D.O. The last vintage of the Gran Reserva White being sold is the 1991 and the red, 1994.
It is also not easy to find old vintages In other Spanish wine regions. As Ribera del Duero is a relatively young D.O. (created in 1982), older reservas are virtually the exclusive preserve of Vega Sicilia. The legendary longevity of this bodega's wines is evident when any of its wines are uncorked: Único is able to age for over half a century, while the red Valbuena reaches its best after fifteen years in bottle. But getting hold of these old Castilian reds requires great patience (and a thick wallet). The bodega offers its best customers Vega Sicilia Único 1986 in magnum, and the 1989.
In Catalonia, old wines are a precious commodity conserved only by savvy wine producers, such as the Torres family or Álvaro Palacios. The former only sells miniscule quantities of its old vintages of Milmanda, Mas La Plana and Grans Muralles. The Palacios winery in Priorat (founded in 1989), does not yet boast a long history which would allow it to have preserved wines which are older than a quarter century, but this does not stop the first vintages of L'Ermita from being highly prized by wine buffs around the world.
Given the difficulty of finding old vintages of Spanish wines, a special mention should be made of the efforts of the best specialist stores to offer their customers this type of wine. One such example is Lavinia, whose catalogue includes bottles of great interest to lovers of these old pearls, including Imperial Gran Reserva 1928 and 1980, Viña Real Gran Reserva 1978 and 1987, Contino Reserva 1983, Rioja Alta 904 Gran Reserva 1985 , Tinto Valbuena 1989 and two much coveted Únicos from Vega Sicilia, from 1918 and 1964.
Recommended articles
Comments