Blind tasting in Can Bosch

For our second blind tasting, on this occasion we travelled over to the seaside town of Cambrils, on the Tarragona coast. Our host for this meeting was Manel Subirà, sommelier at the Restaurant Can Bosch (1* Michelin) and current President of the Catalan Association of Sommeliers at their Tarragona branch.
The restaurant was opened in 1969 by Joan Baptista Bosch and María Lourdes Font, and it is located less than 100 metres from the port of this coastal town. For many years it was the meeting place for the fishermen after a day's work, and when they gathered there they would chat, play cards and have a drink.
In a repeat of the first tasting, those taking part in this one gradually began arriving at the venue, and after a short chat with everybody else to get a brief idea of their professional careers in the wine world, we installed ourselves in a private room which had been very kindly provided by the restaurant owners, Montserrat Costa and Joan Bosch, the latter being the son of the restaurant's founders and it was he who took charge of running the business in 1988.
Once the introductions were over, I explained to them all what the tasting involved and the rules we were going to follow. Given that the province of Tarragona comprises 5 different denominations of origin, I made them well aware of this fact. Once the right procedures were made clear, Manel proceeded to serve the first wines and immediately comments could be heard as people discussed the origins and compositions of the wines. Among those present, we had a finalist from the 2012 edition of Spain's Sommelier Championship competition, Antonio Henares, as well as one of our usual collaborators, Joan Arboix.
We now have some summaries for you of the evaluations made by all the sommeliers who attended the meeting, along with pairing suggestions, and we would ask you to try some of the wines which featured at the tasting and discover for yourselves the aromas and flavours which came across there.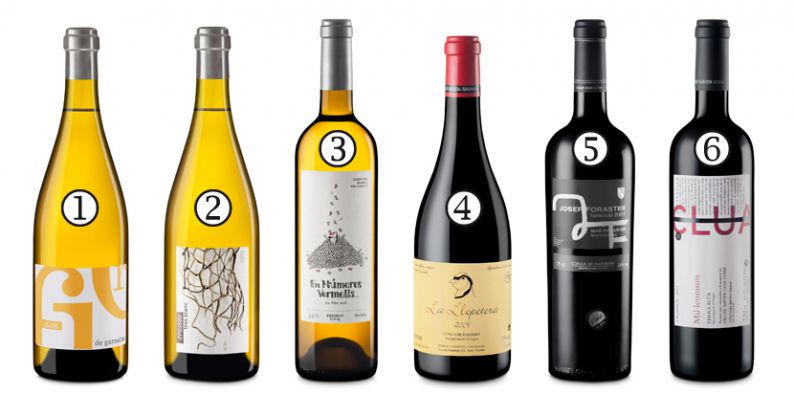 1. Flor de Garnatxa 2007
Bakery notes combined with herbaceous hints and ripe white fruit.
Light, creamy mid-palate with some acidity.
Red tuna carpaccio
Details D.O.Terra Alta
Varieties: 100% White Grenache
Ageing: In brand new French oak puncheons
PVP: 18,00€ aprox.

2. Trossos Blanc 2009
Intense ageing notes, with hints of dried fruits and nuts, spices and green fruits.
On the palate persistent, oily and unctuous with a slightly bitter finish
Baked sea bass with potatoes, onion and tomato confit.
Details D.O. Montsant
Varieties: 100% White Grenache
Ageing: 10 months in French oak puncheons
PVP: 40,00€ aprox.

3. En Numeros Vermells 2011
White fruit, notes of fresh grass, fennel and a touch of aniseed.
On the palate a return of the white fruit notes, slightly bitter and with pleasant acidity.
"Trinxat" of pigs trotters, sautéed crayfish and asparagus
Details D.O.Q. Priorat
Varieties: 100% White Grenache
Ageing: aged on lies during 6 months
PVP: 19,00€

4. La Llopetera 2009
Red fruits, spicy with chocolate and coffee notes
Good structure with marked tannins, pleasant ageing notes, long with notes of red fruit in liqueur, with an electric acidity
Hare Royale
Details D.O. Conca de Barberà
Varieties: 100% Pinot Noir
Ageing: 6 months in French oak
PVP: 20,00€ aprox.

5. Josep Foraster Selecció 2005
High intensity of black fruits, with ageing nuances of chocolate and toasty notes, varietal notes of green pepper.
Persistent palate, sweetish, oily and forthright
Grilled veal entrecôte
Details D.O. Conca de Barberà
Varieties: 90% Cabernet Sauvignon, 10% Tempranillo
Ageing: 18 months in new French oak barrels and minimum 12 months in the bottle.
PVP aprox: 20,00€
6. Millenium
Fresh red fruit, leather, fresh notes of fennel and undergrowth
Rounded palate, sweetish, with a high intensity of ripe fruit
Ravioli of oxtail, celery and cep mushrooms
Details D.O. Terra Alta
Varieties: 60% Garnatxa Tinta, 20% Cabernet Sauvignon, 15% Syrah, 5% Merlot, and Pinot Noir.
Ageing: The wine matured for about 12 months in old French oak barrels after that the wine is bottled and matured again for about 1 year in the bottle before being released for sale.
PVP aprox: 20€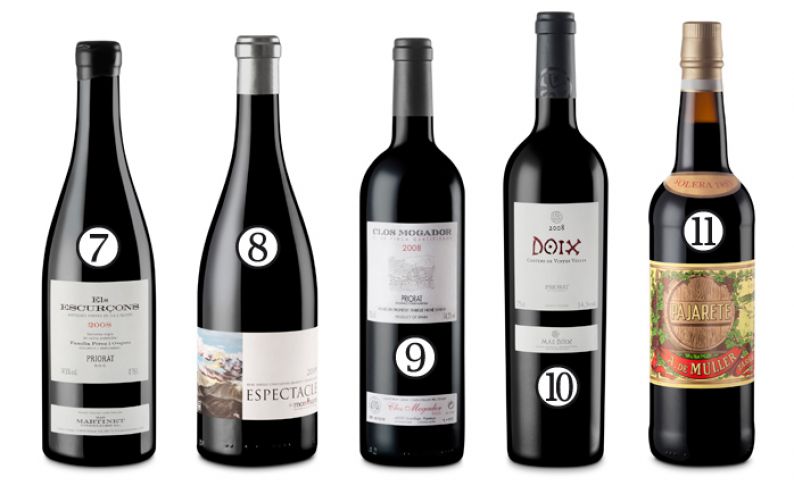 7. Els Escurçons 2008
Red fruit, mineral, black pepper, cinnamon and light toasty notes from ageing
Ripe fruit, good acidity, fresh, pleasant and fairly lengthy tannins
Red mullets with aubergine tatin
Details D.O.Q. Priorat
Varieties: 85% Black Grenache, 15% Syrah
Ageing: in French oak barrels for about 12 months
PVP: 44,00€ aprox.
8. Espectacle 2009
Intense orange peel, spicy, with notes of cocoa and dried fruits and nuts
Elegant and sweetish, fresh red fruit, sweet tannins
Tuna belly with a sabayon of tarragon and houmous
Details D.O. Montsant
Varieties: 100% Red grenache
Ageing: Aged in 40L very fine grain French oak fermentation vats (Quercus Petraea) for 14-16 months
PVP: 118,00€ aprox.
9. Clos mogador 2008
Fruit notes of red currants and raspberries, balsamic hints, spices like pepper and cinnamon, coffee... and liquorice notes.
Good structure, with an abundance of fruit and freshness.
Roast suckling lamb in its juice with mint-flavoured gnocchi
Details D.O.Q. Priorat
Varieties: 46% Grenache, 21% Cariñena, 19% Cabernet Sauvignon, 14%Syrah
Ageing: 18 months in new 300 litres barrels (70% new, 30% second wine)
PVP: 60,00€ aprox.

10. Doix 2008
Sweet notes, of jelly beans, coffee, cocoa, red fruit, liquorice, on a mineral and liqueur background
Great structure, sweet tannins, persistent, notable ageing and with high fruit intensity
Neck of pork with black chanterelle mushrooms and Perigourdine sauce
Details D.O.Q. Priorat
Varieties: 55% Cariñeña, 45% Grenache
Ageing: The ageing was of 16 months in new French oak.
PVP: 81,00€ aprox

11. Pajarete
Candied fruit, orange, toffee, raisins, honey
Plenty of sweetness, showing definite density but with good acidity providing lightness
Chocolate sponge cake, apricot compôte and round with coconut ice cream
Details D.O. Tarragona
Varieties: Moscatel, White grenache and black grenache
Ageing: 5 years in different French and Spanish oak barrels, and 5 years more in an oak Frenck barrel, solaria from 1851
PVP: 72,00€ aprox.
We would like to thank the Catalan Association of Sommeliers (ACS) and Restaurant Can Bosch for their collaboration and participation in this article.
Tasting Panel

Agustí Sanromà
Professional sommelier since 2007. Manager and sommelier of the El Pa Torrat restaurant (Castellvell del Camp).

Anna Casabona
Professional sommelier since 2007. Secretary of the Contraetiqueta Association. Owner and sommelier of the Vinoteca El Rebost (Valls).

Antonio Henares
Professional sommelier since 2007. Finalist in Spain's sommelier championship 2012. Working at Celler del Port (Tarragona).

Manel Subirà
Professional sommelier since 2001. Current President of the Catalan Association of Sommeliers. Sommelier at the Restaurant Can Bosch (Cambrils).

Xavier Fortuny
Professional sommelier since 2007. Member of the Contraetiqueta Association. Sommelier at the Clap de Ceps wine shop (Tarragona).

Angel Gómez Doménech
Professional sommelier since 2008. Sommelier at Vinum Selecció (Reus).

Roser Virgili
Professional sommelier since 2009. Sommelier at the Espai Fortuny restaurant, at Mas La Boella (La Canonja).

Joan Arboix
Professional sommelier since 2006. Head sommelier at the Restaurant Arola in the Hotel Arts (Barcelona).
Recommended articles
Comments