Gerard Basset: "Doing a tasting is like doing a crossword - you need a lot of concentration"
Born in France but a lover of England, Gerard Basset was crowned best sommelier in the world in 2010. Natural and affable might well describe this renowned sommelier, whose opinions are always highly regarded. Settled in the New Forest, he runs a hotel where food and wine play a leading role, always related to the idea of having fun, relaxation and enjoyment, because in Basset's opinion feeling emotions is fundamental. In addition, he takes part in tastings around the world, which enables him to continue increasing self-awareness, learning and imparting wine and its essence.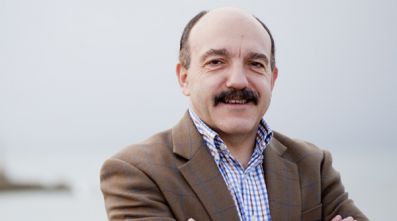 What made you become absorbed in the wine world?
In fact, my family didn't used to drink a lot of wine. I began working in a restaurant where a young woman asked me to explain about a wine. I didn't know how to do it properly and that was when my curiosity in wine was aroused. Afterwards, I took an exam in France and also one in England, all so I could learn and gain confidence.
When did you start working as a sommelier?
The first time I would've been about 25 or 27 years old, and already working in England; I spent my life going between this country and France at the beginning. I was in the United Kingdom for 8 months and afterwards worked as a chef in France, a very positive experience because that's how I learnt to understand food.
On your website you are described as "one of the most credible, approachable and respected figures of the wine world". How do you feel about this definition?
I didn't try for the awards and titles I hold in order to gain recognition, but so that I might feel more confident and better qualified. Despite that, people end up thinking you're a sort of superman, but that's not how I see it.
In 2010 you were named World's Best Sommelier, having taken part in the competition several times. What did that recognition mean, especially after the previous attempts?
I'd already tried 6 times, and reached the final on 4 occasions. When I won, the first thing I felt, obviously, was great excitement. It really requires a lot of preparation; in fact, the edition I won was the one I'd best prepared myself for; I followed the advice of professionals, did some extra training exercises.
Gerard Basset Profile
The only person to hold simultaneously Master of Wine, Master Sommelier and MBA Wine honours.
Many consumers see wine as an elitist world and perhaps rather snobbish. Why do you think that is? How can we change this perception?
It is difficult; the wine world is very fragmented; there are many regions, grape varieties... there's a lot you need to know and if occasionally you don't have time, then it's quite normal to feel lost, and also, there are definitely some real snobs.
Doing plenty of tasting is the norm for a consumer getting started, but what special guidelines are there when it comes to learning how to taste?
The key is to concentrate on the most significant features of the wine, such as the aroma quality; in my opinion, the nose and palate are most important, and what the length is like, but I believe aspects such as tears are less important. Doing tastings is mentally very tiring; you've got to concentrate hard – it's like doing a crossword.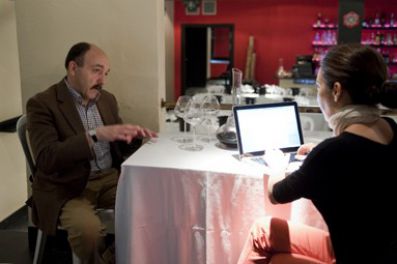 What is the biggest problem with tasting?
You need a lot of experience; there are good days and bad days. It's no easy task, and like playing golf, there are days when everything goes right and others when it doesn't. I do plenty of training and you gradually get underway, but you definitely need to feel fresh. You must be careful because one wrong detail can lead to making a mistake. You can't speculate; you need to be receptive and fresh.
Tasting is a different job depending on who does it: an oenologist will be aiming to correct defects, the sommelier to please, and the writer to get a rating. A sommelier tends to be positive, since people who go to a restaurant do so for pleasure and enjoyment.
What do you think about giving wine ratings?
Sometimes it's important to give wine marks, but it's not an exact science. I do a lot of tastings for magazines and they ask me for ratings, and the fact that you have to give a mark makes you more focussed; you have to think carefully about all aspects of the wine and make good judgements. Consequently, rating a wine is quite a responsibility and I try to do it as accurately as possible.
Are there good and bad wines?
Yes, of course. A good wine conveys sensations to you when it's complex, pure; on the palate it confers harmony and you feel it, it's very subjective, and also where you are has some bearing, the location... In the end, if a wine is good we will all reach the same conclusion, although we might perhaps disagree on how good it is, but we're sure to agree that it isn't bad.
Hotel TerraVina
From 1994-2004 you established the Hotel du Vin group. Afterwards, along with your wife, you opened the Hotel TerraVina in the New Forest. What is the idea behind it?
We wanted to open a boutique hotel with good food and we went for Californian, which we found very colourful. As regards the wine, we didn't want to be pretentious. I am a sommelier, but I wanted it to be low-key.
In January, we included the tasting menu, where pairing can be important, but for us the vital thing is that people should come to have a good time.
How have you made the wine selection?
We've tried to be international. We have wines from Australia, New Zealand, Chile, Argentina, France, Spain, Japan, Canada… about 100 wines at average prices, the majority between 8 and 20€, but we have some of everything, with the most expensive at 800€.
Quick wine test
A winery with a great product:
Romanée-Conti
A special grape variety:
Pinot Noir.
A glass of wine should be accompanied by:
The person you love.
For you wine is:
My lady, my lover.
Recommended articles
Comments