Wine tourism in Champagne (Part 2)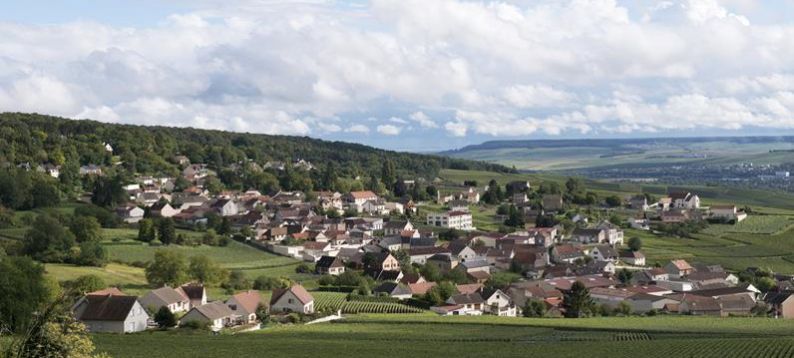 One of the fabulous views along the Côtes des Blancs route
(This article follows my first entry of the Wine tourism in Champagne series)
Having already immersed ourselves in the special atmosphere of Champagne, and enjoyed a night's rest in a "chambres d'hôtes" in Moussy, near Epernay (we'll talk about this type of accommodation separately), we are now ready to set off along another route for exploring this world- famous wine region.
We will be touring southern Champagne and our first stop will be at one of the most prestigious "petit vignerons" in the world. As we explained in our previous installment on wine tourism, visitors should arrange their visit ahead of time, whether they be to a large Champagne house or a small grower, as in the case here. We are visiting Vincent Laval, a Champagne-lover through and through. From the pictures I had seen of him and the little I had been able to read about his work, I had formed an image of him which was far from the reality. Vincent received us with open arms and told us about his day-to- day work and how he got to where he is today, in great detail.
As I said, I really had very little prior information about this Champagne maker. He himself explains, on his website (www.georgeslaval.fr) that his father told him not to go into viticulture because he would die of hunger! The reality could not be more different - Vincent earns a very good living today, because his champagnes are highly rated and in great demand.
"Wine tourism is that journey one undertakes to gain insight into the roots of a wine"
He took us on a walk through his vineyards on the hill just above the village of Cumières (actually right on the edge of the village), half way up the slope, where he grows Pinot Noir. From here , Vincent is already bringing out great champagnes and more are on the way. We will be publishing our interesting interview with him, in a future issue of the magazine.
After we had tasted some of his excellent champagnes, we headed for a place which is a "must" from a tourism point of view. We drove about 10 minutes from Cumières, to the nearby village of Hautvillers, home to the tomb of Dom Pérignon. For champagne lovers, it may not be the most interesting place to visit, but, as we wrote in the previous issue, wine tourism is not just about tasting wine, it also embraces the local history, culture and cuisine.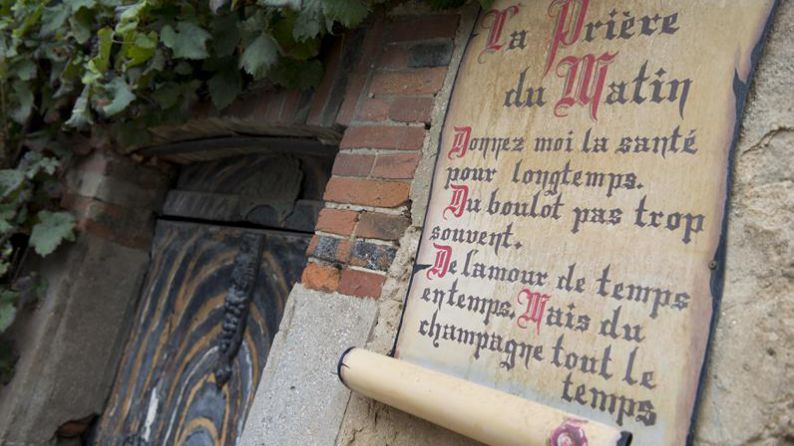 Although the population of Hautvillers is very small (just 840 inhabitants), the number of producers is, disproportionately high, as there are over fifty. You can visit this charming village on foot and check out one of its interesting features - the wrought-iron signs that hang over the doorways of many of the houses, denoting the trade of the occupants. Obviously, as we are in a region of wine producers , many of the houses feature a bunch of grapes, but we also saw a variety of other trades represented: hairdressers, bakers, musicians, etc.
An Interesting fact, which will give you an idea of what it is like to be a "must see" tourist attraction, is that the number of visitors to this village is around 140,000 per year, and that of these, curiously, 60% are Belgian, 40% are from the rest of the world, and recently the number of Chinese visitors has increased dramatically.
We naturally finished our visit at the tomb of Dom Perignon who, according to popular culture, was the inventor of Champagne. In fact, this claim has never been fully proven, but we will leave that issue for the historians to resolve.
After visiting this village, we were able to take a break and grab something to eat. You can do this, either in the only restaurant we found in the village, or in a nearby town with more choice (Epernay is relatively close and has more restaurants). It depends on where you are heading afterwards. In our case, we decided to eat in the "Café d'Hautvillers" in the village, as we were on our way south and we were a bit pushed for time.
After this short break, we continued on our way, along what is known as the "Route des Côte des Blancs". During this fabulous excursion, you can visit the villages of Pierry, Cramant, Avize, Oger, Vertus, Beaunay and Etoges, among others. No doubt they all have their own particular attraction, but you cannot do them all in one afternoon as time simply does not allow it.
At the time we visited the region, they were only one week away from the harvest. In Champagne, the local regulatory body determines the date when harvesting can start. After that date, each grower or Champagne house is free to decide when it starts picking its grapes, but it cannot do so before the official date. So, a few days from the onset of the harvest, the vineyards were magnificent, with grapes ripe for the picking. We were presented with an idyllic image of rows of vines , which looked as if they had been scrubbed, combed and lined up ready for inspection like an army regiment. The writer of this piece was very struck by the visual perfection of the vineyards, with their obscenely clean lines, which speaks volumes for the care given, and the perfection sought, by the growers in all aspects of their work.
We recommend you stop and walk through the villages and surroundings of Cramant, Avize and Le Mesnil-Sur-Oger. If you are feeling energetic, go up to the top of the hills and take in the beautiful views. If I had to recommend only one of these villages, then, in my humble opinion, you should spend some time in Le Mesnil-Sur-Oger.
The best Blanc de Blancs champagnes are made in this village. Almost all the major Champagne houses have a parcel in this area, because its soils and climate create the best conditions for growing the Chardonnays which give rise to great champagnes. Maison Krug has one of its sacred temples here, from which it produces one of the icons of the champagne world: Le Clos du Mesnil. We were able to make a sneaky, unauthorised visit to the Clos by slipping in through a side door, which allowed us to quietly contemplate this exceptional vineyard.
There are other prestigious spots in the village, but it was early evening and fatigue was beginning to take its toll on the expedition party, so we will leave you to check out what other " temples " can be found in this southern Champagne village.
We had our "operations base" at the Chambres d'hôtes in Moussy, but if you continued south, you would come to Etoges . Here you will find Château d'Etoges, offering luxury accommodation in a magnificent, peaceful setting. The rooms are spacious and classically decorated and the friendly, attentive staff is on hand to cater to your every requirement.
As they say in those parts ... à suivre (to be continued)
Chambres d'hôtes vs Châteaux

Château d'Etoges
If you wish to enjoy a spot of wine tourism in France or Champagne, there are, quite naturally, different types of accommodation to suit all visitors: hotels, chambres d'hôtes, châteaux, apartment rentals, etc. But we are going to focus on two options which are more representative of French culture: "chambres d'hôtes" and "châteaux". These are two very different types of accommodation, but either are good choices for a stay in Champagne.
We had the opportunity to "get a taste" of the first type, as we stayed at La Loge Turbanne (http://laloge.pagesperso-orange.fr/indexx.html ) for 3 days. In a wine region, winemakers often make rooms available for guests in their homes. The chambre d'hôtes option usually includes breakfast and the common areas, such as the dining room and lounge, are shared with the other guests. It is cheaper than the "château" option. The châteaux have most hotel-type amenities and are very typical of France and, of course, the Champagne region. We were able to visit Château d'Etoges (www.etoges.com ). The typical château setting is a feast for the eyes and transports the visitor back in time. It is more expensive, but offers a number of services that are not available in a chambres d'hôtes.
Recommended articles
Comments