Ferrari sparkling wine becomes official toast of Formula 1 Racing
Italian fizz Ferrari Trento has been named the Official Sparkling Wine of Formula 1 motor racing, it was announced today before the start of the 2021 FIA Formula 1 World Championship in Bahrain.
The new partnership will see Ferrari Trento's sparkling wine become the official toast of Formula 1 celebrations for the next three years.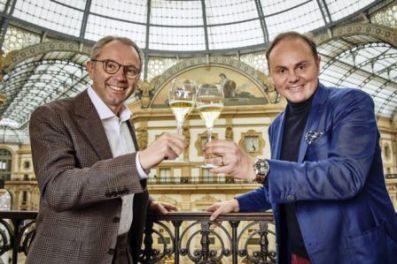 Ferrari Stefano Domenicali and Matteo Lunelli "We are very excited to announce this partnership with Formula 1, which is both an achievement and a starting point for us," said Ferrari Trento's president and CEO, Matteo Lunelli.
He explained, "It's an achievement because it demonstrates the renown and the appeal that Ferrari Trento wines enjoy internationally, thanks to our team that works tirelessly across the board. It's a starting point because we are just beginning this extraordinary adventure that will allow us to bring the Italian Art of Living to the celebrations of Formula 1."
Concluding, he said, "We decided to embark on this project even in this complex time that the world is currently experiencing, because we strongly believe in the future of Ferrari Trento."
Stefano Domenicali, president and CEO, Formula 1, said: "We are thrilled to announce Ferrari Trento as an official Partner of Formula 1."
He added, "Celebrating success is in both our DNA and having Ferrari Trento at the heart of the sport's most iconic celebratory moment makes them such a natural partner for us."
Information from The Drinks Business
Recommended articles
Comments