World´s most prestigious wine collection to go on display.
The wine collection of Michel-Jack Chasseuil, described (by its owner) as "the most prestigious cellar in the world", is to be put on display for the public to view – for a €500 entry fee.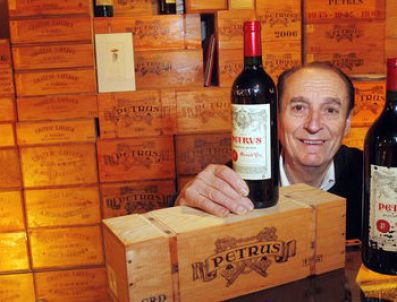 Chasseuil has built a 350m2 exhibition space three metres underneath his home in western France to present his 50,000 bottle collection of fine wines, Champagnes and spirits.
His idea to open a 'Louvre of wine' as a national monument has been an ambition for many years now.
With several national institutions having turned down his suggestions to house the collection in Paris or Bordeaux, however, the 79 year-old Chasseuil has worked on the space that he calls the 'Pantheon' entirely by himself and apparently plans for it to be ready by the summer once the finishing touches are done.
To finance the project he reportedly sold off some of the bottles in his collection and raised €500,000 in the process; with the cellar, lobby, café and tasting area being constructed last year.
Chasseuil began collecting in the 1960s, being able to afford his first grands crus in the '70s before the buying mania driven by global millionaires took hold, and today his collection covers many famous domains of France, Spain, Italy, Portugal, Chile with bottles worth many thousands, sometimes tens or hundreds of thousands, of euros apiece.
Chasseuil's collection is relatively well-known and he has taken visitors around his first cellar in the past, including Prince Albert II of Monaco, French-American NBA star Tony Parker and interested Chinese millionaires, one of whom once apparently offered to buy the lot there and then for €50 million – an offer that was declined.
The collection also led Chasseuil to being put through a terrifying ordeal in 2014 when masked men held him at gunpoint and threatened to torture and kill him if he didn't tell them how to get through his high-tech security system.
Held hostage for hours he refused to give in despite having several fingers broken. Five men were later charged and sentenced to prison for their part in the incident.
According to The Times, Chasseuil wishes to charge €500 per entry just to look at the collection, with tasting of anything on display strictly off limits – though with a tasting area included in the museum it would seem some wines might be available to try.
Chasseuil is apparently convinced his 'Louvre of wine' will be a success and put the town of La Chapelle-Bâton on the map, likening it to the effect Brigitte Bardot had on Saint-Tropez in 1958 when before it had been a sleepy backwater.
Information from The Drinks Business
Recommended articles
Comments