Llopart Vi·brant, new vintage of its pearl wine
The winery presents the 2021 vintage of this rosé wine made from a rare autochthonous grape and with minimal intervention
Llopart launches the new vintage 2021 of Vi·brant, a rosé pearl wine, from handpicked Xarel·lo Vermell grapes, made with a single fermentation finished in the bottle which allows it to keep subtle, spontaneous and delicate bubbles, hence the name pearl wine. The wine begins its fermentation in a stainless steel tank and then it's bottled right before it finishes in order to end the process within the bottle. These endogenous bubbles help preserve its identity of a natural wine of minimal intervention.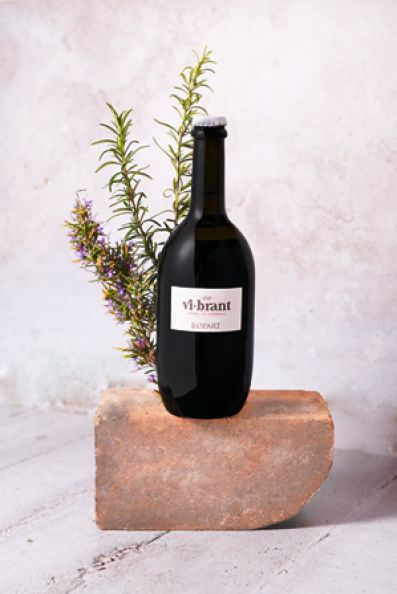 The fermentation of Vi·brant takes place with indigenous yeast, previously selected, without added sulfites, and then it matures for four months on the lees. After that period, the bottles are riddled to decant the lees and then they are manually disgorged.
The result is a rosé wine of weightless bubbles, light and balanced, with aromas of fresh fruit, like pear, strawberry and gooseberry. There are also remarkable undergrowth aromas with slight tones of bread dough.
Xarel·lo vermell, a very rare pink variety that Llopart has been recovering during the last years, is the protagonist in the mono-varietal Vi·brant. This grape of pinkish skin, the outcome of an evolution of traditional xarel·lo, grows on three terraces of organic mountain vineyards almost at 400 meters above sea level.
The first vintage of Vi·brant was presented last year, an edition of 863 bottles that had an extraordinary reception. This year the cellar has elaborated 5.124 bottles. With this wine, Llopart explores new tendencies of the winemaking world and, at the same time, wants to approach a young public with different consumption trends, more informal and friendly. With this idea in mind, the winery has chosen a special design and capping for the bottle
Vi·brant is part of the project The secret life of the plants, a name that englobes all wines that Llopart produces within Penedès Denomination of Origin: Enigma, a mysterious and ephemeral wine, made with a secret grape variety that changes every vintage; the white and young Vitis, the oaked Xarel·lo Clos dels Fòssils, the rosé made of Sumoll Carmí and finally Most Flor de Xarel·lo, the solidary grape juice. With this idea the winery wants to confer their admiration to the mysterious world of plants: living beings with sophisticated and fascinating sensibilities, strategies and mechanisms of adaptation to their environment.
TASTING NOTE
Bright salmon color. His nose combines the freshness of the primary aromas of Xarel·lo such as pear, with those typical of rosé wines such as fresh strawberry and currant, on a background of subtle notes of breadcrumbs and balsamic aromas stand out. On the palate it is very balanced, with an extremely fine and creamy bubble that perfectly balances the freshness of this wine. Its aftertaste is pleasant and long.
Recommended articles
Comments