The €100,000 PFV Prize 2022 open for applications.
The Primum Familiae Vini, an association of twelve European wine families who are producers in some of the world's greatest viticultural regions announced today that the 2022 Prize is open for applications.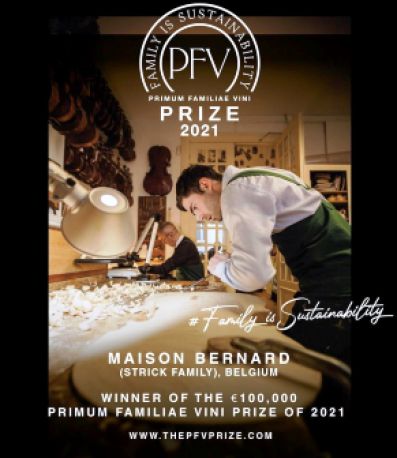 All family-owned companies in all countries and in any area of activity are eligible for this valuable prize. The PFV Prize aims to encourage family continuity and excellence in craftsmanship, sustainability, and the successful transmission of responsibility from one generation to the next.
The PFV represent the deep artisan roots of family companies who are committed to the absolute quality of their wines and all have a long history of dedication to their respective regions.
The 2021 Prize of €100,000 was awarded to Maison Bernard in Brussels, Europe's oldest violin workshop.
Applications for the 2022 PFV Prize can be made from 14th June on www.thepfvprize.com and will close at 24hrs on 31th October 2021.
The PFV Short List of five family-owned companies will be published in January 2022 and the PFV Prize winner will be announced in March 2022.
The Selection Jury for The PFV Short List and The PFV Prize will be one member of each of the twelve PFV wine families:
• Priscilla Incisa Della Rochetta - Tenuta San Guido, Italy - Founded 1840
• Albiera Antinori - Marchesi Antinori, Italy - Founded 1385
• Egon Müller - Egon Müller Scharzhof, Germany - Founded 1797
• Prince Robert of Luxembourg - Domaine Clarence Dillon, France - Founded 1935
• Matthieu Perrin - Famille Perrin, France - Founded 1909
• Paul Symington - Symington Family Estates, Portugal - Founded 1882
• Frédéric Drouhin - Maison Joseph Drouhin, France - Founded 1880
• Miguel Torres Maczassek - Familia Torres, Spain - Founded 1870
• Jean-Frédéric Hugel - Famille Hugel, France - Founded 1639
• Pablo Alvarez - Vega Sicilia, Spain - Founded 1864
• Philippe Sereys de Rothschild - Baron Philippe de Rothschild, France - Founded 1853
• Hubert de Billy - Champagne Pol Roger, France - Founded 1849
Recommended articles
Comments