The Llunes collection from Pinord winery win two medals in the 54th edition of the Tastavins DO Penedès Competition.
Lluna plena chardonnay - Silver medal. Lluna nova xarel·lo - Bronze medal.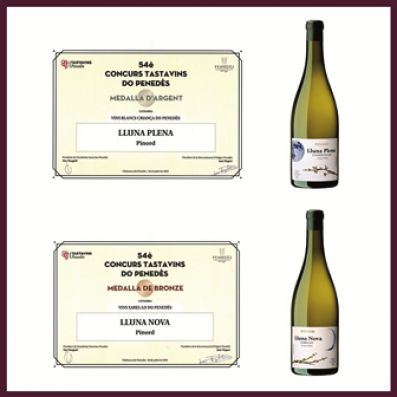 This Monday, May 20th, in the Sala dels Trinitaris of Vilafranca del Penedès, took place the Tastavins Competition of the DO Penedès. The oldest wine contest in Spain, which celebrated its 54th edition, and where the quality of the wines made within the DO Penedès is recognized. The jury, a panel of 23 tasters, is composed of a large representation of sommeliers, winemakers, specialized journalists, and wine lovers. All of them under the technical direction of DO Penedès. A wide spectrum of wine connoisseurs which approach wine tasting from di!erent angles, enriching the overall experience.
In the category of aged white wines, the Lluna plena, single-varietal chardonnay received the silver medal. In the xarel·lo DO Penedès category, the Lluna nova, made with the Penedès "agship variety, xarel·lo, won the bronze medal. Two wines made from organic and biodynamic agriculture and small production) A recognition that #lls the entire Pinord family with joy and consolidates them as a heavyweight champion among the wine community.
The Llunes Collection, presented with an illustrated box, is made up of two 100% high-end varietal wines (xarel·lo and chardonnay), old vineyard and fermented in barrels to increase the aromas of these varieties. In the Lluna plena, a fruity spectrum of aromas come to life. We get peaches and apricots, also white fruits like pineapple and even an mellow scent of vanilla. LLuna nova works as a commitment to a variety that represents the excellence of Penedès, establishing xarel·lo is a solid option for a nuanced, high-end, round and elegant wine. In addition, we encourage you to scan the QR code found on its labels from where you will discover through animated videos the history of each wine, from its birth in the vineyard to the glass, and also a small tasting note.
Recommended articles
Comments