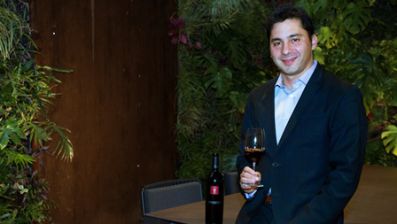 A few of us were lucky enough to participate in an unprecedented vertical tasting of Termanthia organised by the director of Bodegas Numanthia, Lucas Löwi. Termanthia is the jewel in the crown of Numanthia, which gets its name from the city of Numancia, famous for its heroic resistance to Roman attacks.
Since 2008, Bodegas Numanthia has been owned by the French group, LVMH, the biggest luxury goods group in the world. LVMH was looking to invest in emerging Spanish wine regions with high promise, rather than the well-known, established areas such as Rioja or Ribera del Duero, and therefore decided to set up in Toro. Here, they found a region of ancient vines, many of them pre-phylloxera, which the local wine growers were grubbing up as they believed they were no longer viable and better replaced by cereals.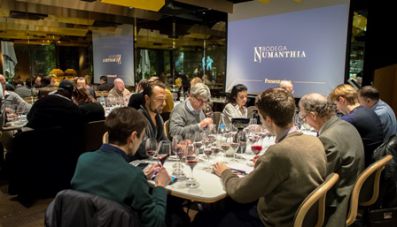 LVMH selected Toro for three reasons - its old vineyards, its adverse and extreme continental climate, and its high altitude, prerequisites for producing a top quality wine.
Termanthia comes from an exceptional old vineyard covering 4.78 ha, called Teso de los Carriles, with pre-phylloxera Tinta de Toro vines planted, ungrafted, 140 years ago at an altitude of 850 metres.
Harvesting is carried out entirely by hand and the grapes are subjected to a rigorous selection process. The harvested grapes are stored overnight to cool, in readiness for a 5-day natural maceration before fermentation. They are de-stemmed by hand, grape by grape, in order to be tread by foot in the traditional, craft manner. The wine is aged for 20 months in new double French oak barrels and goes into bottle unfiltered. Production is only 6,000 bottles.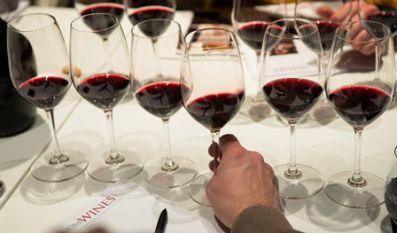 In this, the third Selectus Wines vertical tasting, the vintages we tasted, in this order - 2012, 2011, 2010, 2008, 2007, 2005, - are all available on the market with the exception of the 2012 that was about to be released. At the end of the tasting, they uncorked a bottle of the coveted 2004 vintage, which gained international recognition after receiving the heavenly benediction of 100 Parker points. All the bottles were decanted two hours before serving, with the exception of the 2004 and 2005, which were served straight from the bottle. These are wines requiring patience, wines to be enjoyed unhurriedly and which open in contact with oxygen and evolve in the glass.
Termanthia is a cult wine, which, due to the craftsmanship involved, its small production and its high price, could be described as a designer wine. Welcome to one of the most hedonistic Spanish wine tastings possible at the current time!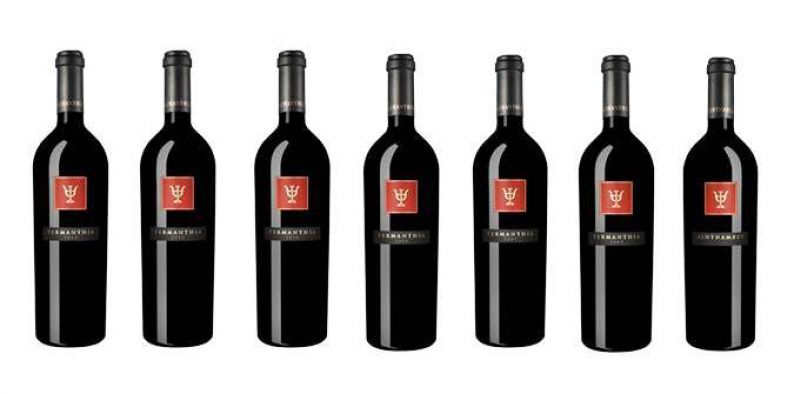 Termanthia 2012
At the time of the tasting, this wine was about to be released. Yet, surprisingly, it shows itself to be accessible and delicious. The nose is sensual and seductive with high notes of ripe black and red fruits, balsamic herbs combined with elegant scented woods, reminiscent of sandalwood and vanilla. The palate is structured with mature tannins and shows a great weight of fruit. There is a warm touch of alcohol that will integrate in bottle. Wide, rather than long, on the palate, this wine is from a hot year (2012). It may not be a year with the greatest longevity, but it will provide great pleasure from the moment of bottling.
Termanthia 2011
2011 was the vintage being sold at the time of the tasting. It is a vintage with great ageing potential, a little tight and with great concentration. The nose shows a certain initial reduction, which makes it slow to open and give of its best. Toasted and smoky notes from its barrel-ageing dominate. After some time in the glass, well seasoned ripe black fruit emerges along with elegant notes of cocoa and cinnamon. The palate is powerful and well armed, with an excellent tannic expression. A vintage for future drinking - tuck a few bottles away at the back of the cellar and open in a few years time.
Termanthia 2010
For the writer of this report, this was the best wine of the night, except for the surprise that I will tell you about at the end of the report. This is a vintage of balance and freshness, probably not so much to the taste of lovers of more powerful, concentrated wines, but ideal for those seeking fresher, more unctuous and elegant wines. The nose is a festival with strokes of ripe red and black fruits, blood orange and an airy freshness in the form of menthol and scrubland aromas. When you swirl the glass, cardamom and liquorice-like aromas derived from its elegant ageing, emerge. It possesses a silky tannic structure and a well-defined style, with a really long, multi-nuanced aftertaste. This wine expresses all the character of a Toro red wine, but with great elegance. We predict it has a great future ahead!
Termanthia 2008
2008 was a difficult year. It was one of those vintages that they call a "winemaker's year", because the year's weather conditions have made things particularly tricky. It shows a very dark, virtually opaque, hue. It is especially concentrated and mineral on the nose with good aromatic depth and bags of ripe fruit jam and distinct toasted, mineral and roasted notes. The palate is powerful and full bodied, the alcohol shows a little bit too much due to the moderate acidity. Its vibrant tannins will become more polished after a few years in bottle. Still, the wine has surprising depth in an irregular vintage.
Termanthia 2007
Here we have a Termanthia with a more delicate and elegant style, more characterized by its fruit than by its size, structure or intensity. It is a balanced, medium-bodied wine, displaying notes of blueberries, cherries, menthol and liquorice in its moderately intense bouquet. The palate is elegant and round with smooth, ripe tannins. This 2007 is at its peak and ready to drink.
Termanthia 2005
This wine displays a beautiful intensity and finesse in a more evolved style than that usually expected from this winery. The wine has a less intense ruby hue than its predecessors. It presents a significant initial reduction, which gives way to aromas of sweet black cherry and herbal fruit tea, interspersed with soil, toasted notes, chocolate and leather. Medium-to-full-bodied, moderate tannin, low acidity and a splendid sweetness. It is ready to drink and probably will not improve, but remain in this admirable state for some years.
Termanthia 2004
To round off the tasting, we were treated to a little gem, Termanthia 2004, a wine that lived up to its reputation. It presents a glorious bouquet of blackcurrants, balsamic notes, vanilla and hints of truffles and oak. Very elegant ageing reminiscent of a great Bordeaux. It has neither too much or too little of anything and the magnificent integration of tannins, acidity and wood is surprising. The wine opens up over the palate with fabulous texture, purity and presence. This prodigious Termanthia does not yet show any signs of ageing so will drink well for many years.
Recommended articles
Comments