Pinot Noir given go ahead in two AOCs in Alsace
Pinot Noir can now be included as part of the AOC Alsace Grand Crus in two territories – a long awaited move for a grape variety that has perhaps been overlooked in the region.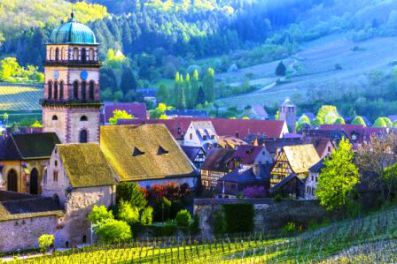 France's appellation body, the National Institute of origin and quality (INAO) had formally approved the addition of Pinot Noir to the list of varieties that are permitted in Grand Cru Kirchberg de Barr (Barr, Bas-Rhin) and Grand Cru Hengst (Wintzenheim, Haut-Rhin). The move officially ratifies Pinot Noir Grand Crus from these two prestigious terroirs for the 2022 vintage.
The amendment noted that vines intended for the production of red wines in Alsace grand cru Hengst should have a density minimum plantation of 5,500 vines per hectare, with vines in Alsace grand cru Kirchberg de Barr having a minimum planting density of 5,000 vines per hectare and an average maximum yield of 7,000 kg per hectare.
According to some producers, getting to this point has been a twenty year journey, and marks the renaissance of the variety in the region – which has grown from around 8% of hectarage under vine to 11% now – as well as recognition of the work carried out by existing producers of these wines.
While the new rules means only these two AOCs can produce both white wines and still reds, the CIVA hopes that this will be expanded to include other AOC Grand Crus in the region over the next few years. Currently, there are 51 AOC Alsace Grand Crus, 49 of which can make Grand Cru wines from just five grape varieties (Gewurztraminer, Muscat, Pinot Gris and Riesling – plus Sylvaner, which was also added by the INAO in May).
Information from The Drinks Business
Recommended articles
Comments