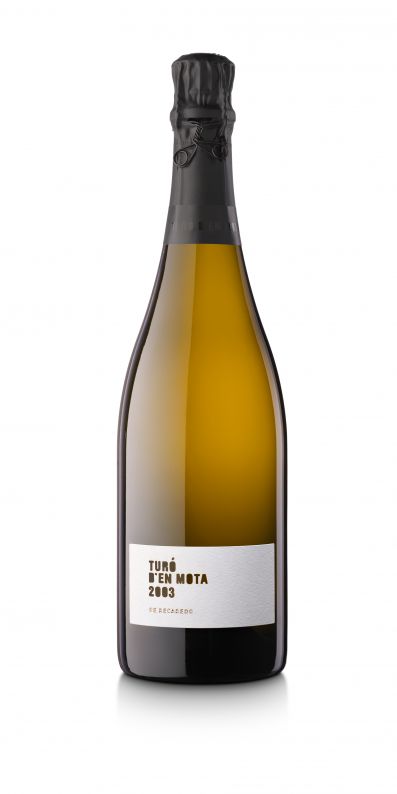 Xarel·lo monovarietal from a vineyard called Turó d'en Mota, 0.97 ha planted in 1940, pruned "en vaso" and grown biodynamically. The vineyard is located on the north side of Sant Sadurní d'Anoia, at the foot of Montserrat, where the vines bury their roots into a soil which is very calcareous and includes silt and clay.
Respect for the soil and the vines, along with hand-crafted work in the winery, has made Recaredo one of the icons of the Cava D.O., and Turó d'en Mota, in turn, is one of the icons of Recaredo.
There are five Recaredo vintages on the market (1999-2003). Peace, silence, observation, patience, craftsmanship and a minimum of 120 months in contact with the lees, make for a unique cava. 2003 was the year of low rainfall and very high temperatures. It was the year in which the old vines had to adapt to extreme weather, and the wine producers had to adapt to their vines in order to bring out the best of a unique terroir.
Bottle 2.142 out of a total of 3.378 bottled, disgorged on 12 February 2015 and best enjoyed in October 2016. Anyone lucky enough to be uncorking a bottle will have shown great patience. The cava is fresh from start to finish. It discloses the candied green fruit of a "Roscón de Reyes". Yeasts. Delicate bubbles, the fermentation may have been secondary, but it is indispensable. Ripe apricots. Tart baked apples. Wild fennel. Forest and nightfall. Talcum powder, a wisp of silk, soft, light and gentle. Blow on a dandelion thistledown and it melts into the wind- such is Turó d'en Mota 2003 on the palate.
Recommended articles
Comments