The oldest person in the world is a nun who enjoys a glass of wine every day.
A 118-year-old woman who enjoys a daily glass of wine and chocolate, and beat coronavirus before her 117th birthday, has become the world's oldest person, according to the Guinness World Records.
Sister André resides in a nursing home in southern France, and has become the oldest person in the world – and the oldest nun ever – according to a statement released by the Guinness World Records on Monday.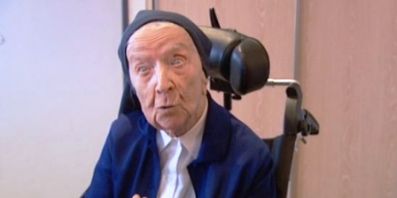 Born Lucile Randon in 1904, Sister André has dedicated the majority of her life to religious service, and looked after children during World War II. She subsequently spent 28 years caring for elderly people and orphans at a hospital.
Sister André is also the world's oldest survivor of Covid, having tested positive for the virus last year. She recovered in time to celebrate her 117th birthday.
"I feel I would be better off in heaven, but the good Lord doesn't want me yet," she told a French news outlet in an interview. Calling the title a "sad honour", she said she found joy in being "pampered" by her family.
The Sister has lived through two world wars, and 10 Popes have presided over the Catholic Church since her birth.
She became the world's oldest person after the death of a Japanese woman, Kane Tanaka, who died earlier this month at the age of 119.
Résidence Catherine Labouré, the nursing home at which Sister André lives, said that she enjoys a daily glass of wine and also has a penchant for chocolate.
"I was always admired for my wisdom and intelligence, but now people could care less because I'm stubborn," Sister André joked in an interview for her 118th birthday.
"I'm thinking of getting out of this business but they won't let me".
Information from The Drinks Business
Recommended articles
Comments