RAIMAT NATURA (Lleida) opens to the public -700ha of protected natural space containing more than 100 species of great value
Spain's largest nature reserve to be located within a wine estate open to the public, can now be visited for free on weekends, and explored on foot, bicycle or in a hot-air balloon. To allow access to the space, a walkway has been installed around the Clamor reservoir, three routes have been marked out and a small visitor centre has been built, with an initial investment of €250,000. The reservoir and the Raimat vines, where hunting has been prohibited for decades, and the cultivation techniques used and the wines produced are 100% organic, is one of the best areas in Catalonia for bird watching.
The Raimat winery, 15 km from Lleida, has opened its estate to share its great natural wealth, which has converted it into a real haven for biodiversity. The public can now enjoy free admission to Raimat Natura, a space of more than 700ha (the equivalent of 900 football pitches) where hundreds of waterfowl, endangered birds of prey, mammals and vineyard plantations live in completely organic and sustainable harmony. Visitors can explore it by foot or on a bicycle, travelling along three sign-posted routes, or from the air as they fly over it in a hot-air balloon. Guided tours, Nordic walking, orientation challenges and the hire of electric bicycles are among the other options on offer. In addition, Raimat wines paired with tapas made from local produce can be enjoyed in the visitor centre.
During the Raimat Natura ceremony, Raimat's director, Joan Esteve, highlighted that, "We have preserved this space for decades and we have demonstrated that we can grow vines at the same time as respecting and caring for their surroundings, the habitats and species that live here." We now have a natural space that is unique within Europe, with birds that have almost completely disappeared coming to live and breed at Raimat. A natural treasure 10 minutes from Lleida that we had to share with all nature lovers."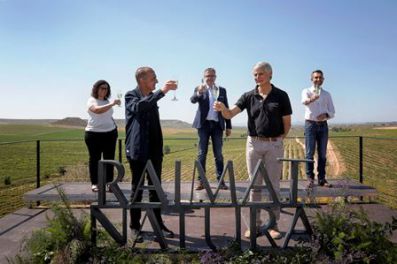 Ainhoa Casabón, mayoress of Raimat; Miquel Pueyo, mayor of Lleida; Joan Talarn, president of the Deputation of Lleida; Joan Esteve, director of Raimat and Sergio Fuster, CEO of Raventós Codorníu. During the same event, the CEO of Raventós Codorníu (the group that Raimat is part of), Sergio Fuster, explained that Raventós Codorníu's dream is to replicate similar models across all its wineries, "Raimat is the standard bearer, a model of sustainability for the whole of Spain, which already makes 100% of its wines in a sustainable manner. But our commitment is clear: to follow its model across all our wineries and for all our vineyards (in Catalonia, Rioja and Castile) to be organic in a few years' time. We could have chosen to make just one wine, but we chose to make projects like Raimat Natura become reality and to be faithful to our aim: to give value to the earth."
The Mayor of Lleida, Miquel Pueyo, and the President of the decentralized municipal entity of Raimat, Ainhoa Casabon, among others, also joined them at the opening act.
Raimat Natura, a pioneering project for Spain, and unique in Europe, involved an initial investment of €250,000, which was used to signpost three routes, install a wooden walkway around the Clamor Reservoir (allowing access for people with reduced mobility) and to build a small information centre to attend visitors.
During the first phase, it will open on Saturdays (9am - 9pm) and on Sundays (9am - 7pm). During the week, visits will be organised for schools and other groups.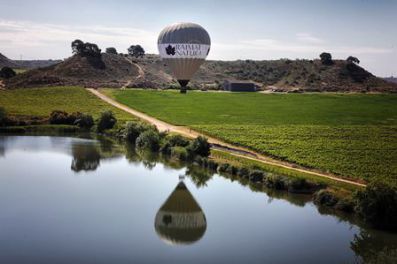 Raimat, a privileged refuge for birds
The Raimat estate has become one of the most interesting areas of Catalonia for bird watching thanks to its climate and wetland areas (reservoirs), but also because it is a safe haven (hunting is prohibited), where the birds can find food (a large population of hares, food for birds of prey,) and where no types of insecticide are used. All this has enabled Raimat to become a refuge and nesting site for birds of prey and all kinds of waterfowl.
The area surrounding the Clamor Reservoir is a privileged area for the observation of birds, as it is home to a great variety of species that can only be found in areas like the Ebro River Delta, Aiguamolls de l'Empordà and l'Estany d'Ivars. Key among them are the families of shoveller ducks (Raimat is the interior area of Catalonia where they are most commonly found during winter); ferruginous ducks; northern pintails (tricky to spot) and almost fifteen different species.
Raimat is also a place of refuge for protected species of birds of prey that have almost disappeared across Europe. Highlights include Bonelli's eagles (in danger of extinction); Western marsh harriers (they over-winter at Raimat and raise their young in the reed beds); and red kites, a long-winged bird of prey that is in danger of extinction in Europe, although it is still present in the Iberian Peninsula. Between 50 and 60 birds spend the winter at Raimat.
In the summer, Raimat becomes a breeding ground and nesting area for numerous protected species. During this period it is easy to spot great crested grebes (a protected species that is a member of the grebe family); coots; grey herons (similar to storks, with long legs to fish in the water), among others.
Steppe-land birds (native to arid areas) can also be found, such as the spectacular European roller, a favourite of ornithologists due to its attractive blue and green coloured plumage. Other very attractive birds can also be seen, such as the bee-eater (yellow, blue and red) and woodpeckers.
In addition, otters and terrapins can also be found in the reservoirs of Raimat Natura. The ecosystem is complemented by other, more common species, such as rabbits, hares, genets and foxes, despite them moving about mainly at night, making them more difficult to spot.
Recommended articles
Comments