Marimar Estate, The Californian Torres
Marimar Torres is part of the prolific generation of winemakers from Catalonia's Torres family. The sister of Juan Maria and Miguel Torres decided to uproot to California to embark on her own adventure: to become a winemaker in her own right. This led to the birth of Marimar Estate Vineyards & Winery, located in the heart of Russian River Valley, in Sonoma County, where she grows Pinot Noir and Chardonnay, along with some Spanish varieties, with which she is experimenting and has already produced some wines. She stays in touch with Spain and her family, coming over about four times a year to give tastings and promote her Californian wines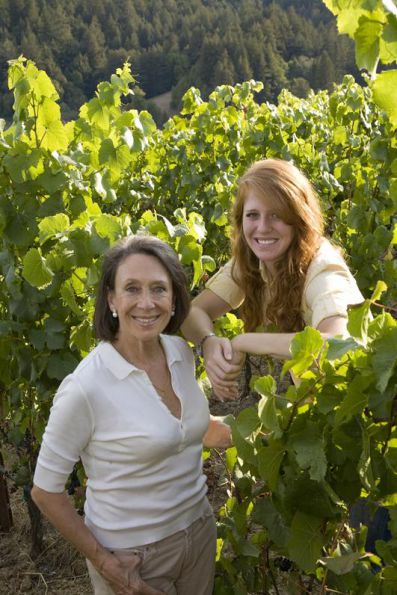 Marimar Torres with her daughter, CristinaAt 68 years of age, Marimar Torres has already achieved a great deal. Born in Barcelona, ​​she holds a degree in Business and Economics from the University of Barcelona, ​​she studied marketing at the ESADE business school and is also a graduate of the Stanford Executive Program. In 1988, she studied oenology and viticulture at the University of California at Davis in the U.S. She arrived in San Francisco at the age of 29 and married an American, whom she divorced four years later. Her daughter Cristina, a fifth generation Torres, was born in 1988. Between 1975 and 1994 she was export director for Bodegas Torres' wines and promoted them in the U.S. and Canada. Her surname gives her a seal of approval in Spain and her first name in the U.S., although there is, of course, only a very fine dividing line between the two.
In the beginning…
She became interested in northern Californian viticulture while she was still selling her family's wines. In 1983, she persuaded her father, Don Miguel, to purchase the first vineyards in Green Valley, and helped him through the process. Green Valley is a sub-denomination within the Russian River appellation, near the Pacific coast. Chardonnay and Pinot Noir are ideal varieties for this particular climate with a strong maritime influence. She named her first property Don Miguel Vineyard after her father, who died in 1991. The property covers 33 hectares; the first Chardonnay vines were planted in 1986 and the Pinot Noir followed two years after. Over a decade later, she decided to grow Syrah, and in 2004, Tempranillo and Albariño.
In 2000, she bought a 73 hectare estate, of which only 8 hectares are vineyards and the rest forest, situated in Freestone, 11 km from the Pacific Ocean, in the Sonoma Coast appellation of origin, and with a very particular cool, foggy microclimate. She named this estate Doña Margarita Vineyard after her mother. It sits at 190 metres altitude, with soils of sandy loam, sandstone and marine sediments, and is exclusively planted with Pinot Noir.
Both estates use similar clones and planting systems. From the outset, Marimar Torres, advised by her brother Miguel, decided she would adapt European viticulture to California. She therefore opted for a high planting density of around 5,000 vines per hectare, which was more than four times the traditional planting framework in California at the time, to enable the grapes to attain greater balance, concentration, and more refined, elegant aromas.
The Torres family ties are reflected in the architecture of her winery. In 1992, she inaugurated an austere-looking, functional building with a 180,000 bottle capacity, built in the style of a classic Catalan farmhouse, decorated with a number of traditional features. Inside, there is no shortage of references to her family with numerous photos and pictures adorning the walls.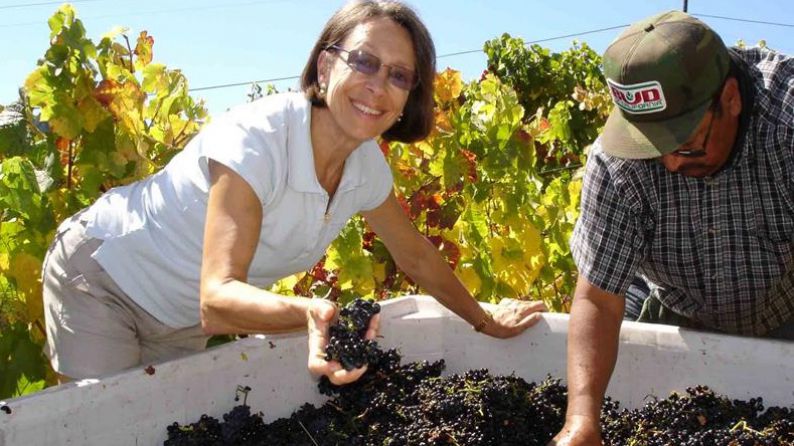 Adopting organic viticulture
All Marimar Estate vineyards obtained the CCOF (California Certified Organic Farmers) certification in 2006. The decision to start the conversion process was taken after a trip to Burgundy. She began with one plot in 2003, and after two or three years found the results to be better. "It's more expensive but you have to think ahead. The vine is like a child that must be cared for, in order for it to grow up healthy", she says. This certification is a three year process at the end of which a wine can state on the label that it is made from organic grapes. "The whole idea is to create an ideal balance between the vines and nature. The vineyard will be ecologically healthier and the grapes of higher quality. That's our long-term reward."
She uses cover crops of certain legumes (peas, vetch, oats and clover), which fix nitrogen and provide organic matter to improve the health of the soil and protect it from erosion during the rainy season. This goes hand-in-hand with the protection of the environment and bio-diversity, and the creation of an ideal habitat for insects, the natural predators of pests harmful to the vine. On the estate in Autumn, they prepare the compost with grape pomace to which they add horse manure and straw, which come directly from their equestrian centre on the Doña Margarita Vineyard estate.
Since 2010, biodynamic methods have also been applied in the Don Miguel vineyards, which are now fully biodynamic. Marimar Torres believes that these practices are "a leap of faith, it's impossible to quantify the success of the practices, but we firmly believe that our wines have become more reflective of their terroir, rounder, and more "stand-alone" since we became organic".
The wines
She produces 13 wines, but not all are for sale. Some are exclusively for members of the "Club Marimar" because, with only 100-200 cases available, their production is too small. Her boutique wines are the Albariño, Chardonnay-Albariño, Dobles Lías Chardonnay and Bonita's Hill whites; and the 80% Syrah-20% Tempranillo, Earthquake Block Pinot Noir, Stony Block Pinot Noir and Chico's Run reds. Each with their different personalities.
Her two most popular white wines are Acero and La Masia Chardonnay, both made ​​from 100% Chardonnay. The first is unoaked and the second includes a 30% proportion fermented in new French oak barrels and aged on the lees for ten months. Of her reds, La Masia Pinot Noir was the first to be released in 1994 with the 1992 vintage. This wine is aged in French oak barrels and, like all the winery's red wines, does not undergo any filtration or fining. Cristina Pinot Noir, named after Mirimar's daughter, is a selection of some Don Miguel Vineyard barrels, which are most representative of the terroir and have great ageing potential, while Mas Cavalls comes from the Doña Margarita vineyards.
Pinots close to each other geographically, but far removed from each other in terms of style, fresh, complex Chardonnays, and Spanish varieties that appeal to American drinkers just as they do the Spanish,...that's the name of the game at the Californian Torres.
Recommended articles
Comments