Atrio, the Sacred Wine Cellar
There is a prodigious gastronomic temple in Caceres which glories in its name: it is the "Atrio", entrance to a wine cellar paradise, to the divine crypt where happily resides the great genie of the bottle, of all the bottles of all the best wines in the world. There is no other like it in the country. This is the sacred wine cellar.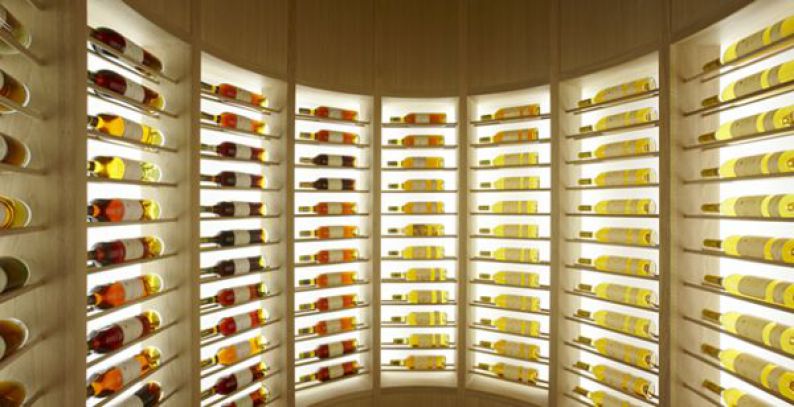 José Polo is a great world-wide collector, but since he has a sense of fun and humour, fortunately he lacks the eccentricities typical of collectors. He kisses his bottles but he doesn't sleep with them, neither does he spend the day locked up in his divine crypt contemplating them. They are on the "great" wine list in his restaurant – two Michelin stars and Toño Pérez in the kitchen – available to anyone who wants to ask for them. His hands do not shake as he opens them, nor is he overcome with sadness when the genie comes out of the bottle. He enjoys the occasion when it arises and shares in the happiness and excitement with the delightful customer who requests one of his treasures on the table.
He told me himself about one of these special moments: "I was very excited to be opening a 1939 Siglo Saco and finding the wine was perfect. Something like that feels really unique, and I thought about what Spain that year might have been like, with the weight of a war on its shoulders, with hardly any men to pick the grapes..."

He is also pleased when a bottle leaves his crypt to pass into other hands, without being uncorked at the table and therefore without it being possible for him to witness this magical moment... It can happen. The treasures in his collection are virtually impossible to find and can be objects of desire for keen fans. For instance, last July, recounting in his own words... "Some clients staying in the hotel, who were definitely not Spanish, when visiting the wine cellar told me they wanted to take a 1986 Petrus to drink the following day while watching the Spain match in the football European Cup final." On the wine list at 2,400 Euros. Wealthy clientele, no doubt, and excellent company for a football match... I would go so far as to say. (Incidentally, I can remember a great final in Alfonso Cortina's private cellar, where we wine journalists had the chance to enjoy some of his treasures).
Loving Yquem passionately
The sacred crypt's history commenced at the beginning of the 1990s, when Atrio was in another location, much smaller and without the hotel... but already with a significant wine cellar. This is where it all started. "I began buying wine in the early 1990s. Among the great names, I started off with Chateau D´Yquem, Latour, Lafite, etc...", but they didn't have the setting they deserved. They were lying in an apartment near the restaurant, very well appointed in fact, but in no way glamorous. That was really getting to José Polo... Such treasures, yet so hidden away!! And he didn't give up until he found what he wanted for his valuable glass assets... "Eventually in January 2004 we found a house in the Plaza de San Mateo, which was not under any special protection on the artistic front and that allowed us to take appropriate measures".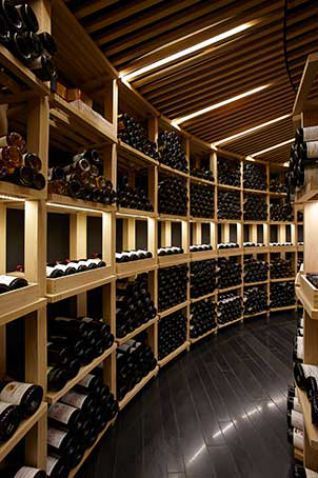 The Plaza de San Mateo is right in the heart of Historic Caceres, a truly Renaissance location, with large houses, mansions, narrow streets... the nobleman's house needed to be converted into a hotel, wine cellar and restaurant, combining avant-garde design with centuries' old stonework. It was a project on a grand scale and scope that took time to reach fruition, some seven years, and which nowadays shines brightly, purporting to be one of the most beautiful Relais & Châteaux in Europe, with nine bedrooms and five suites, apart from the restaurant and the wine cellar, which is the leading light in the Atrio story. The building has received the prestigious FAD Architecture Award in the last edition and the wine cellar won the Best of Award of Excellence, the top classification given by the prestigious American magazine, the Wine Spectator.
The enchanted crypt is down in the cellar but it seems more like being up in the heavens. Illuminated, circular, even-textured, silent, this is where the wines lay resting in magic concentric circles, joining forces, designed by Carlos Martínez de Albornoz. Within, the holy of holies is the highlight, a kind of mihrab of world oenology, adorned with gold leaf and precision carpentry. It is not facing towards Mecca, but actually faces France, towards Sauternes, towards the Mecca of great wines, the Château d'Yquem, which are José Polo's grand passion. This spot is dedicated to them, five vintages from the 19th century (1806, 1883, 1884, 1891, 1899) sixty-seven from the 20th century and four from the 21st. In total, seventy-six different vintages of the mythical wine. With prices ranging between 150,000 Euros for the 1806 Yquem and 360 Euros for the 2004 Yquem, the youngest member of the great family. Nobody at all has anything comparable to this, unless it belongs to the producer's own wine cellar. It is a really crazy love that José Polo feels for Château d'Yquem. Only he could be capable of driving right through the night from Caceres to Bordeaux, guarding a broken bottle of Chateau d'Yquem from the early 19th century, which had just been bought at an auction in London and dropped whilst being placed in the wine cellar. The bottle survived because Jose Polo and his partner and chef Toño Pérez insisted on taking it to its birthplace in France, wrapped in cotton wool and ice, so that its contents would not deteriorate en route. They were on their way to Château d'Yquem, where the owner at the time, Count Alexandre de Lur-Saluces, was expecting them in total shock. He had been told that two mad Spaniards from Extremadura had set out from there with a bottle of wine that was broken, which they wanted rebottled and recorked at source. He had never come across such a beautiful love story involving one of his "offspring".
Three centuries of bottles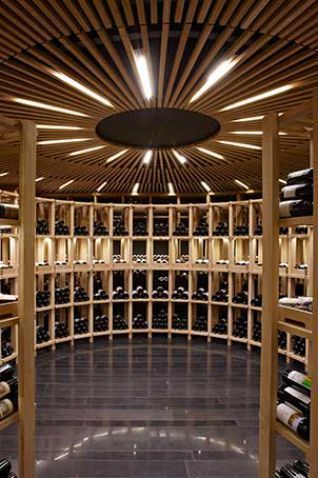 From the 19th century as well, an aristocratic and virtually unique 1896 Marqués de Riscal, at 2,300 Euros. From the 20th century, we may say there is nothing important missing that might have been bottled. The most historic are the French, for obvious reasons. At the turn of the last century in Spain, only some bodegas bottled their wines, but very few, in Rioja, at Vega Sicilia and in Jerez. We found a Murrieta from 59 and a fair number of Cvne vintages, including their Imperial and Viña Real wines since 1928, from bygone Spain a 1928 Siglo Saco Gran Reserva, a 1955 Bilbainas Gran Reserva, a most unusual Rioja, a 1913 Viña Tondonia Plantación, from López de Heredia, valued at 1,700 €, and, as to be expected, a splendid collection of Vega Sicilia Únicos, from 1918 to 1998. Thirty vintages priced from 480 to 3,100 Euros.
In the Atrio wine cellar there are the 20th century's best in the whole world. A veritable voyage, difficult to transcribe: 23 Petrus vintages since 1947; 25 Château Margaux from 1938 onwards; quite a few Château Ducru-Beaucaillou starting with the 1929; there are fourteen different vintages of La Romanée Conti, from 1990 to 2004, priced between 4,900 and 7,500 Euros and twelve years of Romanée Saint Vivant. Of the voluptuous La Tâche, twelve vintages since 1990, with prices ranging from 1,300 to 3,100 Euros. A wonderful spectacle of colour provided by the Mouton Rothschild collection, with their labels painted by Braque, Dalí, Moore, Miró, Chagall, Kandinsky, Balthus, Picasso... Representing their relatives the Lafite Rothschild, 24 vintages from 1929 to 2003, costing from 710 to 5,300 Euros... From the 21st Century, exoticisms such as a 2005 Sula Sauvignon Blanc, from Nashik, near Bombay – yes, you did read it right: from India - and a Lebanese 2009 Ixsir Gran Reserva, two Uruguayan Tannat reds… And so on up to 40,000 bottles from 20 different countries.
Every collector has one object that has proved elusive and José Polo was no different.... Is there a bottle you have never managed to get hold of? Which bottle would you like to have that you haven't been able to obtain? "When I bought the 1806 Yquem, I also bought 23 bottles of different vintages of the same wine, however I couldn't get hold of the 1921 and it has taken me 10 years to find it". It is one of his latest acquisitions and not yet made its way onto the wine list, which is hardly a list but a large book, a treatise almost, a work of art, a veritable collector's catalogue.
"What is important to me about wine is the intangible, what it arouses in people, the happiness that it is capable of giving on occasions. I'm a vendor, but customer too, and so I like to call up my friends, dress for the occasion and uncork a bottle. You feel quite unique with a Romanée Conti when there are only 2,000 bottles a year".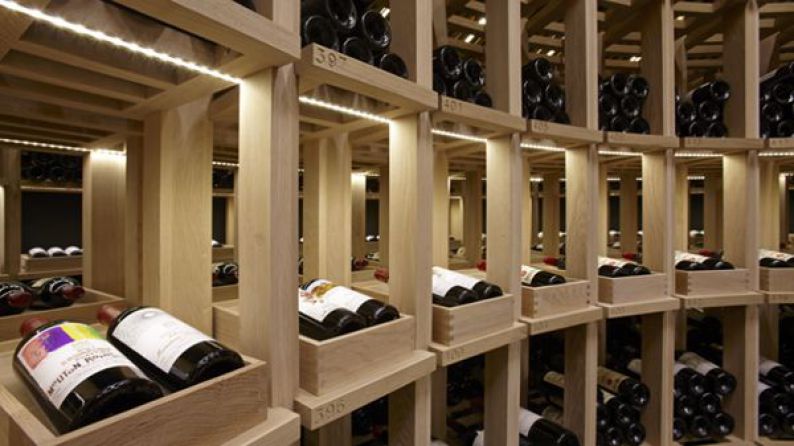 Recommended articles
Comments