LVMH bids US$14.5BN to take over Tiffany&Co.
Luxury goods giant LVMH, owner of Krug and Dom Pérignon, has reportedly offered American jeweller Tiffany & Co US$14.5 billion to take over the company.
As reported by the Financial Times, if the deal with the diamond specialist went ahead, it would be the largest acquisition in LVMH's history.
The acquisition would increase the French luxury giant's exposure in the US – the group's second largest market by sales behind Asia.
Tiffany would join the likes of Dior, Bulgari, Fendi, Celine, Givenchy and Marc Jacobs in LVMH's enviable portfolio of luxury fashion and drinks brands.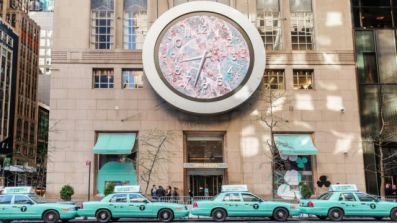 However, the FT reports that the deal may already have been scuppered due to it being announced by Bloomberg and picked up widely in the global press.
The deal would give LVMH more influence within the luxury jewellery sphere, following on from its 2011 acquisition of Italian jeweller Bulgari.
Tiffany & Co's current CEO, Alessandro Bogliolo, spent 16 years at Bulgari, working his way up to become chief operating officer for the jeweller.
Tiffany has suffered of late from the perfect storm of reduced tourist spending, a strong US dollar and the ongoing trade war between America and China.
Founded by Charles Lewis Tiffany in 1837, Tiffany & Co is known for its pale blue boxes tied with a white ribbon, and flagship store on Manhattan's Fifth Avenue, made famous by Truman Capote's 1958 novella Breakfast at Tiffany's, which was turned into a film in 1961 starring Audrey Hepburn.
According to the FT, the jeweller generated net sales of US$4.4bn last year and employs over 14,000 people around the world.
Led by the richest man in Europe, Bernard Arnault, LVMH boasts 75 luxury brands within its portfolio, over 4,590 stores and 156,000 employees.
One of the company's most recent acquisitions is London-based hotel and travel group Belmond as it seeks to move towards experiential luxury.
Information from: The Drinks Business
Recommended articles
Comments