Local Wine and Cheese Pairings from Across the USA
Wine and cheese pair like salt and pepper, peas in a pod…the list of duos could go on and on.
The USA is the world's fourth largest wine producer and for well over a decade wine, wine has been made in every state. Cheese production is big here, too, and it's not just coming from Wisconsin – America's "Cheese Capital". According to the International Dairy Foods Association, in 2013 for the 21st straight year in a row, natural cheese production hit a new record level.
Yes, there's plenty of mozzarella string sticks and shredded cheese for Tex-Mex or Cal-Mex and for sprinkling on pizzas. But, artisanal cheese continues to grow. According to Christian Miller, Proprietor of Full Glass Research and cheese research guru, it's mostly impossible to count the number of cheese producers today, so fractured is the industry.
Anyway, reading statistics don't satisfy the same way that hands-on research does. Here are some great local wine and cheese pairings to consider on your next tour of the US countryside.
1 - California
Carracioli Cellars Brut Cuvée and Fiscalini Cheese Company San Joaquin Gold
The Carracioli Cellars Brut Cuvée tastes of buttered and toasted brioche, a flavor that melds delightfully with the toasted Brazil note tones of a nicely aged San Joaquin Gold, which is aged a minimum of 12 months before release. Despite being dynamically unctuous on the palate, both parts of this pairing have crackling acidity, melding structure with flavor.
2 - Colorado
Plum Creek Winery Dry Riesling with AnnaVail Cheese Baamoozola
The blended sheep's and cow's milk blue cheese has a delightfully mouthfilling texture. Its ideal foil is a crisply dry Riesling that contrasts its earthy blue notes with delightful primary, pit fruit flavors.
3 - Idaho
Telaya Wine Company Turas with Ballard Cheese Smokin' Joe Gouda
The Turas is always made with a dominant component of Syrah blended with a variety of grapes, including Malbec and Merlot depending on the year. The blend takes on smoky, toasty characters from new and used French oak that hone in on flavors found in this unique smoked cheese. The lightly tangy crunch in the cheese gives the duo just the right amount of lift.
4 - Michigan
Chateau Grand Traverse Etcetera Rosé with Leelanau Cheese Aged Raclette
Raclette is a delightfully funky cheese, so it needs a wine full of character to stand up to it. This rosé is a smart companion as its red fruit-driven flavors – especially from the Gamay and Merlot - off-set the cheese's earthiness, while its woodsy undertones – derived from the Pinot Noir and Cabernet Franc, match them. Moreover, both elements are distinctly mid-weight in body.
5 - New York
Millbrook Vineyards and Winery Brut Proprietor's Special Reserve with Coach Farm Fresh Goat Cheese
The tang of this fresh goat cheese works particularly well with this sparkling wine in a warm goat cheese salad. The acidity of the bubbly matches the cheese's perkiness, the wine's citrus tones pair up to the dressing and the leesy characters of the sparkler work nicely with the bread toasts.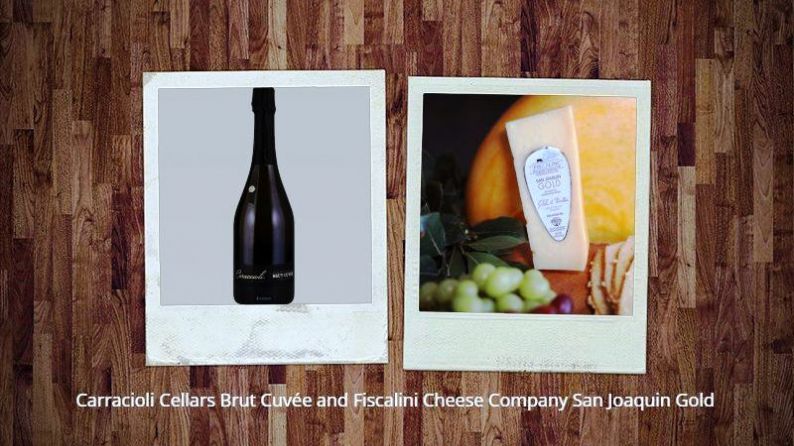 6 - Oregon
Brooks Winery Riesling Sweet P with Face Rock Creamery Fromage Blanc - Apricot
Both this wine and this cheese has a seemingly light attack backed-up with a dense concentration of flavor. Sweetness-wise, this is a perfect match when paired with a sweet-savory flavored toast sliver, like a rosemary and fig cracker.
7 - Texas
Flat Creek Estate Blanc du Bois with The Mozzarella Company Hoja Santa
Hoja Santa is a goat milk cheese aged in a Hoja Santa leaf, stemming (yes, literally!) from the Hoja Santa plant that grows in Southern Texas and Mexico. The leaf gives the cheese an herbal and cracked black pepper edge that works seamlessly with the cheese's noticeable acidity. Blanc du Bois is one of the best hybrid grapes in the USA, along with Vidal found in cooler climates, and its citrusy vibe and crackling acidity blend beautifully with this cheese.
8 - Vermont
Shelburne Vineyard Marquette or Marquette UnTamed with Shelburne Farms Smoked Cheddar
Marquette is a Pinot Noir-esque hybrid that tastes of black cherries. The smoothness of the fruit and tannins blend pleasantly with the cheddar's hearty flavor. When aged in new or partially new oak, it takes on spicy tones that pair well with this cheddar's smokiness.
9 - Virginia
Keswick Vineyards Viognier Reserve with Meadow Creek Dairy Mountaineer
The Mountaineer is an aged, alpine-style cheese. Its creamy texture and nutty overtones work in harmony with the wine's light, new oak aging and lush pit fruit of apricots and peaches.
10 - Washington
Woodward Canyon Cabernet Sauvignon with Beecher's Handmade Cheese 4-Year Aged Flagship
This duo is a flavor explosion! Each component has loads of savoriness and bristling tension, thanks to the vibrant acidity of the Cabernet Sauvignon or the crystalline crunchiness of the cheese. Additionally, the smoothly ripe fruit of the wine nicely melds with the vague oak sweetness of the wine.
Recommended articles
Comments