Italian winery releases "reassuring" wine bottle to support coronavirus relief.
An Italian winery has released a limited edition bottle with a label that says "everything will be all right" in eight languages, and is donating the proceeds to a local hospital.
Zorzettig, which is based in Friuli, has launched a fund-raising project to support the intensive care unit of Ospedale Universitario Santa Maria della Misericordia in Udine, which is fighting at the forefront of Covid-19 emergency.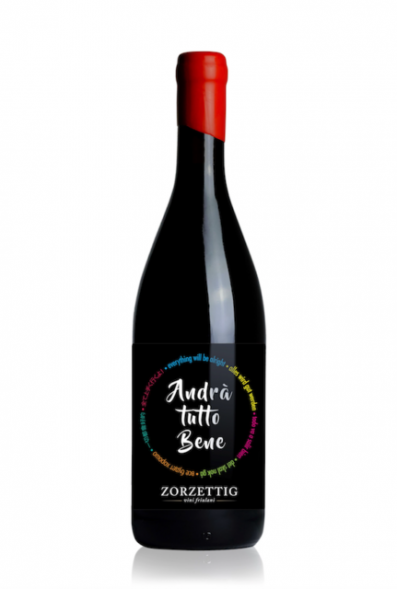 It has produced 720 bottles of red wine made with the grape variety Refosco dal Peduncolo Rosso, grown predominantly in the Friuli-Venezia Giulia region of northeast Italy, which has been one of the regions of Italy most affected by the outbreak.
The label features the words "Andrà tutto bene", or, "everything will be alright", in eight different languages. The number of languages is itself a reference to the fact that eight is considered a lucky number in China, where the outbreak first started last December.
On 9 March, the government of Italy under Prime Minister Giuseppe Conte imposed a national quarantine, restricting the movement of the population except for necessity, work, and health circumstances, in response to the growing outbreak of COVID-19 in the country. More than 100 million Europeans are now living under lockdown as Spain joined Italy in imposing a national quarantine last weekend.
As the public have had to stay indoors in an effort to contain the spread of coronavirus, Zorzetting said the phrase on the label is meant to convey "a hug, a familiar gesture we cannot share right now," according to a statement.
"Andrà tutto bene is a good wish for the future that needs to be translated in a practical action right now" said Annalisa Zorzettig, who runs the family business.
"We love our land and our community and we asked ourselves how we could help. This is how we came up with the idea of a limited edition with a good wish aimed at going beyond space and time. We love the idea that families will buy this bottle to share it with beloved ones seated around the same table. In the future, this will be a reminder of a challenging time we were able to overcome and of a moment which has taught us, once more, how precious are little joys and beloved ones."
The wine is available on Italian e-commerce site tannico.it for €35 per bottle.
Information coming from The Drinks Business
Recommended articles
Comments