Domaine Rolet in Jura sold to Burgundian Group
One of the larger estates in Jura, Domaine Rolet, has been sold to a coalition of buyers headed by Domaines Devillard, the owners of Domaine des Perdrix in Burgundy.
At 65 hectares, Domaine Rolet is one of the largest independent producers in Jura and makes white, red, rosé, Crémant, Vin Jaune, Vin de Paille and marc from its holdings across Arbois, Côtes du Jura, l'Etoile and Château-Chalon.
The principal buyer in the acquisition is Burgundian group Domaines Devillard, which owns Domaine des Perdrix in Nuits-St-Georges and Château de Chamirey in Mercurey.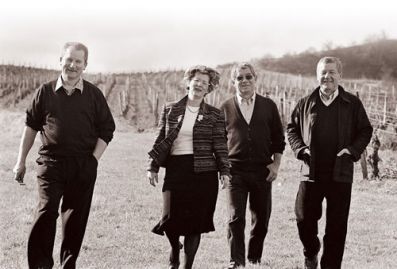 Rolet brothers
Also involved are the Flambert family, a family of Parisian hoteliers, and the Dupuis family, owners of Groupe Venum-Dragon Bleu which produces mixed martial arts equipment and clothing.
Details of the sale were not divulged but it is understood that Domaines Devillard's current export director, Cédric Ducoté, will take charge at the estate this June and the domaine will maintain its independence within the group's portfolio.
In a statement, siblings Eliane, Pierre, Bernard and Guy Rolet, said they: "Share with Domaines Devillard the same passion for making wine that combines both tradition and modernism.
"It is a new era that is beginning for Domaine Rolet with the entry into the heart of Domaines Devillard which has the ambition to continue to develop the estate, while also conserving its identity and savoir-faire."
The directors of Domaines Devillard, Amaury and Aurore Devillard, added: "We are delighted to welcome Domaine Rolet into Domaines Devillard. It will be evolution, not revolution. Domaine Rolet has an excellent reputation and produces wines of great quality.
"We share the same philosophy: to produce the greatest wines possible, with the loveliest expression of terroir and full of balance and elegance.
"Our intention is to consolidate the reputation and quality of the wines and the distribution of Domaine Rolet, both in France and in export markets."
Information from The Drinks Business
Recommended articles
Comments