Churchill drank two bottles of champagne a day.
Pol Roger used this week's launch of its cuvée Sir Winston Churchill to share a few facts about the British statesman – including his daily consumption of Champagne.
Such Churchillian details were shared by James Simpson MW, managing director of Pol Roger Portfolio, when speaking at the first press showing of the latest vintage of Pol Roger's prestige cuvée, which was created a decade after Churchill's death, and launched in 1984 at Blenheim Palace with the 1975 vintage in magnums only.
Using an art gallery in London's Hanover Square to unveil the new cuvée, which hails from the 2009 harvest, Simpson commented that it was an apt location because the former British prime minister was a prolific painter.
Indeed, according to Simpson, Churchill painted over 550 pictures in his lifetime.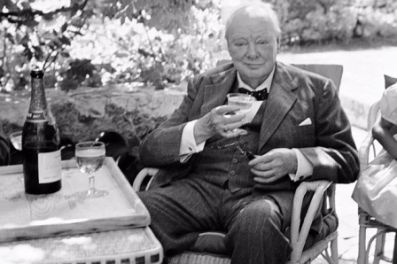 But the famous figure is best known for his huge consumption of drink, and almost ceaseless puffing on cigars, with Simpson initially telling attendees at the event on Tuesday evening that Churchill smoked over 250,000 of them.
As for his Champagne consumption, Simpson said that the Champagne house estimates that Churchill drank 42,000 bottles of Pol Roger in his lifetime – which he said, in comparison to his cigar habit, "seems almost tame".
This total equates to roughly 2 bottles / pints (a measure formerly used for Champagne bottles destined for the UK) a day from 1908 – which was the date of the first invoice – until his death in 1965.
Simpson also said that Churchill only drank vintage Champagne, with his favourite harvest-dated Pol Roger release being the 1928, and, "when he drank Pol Roger out of that, he moved to 1935, then 1945 and, finally, the 1947."
Churchill liked older vintages of Champagne, and, because he drank it with food, he favoured a robust style of fizz, which was made possible because Pol Roger and Champagne more generally would have been dominated by Pinot Noir in the statesman's lifetime – Chardonnay, which now represents over 30% of Champagne vineyards, would have covered fewer than one fifth of the region 50 years ago.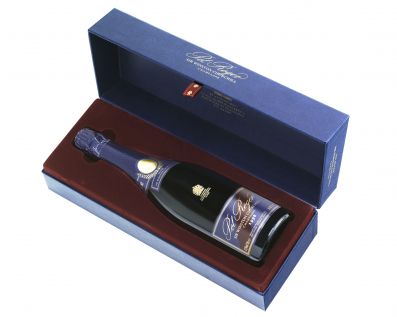 This is why the cuvée Sir Winston Churchill created in his honour, contains over 80% Pinot Noir, and, before release, spends a minimum of 10 years ageing on its lees in Pol Roger's cellars in Epernay.
The relationship between Champagne Pol Roger and Sir Winston Churchill dates hack to a meeting at a luncheon given by the British Ambassador to France some months after the liberation of Paris at which was served the 1928 vintage of Pol Roger. Attending the lunch was the beautiful Odette Pol-Roger as well as the Prime Minister, Winston Churchill, with whom she struck up an instant rapport. A friendship was born which continued until Churchill's death, creating links between the Pol-Roger and Churchill families which are still as strong to this day.
The pressures of his post sadly prevented Churchill ever paying a visit to 44 Avenue de Champagne, the home of Champagne Pol Roger, but he nonetheless proclaimed it "the most drinkable address in the world".
As recompense for breaking his promise to visit he sent Odette a copy of his Memoirs inscribed "Cuvee de Reserve, mise en bouteille au Chateau de Chartwell".
He even named one of his racehorses "Pol Roger" and the filly strode to victory at Kempton Park in 1953, Coronation Year.
Recommended articles
Comments