Cabernet Sauvignon, an Ocean of Difference

Viña Cobos Marchiori Vineyard
I've just returned from a week in Bordeaux, tasting the 2015 en primeurs wines. Every time I taste Bordeaux reds – or Spain's Mas La Plana or Super Tuscans or Avincis' Cuvée Andrei from Romania, I marvel how different Cabernet Sauvignon's expression is on the two sides of the Atlantic.
Many factors figure into this. The wines' varietal compositions, mouthfeel, oak usage and ageability can vary dramatically. And of course, there's that terroir trace of distinctly European minerality that is rarely found in wines from the New World, no matter how long certain New World regions may have been making wine.
Varietal vs Blend
Generally speaking, the greatest Cabernet Sauvignon expressions of Europe are blends. But, there are exceptions – like Mas La Plana and Cuvée Andrei, among others. In the Americas, where consumers are oriented to grape rather than place names, the ultimate expressions tend to be varietal ones.
But even when blended, it's easy to see how Cabernet Sauvignon's flavor differs. My Bordeaux en primeur visit really underscored the contrast. Thanks to the 2015 vintage turning out to be the warmest on record since Bordeaux began tracking weather, Cabernet Sauvignon composed larger proportions than usual in many wines.
In Europe, and especially in cool climates like Bordeaux, the variety shows an earthier edge with more prickly tannins (in their youth) and sometimes notes of hard-stemmed herbs. Across the Atlantic, Cabernet Sauvignon is rambunctiously black fruit-driven with suave and suppler tannins. If there is a green note, it tends to be a more generous one – often eucalyptus or mint.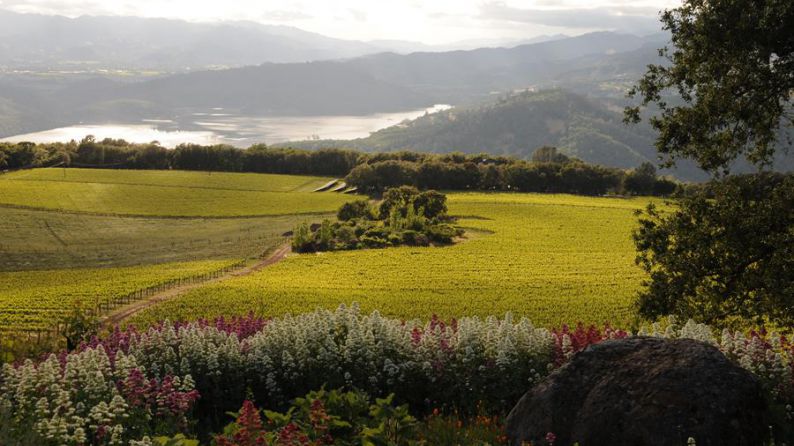 Extraction and Alcohol
Structure in Cabernet Sauvignon varies greatly across the Atlantic divide. The New World, from California and Washington State to Chile and Argentina, tends to make big, bold, full-bodied and high alcohol (14-14.5%+ abv) expressions. They feel glossy and broad across the palate with masses of fruit density. Canada's British Columbia, New York's Long Island and other milder climates can offer exceptions.
By contrast, European Cabernets tend to be more buttoned-up with firmer tannins, little gum-coating extract, lower alcohols and less weight on the palate. Warmer climate versions from Bolgheri and Sicily can feel more like New World expressions on the palate but still taste of their European origins.
Oak
Given the Americas more generous fruit ripeness and higher extract, as well as the local palate preference for generous oak-driven flavors of spice, dark chocolate and coffee, their oak treatments tend to be more obvious, even if they use no more new oak for any longer than their counterparts back in the Old World. Sometimes it is simply higher toast oak. They also tend to use more American oak, which has overt vanilla and coconut components. However, many flying winemakers use copious new oak as a signature, and some European wines can absolutely be marked as oak bombs, exploding with as much of an impression of the forests of France as of their vineyards' soils.
The best way to understand the difference is, of course, to taste it. Here are my suggestions for top Cabernet Sauvignons from both sides of the Atlantic.
West of the Atlantic:
Chappellet 2009 Cabernet Sauvignon Pritchard Hill (Napa, California)
Cobos 2013 Cabernet Sauvignon Bramare Marchiori Vineyard (Mendoza, Argentina)
Grand Ciel 2009 Cabernet Sauvignon Red Mountain (Columbia Valley, Washington
Ravine Vineyard 2013 Cabernet Sauvignon St. David's Bench (Ontario, Canada)
Viña Undurraga 2012 Cabernet Sauvignon T.H. (Maipo, Chile)
East of the Atlantic:
Avincis 2011 Cabernet Sauvignon Cuvée Andrei (Drăgăşani, Romania)
Château Pichon Longueville Comtesse de Lalande 2013 Pauillac (Bordeaux, France) (exceptionally 100% Cabernet Sauvignon in 2013)
Château Smith Haut-Lafitte 2010 Graves Grand Cru Classé (Bordeaux, France)
Tenuta San Guido 2007 Sassicaia (Bolgheri, Italy)
Torres 2010 Mas La Plana (Penedès, Spain)
Recommended articles
Comments