Primum Familiae Vini wine collection sells for £81,250
Case number one of the limited edition Primum Familiae Vini 2020 collection has just been sold at Sotheby's for £81,250, smashing its £30,000 opening bid price.
With competing bids from Europe, Asia and the US, this coveted lot was bought by a private European collector.
Every year, the family-owned estates within the PFV collective select one of their best vintages to produce 12 individually numbered, limited edition cases.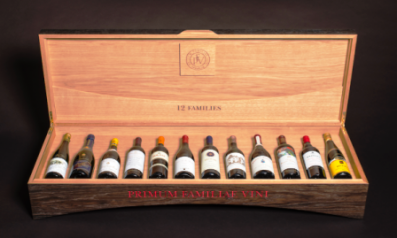 In addition to the dozen bottles of fine wine, including Cuvée Sir Winston Churchill 2008, Sassicaia 2017 and Vega Sicilia Único 2010, the Sotheby's case also includes a Primum Familiae Vini passport that will entitle the buyer to visit and dine at each of the 12 estates within the group with up to three guests.
The winning bidder will also be given a tour of the 12 estates, spanning Bordeaux, Burgundy, Tuscany and the Douro Valley, by a family member.
Overall, Sotheby's Vine | The Primum Familiae Vini & A Classic Collection of European and New World Icons sale brought in a total of £1,442,660, surpassing its pre-sale high estimate of £998,780 to 1,349,580.
"With every bottle destined to become a legend from their respective regions, the twelve cases represent the first and only time that these great vintages will be available together," Jamie Ritchie, worldwide head of Sotheby's wine, said ahead of the sale.
"This case will serve as the inspiration for and collective memory of a visit to each estate. The people behind the wines define the wines that they make.
"The opportunity to meet twelve legendary producers, on your own timetable, is a dream that can come true, but only for the winning bidder. The case we are offering is one of the only cases ever to be made available with this additional outstanding prize," he added.
Information from The Drinks Business
Recommended articles
Comments