Bruno Colomer, Technical Director at Codorniu, named best sparkling winemaker in the Bacchus Awards 2021.

The prestigious international competition awarded its highest accolade, a Bacchus Grand Gold, to the Ars Collecta Jaume Codorníu Cava. Ars Collecta Blanc de Blancs won a Bacchus Gold and Ars Collecta Grand Rosé a Bacchus Silver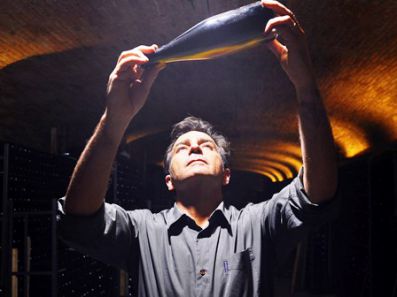 Technical Director at Codorníu, Bruno Colomer, has been selected as the best sparkling winemaker in the Bacchus Awards, the prestigious international wine and cava competition organised by the Spanish Union of Tasters. Colomer has been head of winemaking at the Codorníu winery since 2008. He is passionate about data and the supervision of all production stages, from when the grapes are growing in the vineyard to the moment that the bottles leave the winery. Born in Sant Cugat del Vallès (Barcelona), Colomer has a degree in Agricultural Engineering from The Polytechnic University of Catalonia and completed his training with a Diplôme National de Oenologie from the University of Burgundy (France.) He started working in Mont Ferrant in 1996, where he was the chief winemaker of cavas. From 2006 to 2008 he was technical director at Heretat Mas Tinell, leaving there to join Codorníu.
His favourite corner is Celler Jaume, Codorníu's oenological innovation, research and experimentation centre. There, between stone walls and surrounded by small stainless steel or cement tanks and oak barrels, Colomer gives free rein to his knowledge, with the constant aim of achieving oenological excellence.
In fact, three cavas from the prestige collection, Ars Collecta Codorníu, created by Bruno Colomer in Celler Jaume, have received major recognition in the Bacchus Awards. Ars Collecta Jaume Codorníu 2014, which pays homage to the origins of Cava, received the maximum distinction in the contest, a Bacchus Grand Gold. Its select coupage comes from the oldest vines, a blend of the best Pinot Noir, Chardonnay and Xarel.lo grapes, making it perfect for cava lovers. Two Gran Reserva Cavas from the same collection, Ars Collecta Codorníu Blanc de Blancs and Ars Collecta Codorníu Grand Rosé, both from the 2017 vintage, were granted a Bacchus Gold and a Bacchus Silver respectively.
The Bacchus Awards is an international competition of great prestige, in which more than 1,500 wines from all over the world take part. The jury, which tastes the wines over four days, is made up of hundreds of Masters of Wine, critics, journalists and sommeliers, as well as both national and international winemakers. This year represents the 19th edition of the competition, organised by the Spanish Union of Tasters.
Recommended articles
Comments