Bollinger RD 2007 launched with new look featuring past label.
Bollinger has unveiled the latest expression of its RD cuvée using grapes from the 2007 vintage and a new label that honours the Champagne's past.
RD, which stands for 'récemment dégorgé' – referring to the fact it has been 'recently disgorged' – was a Bollinger vintage cuvée first launched in 1967 with Champagne from the 1952 harvest.
From the outset, the label was used to champion a great, older vintage of Champagne that had been disgorged shortly before release, and featured a low dosage, two traits that were extremely rare in the region at the time.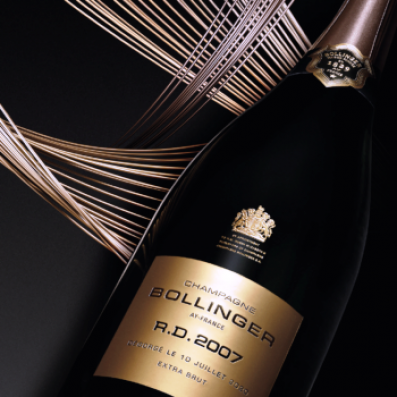 Today, Bollinger continues this tradition, and, marking the expression's long history, the latest release had been redesigned to feature its original aluminium alloy material, with lettering in the 1952 font, and, in keeping with the inaugural release, the date of disgorgement listed on the front label.
As for the 2007 expression, this differs slightly from the usual cuvée, because it features wines from fewer villages, while the proportions are altered.
While the RD cuvée normally has a greater percentage of Pinot Noir from Aÿ, in 2007, which was a warm, early year, there is a larger amount of this grape variety from Verzenay, which is a cooler area, with a north-facing aspect, ensuring this top-end Bollinger expression retains its characteristic freshness.
"When it is a hot vintage we use more Verzenay than Aÿ, because it is more north orientated, and with the 2007, Verzenay dominates with 29% of the blend," explained Bollinger's deputy chef de cave, Denis Bunner, when addressing press during an online launch event yesterday.
The blend also uses grapes from fewer villages, sourcing them from 14 compared to an average of around 20, and, as a result, the production of RD from the 2007 harvest is around 10% lower than the last release, which was from the 2004 vintage.
Despite hot conditions in 2007, particularly during the early part of the growing season, the 2007 RD has the "unexpected" qualities of "energy" and "spice", according to Bunner, who said that it would pair well with foods containing saffron.
Bollinger R.D. 2007 is made up of 70% Pinot Noir, 30% Chardonnay and 14 crus, including 91% Grand Crus and 9% Premier Crus.
It will be available to order from fine wine merchants from 9 March at £625.00 per 6x75cl case IBD exc. VAT.
Champagne expert, Richard Juhlin, described it as "an unusually finetuned classic," awarding it 94 points.
Information from The Drinks Business
Recommended articles
Comments