Blind tasting in Bar à Vins

For the fourth blind tasting we did not have far to travel as we stayed in Barcelona. Through the helping hand of the President of the Catalan Association of Sommeliers, Xavier Ayala, we were able to go to the old Moritz brewery in Barcelona, where the Bar à Vins opened about six months ago. This is an ideal venue for tasting, not just gastronomic delicacies, but some fine wines served by the glass.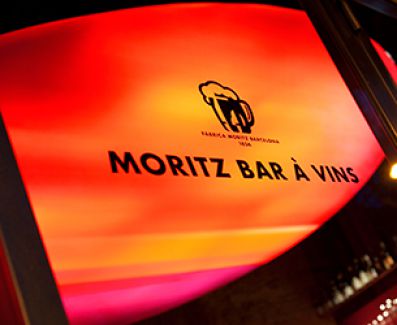 The Bar à Vins has developed a revolutionary conservation system that allows wines to be preserved much longer after opening than the traditional systems we are familiar with. This innovation is also connected to a serving system which uses very precise scales to calculate exactly how much is served and charged for each glass of wine.
This way customers can enjoy some very fine wines (Vega Sicilia, Romanée Conti, L'Ermita, Pingus, etc) without having to buy a full bottle.
The tasting participants arrived on time for the event, and after we took a few photos for posterity, and for the magazine, they took their seats and we explained what we were going to taste. Our host was dropping more and more hints to help the sommeliers identify the cavas that were being tasted blind. As with all the tastings we've held so far, time seemed to whiz past because of the enthusiastic participation of all the attendees.
Below we set out the tasting notes and food pairing suggestions which were made so that you can, if you wish, try the cavas yourself and compare your opinions with the views and suggestions presented here.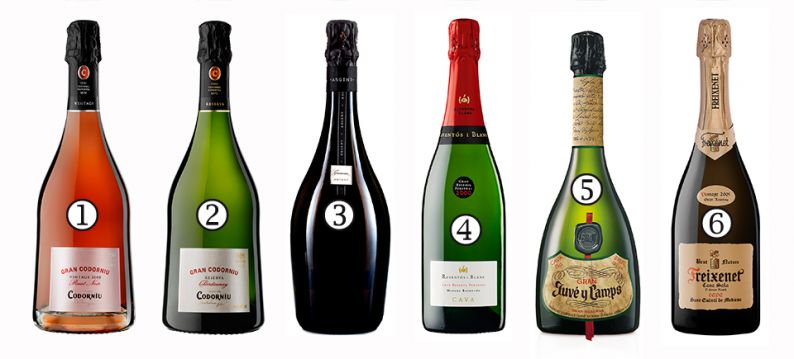 1. Codorniu Gran Vintage Pinot Noir 2008
Young cava, with a salmon hue and fine bubbles. Aromas of raspberries, strawberries and subtle citrus undertones. Balanced and creamy.
Pairing suggestion: Tataki of bonito with ratatouille of strawberries.
Varieties: 100% Pinot Noir
Ageing: 12 months in the cellar minimum
PVP: 12,00€
2. Gran Codorniu Reserva Chardonnay
Young cava, pale yellow hue with golden tones. Fine integrated bubbles. Toasted notes against a white fruit and somewhat candied backdrop. Creamy, fresh and balanced.
Pairing suggestion: Buñuelos (Fritters) filled with apple compote.
Varieties: 85% Chardonnay and 15% Pinot Noir
Ageing: 15 months in the cellar minimum
PVP: 12,00€
3. Gramona Argent Brut Reserva 2008
Straw yellow hue with highlights of new gold and an abundance of bubbles. White stone fruit with grassy notes against a vanilla and toast backdrop. Big, fresh and full bodied.
Pairing suggestion: Coca (pizza/flatbread) of marinated sardines with fennel and candied pineapple.
Varieties: 100% Chardonnay
Ageing: 35 months
PVP: 29,20€
4. Raventós i Blanc Gran Reserva Personal 2000
Yellow hue with golden highlights. Fine, elegant bubbles. Ripe white fruit, quince, honey, balsamic, flowers. Big, deep, delicate but with character and elegance.
Pairing suggestion: Butter cookie with hazelnut and nut praliné.
Varieties: 40% Macabeo, 25% Xarel.lo, 27% Parellada and 8% Chardonnay
Ageing: 10 years with the bottle in the neck-down position, followed by hand-racked clarification
PVP: 137,50€
5. Gran Juvé i Camps 2008
Golden shades and fine, elegant bubbles. Candied white fruit notes on a floral and herbal background. Great harmony and good structure.
Pairing suggestion: Oysters with calix caviar.
Varieties: 25% Macabeo, 25% Xarel.lo, 25% Parellada and 25% Chardonnay
Ageing: Average of 42 months in bottle
PVP: 29,20€
6. Freixenet Brut Nature P.Ferrer Bosch (Casa Sala) Vintage 2005
Yellow hue with gold tones, slow tears and fine bubbles. Notes of toast and raisins. Structured, dry, and we find very ripe fruit.
Pairing suggestion: "Pata azul" chicken from the Prat de Llobregat a la Catalana.
Varieties: 75% Parellada and 25% Xarel·lo
Ageing: 4 years of ageing
PVP: 38,00€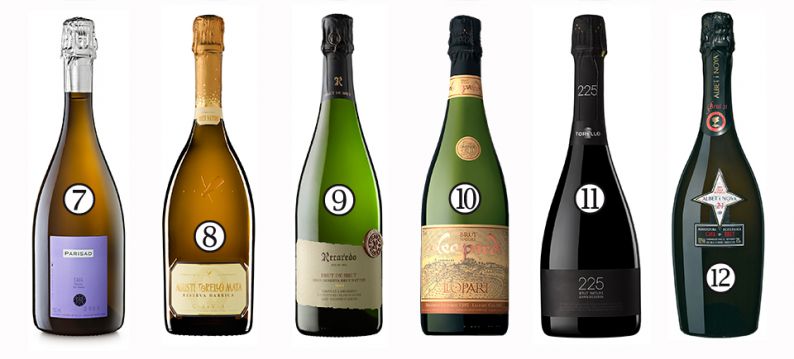 7. Parisad 2003
Very yellowish hue with golden tones and extremely fine bubbles. We find white fruit combined with ripe fruit, honey, confectioner's custard, flowers, toast. It shows body and volume.
Pairing suggestion: Suquet de pescado rojo (red fish bouillabaise).
Varieties: 85% Xarel.lo, 7,50% Chardonnay and 7,50% Macabeu
Ageing: on the lees for a minimum of 60 months in the same bottle prior to release
PVP: 25,10€
8. Agustí Torelló Mata Gran Reserva Barrica Brut Nature 2008
Pale yellow with golden highlights. Abundance of fine bubbles. Candied fruit, baked apple against a floral background with touches of vanilla and pastries. Elegant aftertaste.
Pairing suggestion: Salmon and pear tartare with vanilla oil and butter blinis.
Varieties: 100% Macabeu
Ageing: A part of the Macabeo grapes ferment in new French oak barrels "tronçais" for 6 months. Second fermentation in the bottle with a minimum aging of 30 months.
PVP: 19,10€
9. Recaredo Brut de Brut 2004 Gran Reserva Brut Nature
Ripe yellow hue with golden tones and elegant bubbles. Its long aging shows with some citrus and floral notes. Great structure and complexity. Elegant and fine.
Pairing suggestion: Velouté of shellfish with caviar.
Varieties: 33% Xarel.lo and 67% Macabeu
Ageing: long ageing in the cellar (more than 76 months)
PVP: 28,50€
10. Gran Reserva Vintage Leopardi Brut Nature 2007
Straw yellow hue with greenish reflections and fine bubbles. Apples, pineapple and pears detected. Very fresh, light, incisive and full of character.
Pairing suggestion: Skewers of lightly smoked eel with natural nectarine.
Varieties: 40% Macabeo, 40% Xarel.lo, 10% Parellada and 10% Chardonnay
Ageing: 48 months in the bottle minimum.
PVP: 22,80€
11. Torelló 225 Brut Nature Gran Reserva
Pale yellow with golden highlights and fine bubbles. Notes from ageing, pastries, toast, vanilla, pear and floral tones. Dry, structured and powerful.
Pairing suggestion: Diced cod preserved with honey vinaigrette.
Varieties: Macabeu, Xarel.lo and Parellada.
Ageing: 30 months with the bottle in the neck-down position
PVP: 17,50€
12. Albet i Noya Cava Barrica 21 Gran Reserva 2006
Bright straw yellow colored sparkling wine with golden tints and fine bubbles. White fruit detected. Fresh, direct, delectable and full. Robust and structured.
Pairing suggestion: Oyster tartare with candied lemon.
Varieties: Pinot Noir and Chardonnay.
Ageing: 30 months with the bottle in the neck-down position
PVP: 27,00€
Acknowledgements and thanks go to the Asociación Catalana de Sumillers (Catalan Association of Sommelier) as well as Moritz and its Bar à Vins, for their kind assistance in the production of this report.
Tasting Panel

Ricard Zamora Isanda
Professional sommelier since 2006. Since 2001 he is the Export Manager of 8 wineries.

Jordi Sibón
Professional sommelier since 2009. Sommelier in the restaurant Margu (Castelldefels, Barcelona)

Xavier Ayala
Professional sommelier since 2004. President of the Catalan Association of Sommeliers and Head Sommelier in the Bar à Vins of Moritz.

Miquel Sabrià Bernabeu
Professional sommelier since 2011. He worked in restaurant Moo (2*Michelin) and also in the Bar à Vins of Moritz. Now, he is one of the two sommeliers in the new restaurant Catalunya in Hong Kong.

Jordi Llop Mateos
Professional sommelier since 2006. As a freelance, he works for different brands, like Ruinart, Numanthia, Cloudy Bay, Codorniu

Adela Roy Soler
Freelance in tourist activities since 1997. Sommelier freelance since 2007.

Domingo Laguarda
Professional sommelier since 2011. Head Sommelier in Andilana Group and Director at the Japanese Restaurants MIU.

Alfonso Monje
Professional sommelier since 2010. Sommelier in the Ambrosía Mediterránea Asociación Gastronómica.

Linda Díaz
Professional sommelier since 2007. Responsable of the Gramona´s communication department.
Recommended articles
Comments