The Napa Valley Wine Train is returning this spring with all-new wine and dining experience
The ever-popular Napa Valley Wine Train will make its return in time for wild mustard season, treating travellers to picturesque views of yellow-hued hillsides and an all-new wine and dining experience.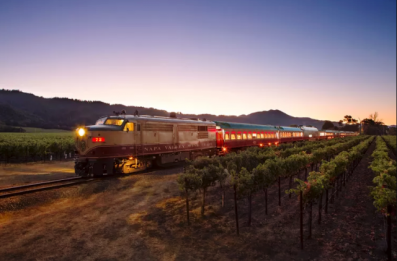 The much-loved Napa Valley Wine Train is returning on 3 May with a new Tasting on the Rails that will treat guests to stunning views of the Napa Valley and seven wines from a selection of six of the region's vineyards.
The three-hour journey will take travellers past several of those same vineyards while they enjoy "incomparable service, food, and wines enjoyed while pointing out the window of our train at the vineyards that grew the grapes that are in the glass."
"We've never done anything like this before that so well compliments and highlights the best food and wine in Napa Valley with commentary that guides each guest through the route as they learn about each unique area while sipping wine from those regions along the way," general manager of the Napa Valley Wine Train Nathan Davis said in a press release.
Guests will enjoy a menu curated by Executive Chef Rodrigo Cuadra with plates designed to pair perfectly with the wine selection. These include herb and garlic prawns, been tenderloin, cheese and chocolates.
The wineries providing drops for the experience include Charles Krug, Chandon, Trefethen, Tate, Beaulieu Vineyard, Belle Glos and Ghost Block.
Tickets for the Tasting on the Rails start from US$395, including a seven-course meal, wine pairings and your train ticket. To find out more visit www.winetrain.com
Information from The Drinks Business
Recommended articles
Comments