State of emergency declared in California Over Wildfire
The governor of California, Gavin Newsom, has declared a state of emergency across California as the Kincade wildfire continues to rage in Sonoma County.
The fire, which started in Sonoma County in the early hours of Thursday morning, has ravaged 50,000 acres of land and forced 180,000 people to flee their homes.
According to the San Francisco Chronicle, two small earthquakes were reported near the Geysers close to where the fire is burning in the early hours of Monday morning.
The fire has left over two million people without power in the largest precautionary blackout in state history. Thousands more are expected to lose power today.
It has also put tens of thousands of homes under threat. So far the fire has destroyed 79 structures and injured two fire fighters.
Winds of up to 90mph in Sonoma County are helping the fire to spread. As of Sunday morning the blaze was only 10% contained.
The fire began in Sonoma County on Thursday morning near the base of a damaged high-voltage transmission tower owned by Pacific Gas and Electric Co.
Luckily for local vintners, the majority of the grapes in the renowned wine region from the 2019 harvest had already been picked.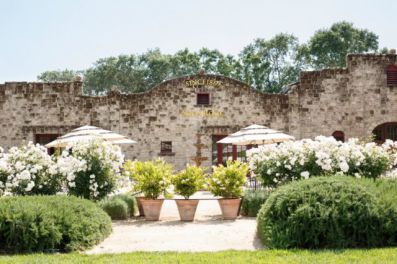 Soda Rock winery in Healdsburg has been destroyed in the fireAmong those affected by the fire is Julia Jackson of Jackson Family Wines, whose Geyserville home was destroyed last Thursday.
She and her mother, Jackson Family Wines's chairman, Barbara Banke, fled the house shortly after 4am and drove to the home of Barbara's mother. A few hours later Julia's home had burned down.
Wine Spectator reports that Soda Rock and Field Stone wineries in Healdsburg have been destroyed by the fire, while Jordan Winery is unharmed.
Information from The Drinks Business
Recommended articles
Comments