Raül Bobet: "Behind every wine is a personal and family commitment"
"When we drink a wine, we are drinking the countryside it came from, its climate and its land" is how Raül Bobet defines his philosophy and way of understanding wine. Passionate and respectful towards nature, he escorts us outdoors for the interview, surrounded by the silence and gentle wind. After a long spell at Torres, he explains how he has embarked upon two personal projects, Castell d'Encus and Ferrer Bobet, through which he conveys the natural setting and the flavours of the countryside of both places.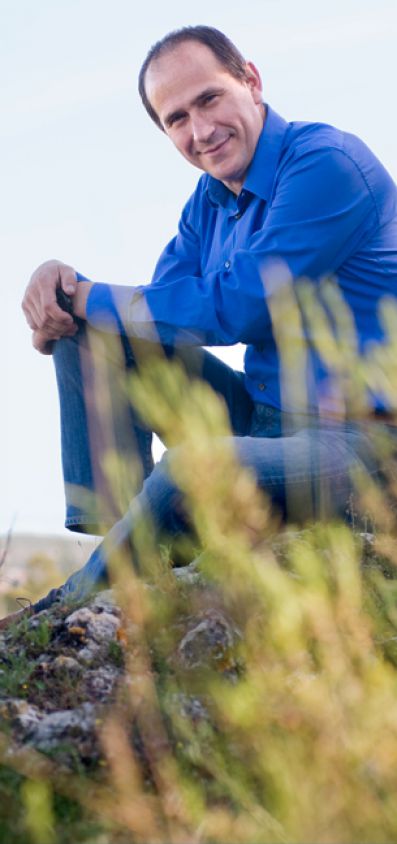 How did you get started in the world of oenology?
It was rather by chance, because my first connections with wine began when I was born. At home we had a bodega and by the time I was 3 years old, I was already treading grapes. I wanted to study in the USA and managed to get a grant so that I could do it. I was very attracted to nature; I consider wine as something natural and can't imagine meals without it. I was surprised by how much importance the Americans gave to the winemaker. At university I was given the necessary scientific methodology and rigour. In the end it all comes down to enthusiasm, to passion, and that's how I ended up dedicating myself heart and soul to it.
What skills do you think a good oenologist needs?
Intuition plays a very important part, but combining rigour, method and intuition is essential.
Do oenologists need to market themselves?
For better or for worse, the modern world is dominated in a big way by images, rather than by concepts, which means effectively that we live largely in the immediate present. For precisely this reason, I believe that many professionals fall into oblivion, great oenologists who, due to a lack of coverage, lose the chance to make an impression. What does matter is continuing to write the history of wine.
What image do you think people generally have of oenologists?
What very often happens is that those of us making the headlines need to fill out our profiles, but we should be more modest and value the effort that lies behind each wine. People must remember that behind us is the vineyard, the personal and family commitment, a lot of people working, effort. The majority of us work in this not to make money, but out of passion. Obviously you don't want to lose money, but the greatest rewards are the personal ones.
Fact file
A chemical engineer, he has studied in California. Doctorate in oenology. He has worked for wineries in the USA, for Torres (1986 - 2004), and is currently oenologist at Castell d'Encus and Ferrer Bobet.
What are you aiming for when you make a wine?
As far as I'm concerned, the essential thing is to have a clear idea of what you're aiming for, because if you don't, you're lost. If you manage this, the wines will have soul. It's easy to say but much harder to achieve. A wine is not something you can make quickly, you need to think about it, you only concoct it once a year, and so you have to take it slowly. If I think about it, I'll only be able to make wine around 20 or 30 more times, for reasons of biology, therefore I need a method, since without one, I go nowhere. For me it's a magical process, it's a way of making poetry.
Which of your wines are you most proud of?
The wines we've made are ones we've wanted to make and each one expresses the moment, a different sentiment. For example, at Ferrer Bobet we look for the maximum expression of pure Cariñena. I couldn't chose, I like them all, every moment is special.
Castell d'Encus (Costers del Segre)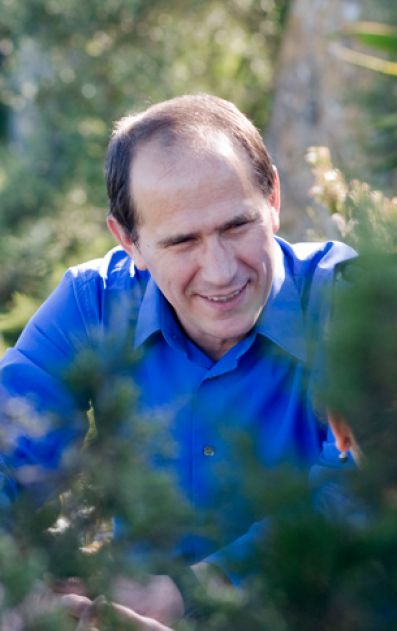 Castell d'Encus personifies some vineyards that you found in 2001 and which lie at an altitude of 1,000 metres. What were you looking for from them?
I was looking for freshness, wines which can last, wines that aren't explosive, more reflexive, with a more feminine and sensitive feel and less alcohol. These characteristics are only achieved with the right climate, so I was looking for this thermal contrast.
One of the distinctive features is the place's history.
I came across an important find, historical relics: seven fermentation vats from the 12th Century used by the Hospitalier monks. So I could put even more imagination into the project, I was enthralled by this whole mixture, and being the romantic person I am, I became hooked.
What is the winery's philosophy?
Encus is a vineyard project rather than a winery. The distinguishing factor is the fermentation in stone vats as well as the climate. The environment is very important to us, the heat pumps work using geothermal principles, and in this sense it has been the first winery in Europe to have done it (2007). We are very mindful and appreciative of the natural surroundings, integrating the project environmentally, protecting the fauna (to this effect we have a safekeeping agreement with the Pallars Jussà Biological Field Station). An important idea is that it's a team project where the people are what matters, my right-hand person is Mireia Taribó, just as important for the project as the people at the winery and in the vineyards – Encus would be inconceivable without them all.
What characteristics do the Encus wines have?
Each barrel is an experiment, and experimentation is fundamental. I'm trying to find the freshness of the area and, as regards the vats, I'm trying to get them to express that minerality from the undergrowth and freshly-picked wild mushrooms. I particularly want to express the landscape, get rid of too much fruit and intensity. I'm aiming for the idea that the wine isn't the dominant factor in a meal, but you do remember it.
Ferrer Bobet (Priorat)
In 2002 you and Sergi Ferrer-Salat started up the Ferrer Bobet winery. What is your philosophy?
Encus is more experimental, the Priorat is closer to hand for me. I really love Cariñena because it has much more to offer than just fruit, a variety that isn't very good on lush ground, but which is on poor soils, and expresses very nicely the llicorella slate soils. The philosophy we've followed in the Porrera area is to look for freshness within the Priorat, a different expressivity due to the landscapes and climate. Furthermore, working in collaboration with Sergi Ferrer-Salat is ideal because two discerning and fairly perfectionist characters are working together, which means enjoyment and constant pursuit that results in great satisfaction. Just as at Castell d'Encus the work force is a fundamental factor and here it's led by the oenologist Isabel Fortuny.
Ferrer Bobet 2008 (96 Parker) and Ferrer Bobet Selecció Especial 2008 (97 Parker). Do you agree with the scores? What does receiving them mean?
All the wines have been rated very highly, even the Encus ones. I do appreciate it, but we have never made wines to get scores. It helps and we are very grateful, but our philosophy is based on the wine, working with our values and passion. It's a project made to last, beyond any trends or scores.
The winery has a special architectural design integrated into the mountain. How did you come up with the idea, and what special features does it have?
Both at Encus, with its inverted roof so that it can't be seen, and also in the Priorat, we've tried to integrate ourselves into the mountain as though the winery was part of it, closely resembling it.
Quick wine test
To make a good wine you need:
soul
A special grape variety:
I don't pay much importance to varieties, they are materials for building and designing; in any creation, the most important thing is to know what you want to make and not what you want to make it with. In any case, there are regions that certain varieties adapt to much better than others.
A glass of wine should be accompanied by:
A good friend
For you wine is
A faithful companion
Recommended articles
Comments