Sounds of the Ribeiro. Wine with a lot of rythm
A rhythm with great tempo performed by small wine producers who have learnt to compose and interpret modern wine-making scores most harmoniously and to everyone's taste. This beautiful part of Ourense is making steady strides, supported by the exceptional beauty of its countryside.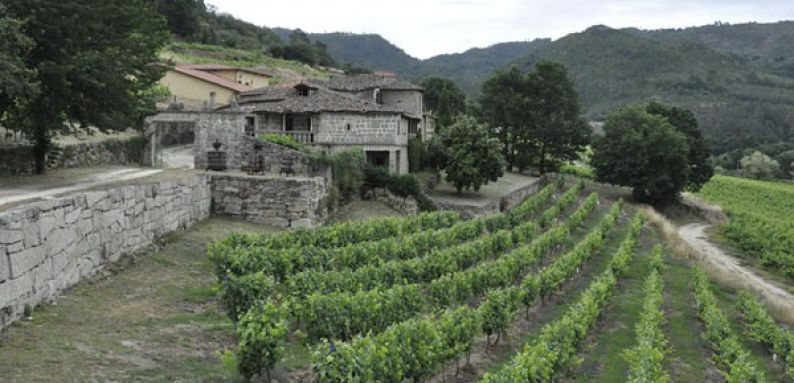 The white notes do them proud, and the musical sharps, the black keys on the piano, in this case the red wines, are performing better by the day, achieving melodious renditions of great intricacy and subtlety. This Ribeiro orchestra is outstanding for its white notes, without a shadow of a doubt. They are enveloping, transparent, golden and polished notes which make the consumer audience feel happy to have become acquainted with this new-style Ribeiro.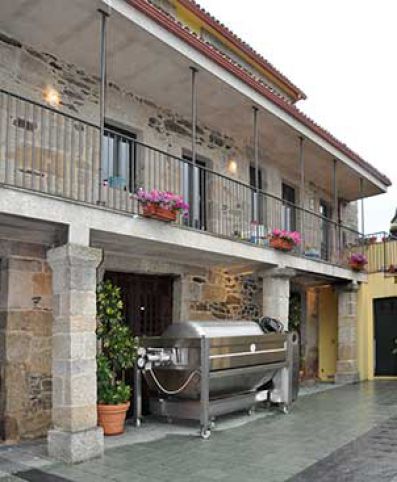 Although, to be honest, most of this audience has known the Ribeiro for years, from having come across it at hundreds of counters in hundreds of bars in Galicia and Madrid. But they aren't reminded of how it used to be, since it turned up in thick pots and looked none too bright. That rural orchestra of the Ribeiro in the 60s, 70s, and 80s did not exactly stand out for its harmony and balance. Its renditions were cloudy and quite rough, with a patently obvious acidity capable of making the tentacles of the finest Carballiño octopus stand on end, or at least the hair of the 'pulpeira' preparing it.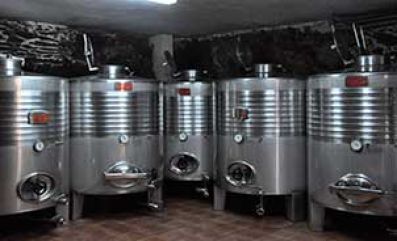 Fortunately, Ribeiro wine at the end of the 20th and from the 21st century has performed exceedingly well. In many cases the scores have remained the same and the settings too... those beautiful vineyards terraced like amphitheatre steps, looking towards the river –there is always a river in the Ribeiro – but the musicians and the instruments have become even more polished and the orchestra conductors are top professionals who wield their batons knowledgeably and mark good time.
As I was saying, and continuing with the musical parodies, the present-day Ribeiro symphony orchestra is composed of many small bands that are gaining fame on the best stages all over the country and also winning good contracts beyond our national frontiers.
Selectus Wines has recently had the opportunity of attending several concerts at home venues and has discovered the harmony and rhythm that define this Ribeiro of the 21st Century. Bearing in mind that its history is closely linked to that of the Cistercian monks and their beautiful monasteries, the present-day Ribeiro demonstrates a harmony in which we can find notes of modern tempo, vibrant and rhythmic, like the best jazz combined with the choral profundity of the Gregorian chant. A happy and harmonious combination that abandons its ill-fitting cloak of chunky white pottery, the cup in which it was served, adopting a fine crystal wine glass that allows its brightness and transparency to be fully appreciated.
Rivers and monks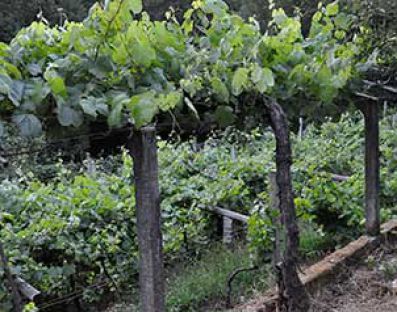 The Ribeiro has sprung up historically among the enormous stones of monasteries and the small pebbles of the rivers which mark out its territory. The Miño, Avia and Arnoia. The monumental San Clodio Monastery, now totally restored and turned into a hotel, has much to tell. The Benedictine monks, subsequently converting to the Cisterican Order, became established in this splendid spot and placed the first foundation stone of this later building, less Gothic and more conceptual, which is the one the Ribeiro settles for nowadays. During the 11th, 12th and 13th Centuries, they were the lords and masters of the Avia valleys, the river practically flowing at their feet, and of the Miño, a stone's throw away. They planted, cultivated, made agreements with local landowners, established priories and turned San Clodio into a kind of Gothic headquarters of what we could call a medieval regulating council, all things considered.
Those years coincided with the great "boom" of the Way of St. James and they, who were right in the middle of it, intended to take advantage of the situation and make the Ribeiro of the time popular. Obviously it would have little in common with modern-day Ribeiro, beyond the countryside shared by them both, definitely blessed by Mother Nature, which has endowed it with an extraordinarily copious supply of fluvial waters and thermal springs. Lovely flowing countryside, enhanced by the straw-yellow fluidity of the Ribeiro. Almost three thousand hectares of vineyards are divided up into small parcels, sometimes unbelievably tiny in size, spread out over beautiful, deepest Galicia.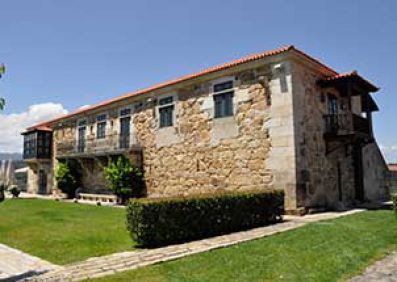 Ribeiro in those burgeoning years of the Jacobean route was a wine of great national and international prestige, as the stream of pilgrims arriving from all parts contributed to its marketing and recognition. So much so that many Jewish merchants became established in neighbouring Ribadavia and set up certain export lines that were totally revolutionary in those days. Fancy that, they took advantage of their contacts in Northern Europe to sell them this Galician wine. And there must have been some good trade, for the Hebrew community that settled Ribadavia would have been of high standing. Proof of this is its prodigious Jewish quarter, one of the most interesting and best preserved in the whole of Spain.
The Hebrews left a considerable legacy behind in this town, exemplified by delicious pastries such as the ghorayebah and kijelej de mon, which are made in the traditional way at La Tafona de Herminia, in the town itself. As you can see, religion has had a lot to do with the origins of the Ribeiro, but it also had its negative side. Years later, at the end of the 16th Century, the bishop – Catholic, Apostolic and Roman – of the town of Tui, prevented English merchants, canny at sniffing out wine prospects and who had set their sights on the wines from this Ourense region, from carrying on their trade. He didn't want any Anglicans on these lands. Consequently, they went off to Portugal, to lay the first foundations of what was years later to become the famous Oporto.
A change of grapes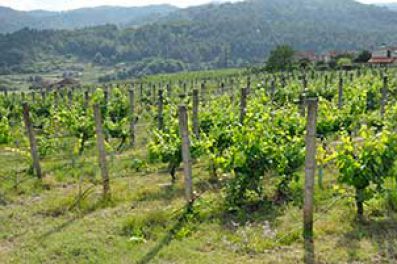 As you can see, the English were unable to get established for religious reasons, but two centuries later, unfortunately and due to natural causes, the mildew, oidium and phylloxera scourges took hold, which decimated the indigenous-grape vineyards that had brought monks, pilgrims and everyone else. The vines devastated by the diseases were replaced with plants that were much more resistant to them, but much less fine – stronger but coarser, you might say.
These were the Ribeiro's worst years, when emigration replaced vinification. And one of life's oddities, the grape variety called Palomino, which is the one used for making excellent Jerez wines, created by the English, invaded these parts. Furthermore, the grape is known as Jerez here. If it works very well for sherry, it is all down to the complicated ageing system, which has nothing to do with the Ribeiro type. In this region and for its secular wine-making ways, the Jerez/Palomino represented a solution for large-scale production, but in all honesty, it offered neither quality nor aroma, nor refinement. Those were the years of the crude white pottery cups and cloudy wines, which we were talking about at the start. (It will be pure coincidence, but it looks like revenge from the perfidious Albion).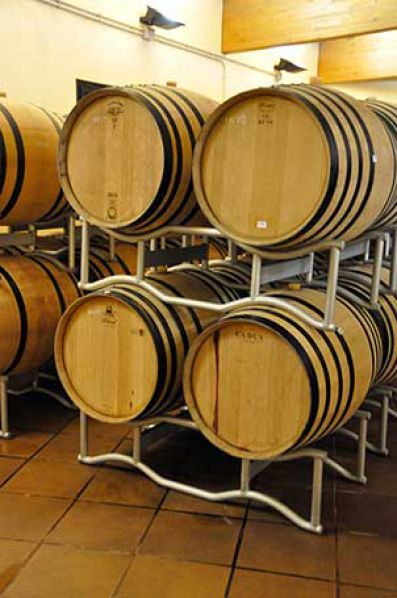 The Ribeiro renaissance which we are fortunately undergoing is closely linked to the grape varieties of bygone days, to the region's great white lady, as the Treixadura is known and to her siblings the Lado, Loureira, Torrontes, Albariño, to the detriment of the Jerez or Palomino which continues to be ever present, but in considerably less quantities. Gradually, the native varieties have been gaining ground, endorsed by the good judgement and awareness of wine producers and specialists at the Regulating Council of the Ribeiro D.O. Undoubtedly, a great effort which is bearing fruit in the form of delicate, aromatic, complex and elegant wines.
Of the 3,000 hectares of vineyards that fall under the Ribeiro D.O., fewer than 40% of them have been replanted with indigenous varieties. Considering there are about 6,000 registered wine growers, we can safely suppose that each wine grower would have recourse to half an acre. A consideration that might favour elegant wines of low production and meticulous design, as though we were dealing with an Atlantic Burgundy, in the best possible case scenario, or it might give rise to complications of inheritance, which would make the possibility of buying a vineyard in these parts extremely difficult, even when family was involved. Along the same lines, it hinders getting everyone to agree to restock the vineyards with native varieties.
The white and radiant treixadura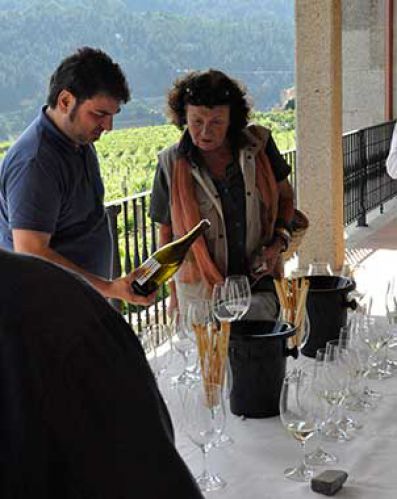 The Treixadura is the most sought after of them all and the one that at the forefront of new plantations. It is a variety with small grape clusters and tight berries, and when it ripens, it acquires very distinctive golden purple hues. Its wines have great structure on the palate along with plenty of floral and also fruit aromas. This grape has seen the revival too of a particularly interesting and quality wine, the Tostado de Ribeiro, accepted by the D.O., which is excellent right now and has a great future. It is made from the best Treixadura grape bunches, healthy and ripe ones, which are hung up to dry out naturally in special rooms for three to five months. It's a wine whose acidity and sweetness offset each other perfectly, and it's really delicious.
In the past it would only be made by grand houses for important fiestas. The Godello grape, with its wonderful acidity and savoury powerfulness clearly denoting green apples, also has small, compact clusters. The Torrontes – which is not the one from Argentina bearing the same name – with its freshness and acidity that give the wine longevity. The Loureira which, as its name indicates, has an intense and complex aroma reminiscent of bay leaf.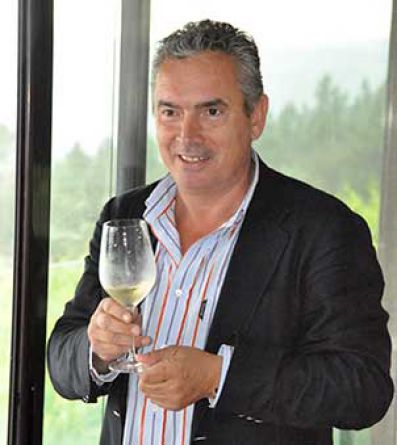 In these lands of deepest Ourense, very high temperatures are reached in summer, competing with and sharing Seville's highest often enough. Forty degrees are fortunately not very frequent, but not unknown either. Logically, this heat has an influence on the ripening of all the grapes, with one of them being the Albariño which, bearing in mind the intense heat, expresses itself differently from in neighbouring Rias Baixas, with strong floral overtones, and very good alcohol content and acidity.
Conclusive proof of the Albariño ripening particularly well on Ribeiro soil is to be found at the Coto de Gomariz winery, in the heart of the Avia valley, very close to the San Clodio Monastery. Its owners are young folk interested in and open to new cultivation methods, very committed to the countryside and to organic and sustainable viticulture. Their wine with the highest percentage of Albariño, called Gomariz X 10, that spends eight months ageing in tank, is a real treasure of fruit maturity and mineral harmony... Salvaxe 2011 is one of their meditation whites, made with 90 year-old grapevines and according to biodynamic rules. They have also gone for great red wines, for the limited and original Seica 2011, of which only 666 bottles have been produced. Native red grapes such as the Souson, Garnacha, and Touriga Nacional from neighbouring Portugal.
Barely a few kilometres away we come across the Casal de Armán winery, which also boasts a restaurant and a charming hotel, located in a delightful spot. 20 hectares surround a magnificent country house, a restored 'pazo', on hillsides beside the Avia. This area of the Avia always had the reputation for experiencing the greatest diurnal temperature variations, an occurrence that benefits grape maturation. It is owned by the González Vázquez brothers who take complete care of production and managing both the winery and the hotel. There we encountered a novelty in the world of coupage. They have brought out a new single varietal Treixadura, Arman Finca Os Loureiros 2010, fermented in 500-litre French oak casks and aged for six months on its lees - interesting, original and limited – only two thousand bottles, and with plenty of life ahead of it. They have also spent years concentrating on native variety reds, such as their Casal de Armán 2010 where we find the typical purple floral notes of the Brancella grape, in company with its siblings Souson and Caíño.
From the Avia to the Arnoia
In the Avia valley, on land with close connections to the San Clodio Monastery, there lies a tiny winery, really tiny, Adegas Valdavia with a limited but excellent production of red and white wine, and only two hectares of vineyards and 3 barrels for the reds and 1 for the whites. Their brand name Cuñas Davia has been on the market since 2006, offering aromatic and modern wines with an innovative bottle design.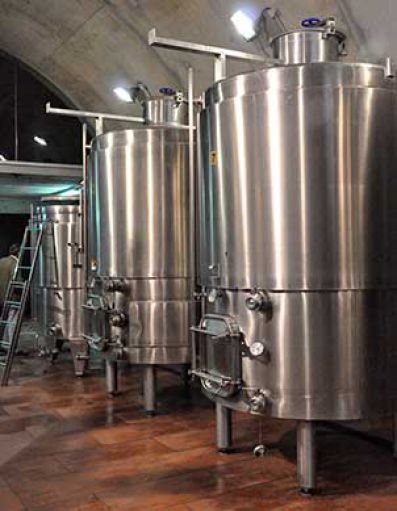 We leave the Avia behind, yet it is constantly there, and then catch a glimpse of the mighty Miño and make our way to a pastoral scene, right on the banks of the Arnoia, which now waylays us. A winery so close to the water's edge that we might just lose our balance. Its name is Bodegas Nairoa, and although the building has always been a winery, it remained practically abandoned until new owners took charge of it all and now run it extremely well under the direction of Guillermo Díez Iglesias. His star product, Val de Nairoa, is a coupage of Treixadura, Albariño, Loureira and Lado. We checked the laying-down potential of these white Galician wines in a sort of mini vertical tasting – they have not had very long – of the 2009, 2010 and 2011 vintages.
And virtually following the river's course, we come to the Miño, to the Ribeiro region's second largest cooperative which controls a considerable number of small vineyard parcels, belonging to the various members of the cooperative, all practically perched on steep hillsides overlooking the Miño. A modern building, cutting-edge technology, called Terra do Castelo. They have gone for single varietals and their Terra do Castelo Godello was the first to be produced in the Ribeiro, more given to blends of different grapes. Naturally too, a 100% Treixadura varietal, as circumstances dictate.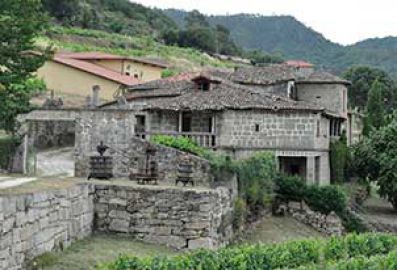 Also overlooking the Miño are many of the hectares under Argimiro Levoso's control, known to all as Tito, at the nearby Ribadavia cooperative, the Vitivinícola del Ribeiro, the first to be opened and without doubt the largest winery in the Ribeiro D.O., producing in high volume, obviously enough, and wines of greater prestige such as their Colección Costeira range. Good, verging on miraculous, management by Tito Levoso, results in agreement among the hundreds of cooperative members, which must be no mean feat.
Up Against The Mighty Miño
The mighty Miño was "impounded" near Rivadavia, and its waters were turned into an important large lake, creating favourable conditions for all sorts of sports and sailing. Enjoying this exceptional setting stands the new winery belonging to Eduardo Peña, an enterprising and well-known businessman in the catering trade and a great jazz lover and promoter – I said earlier this wine has lots of rhythm – and from the virtually see-through terrace, breathtakingly you can view the spectacular scenery. In fact, closely related to the quality and modernity of their wines, Eduardo Peña and María Andrea, after only very few years in the wine-growing business, have managed to become a first-class benchmark and made this winery an obligatory place to stop.
Very close by, almost touching the Miño shoreline, Adega Pousadorio is tiny, like a toy, just a house really. A colheieiro with low-level production of very interesting wines under the same brand name.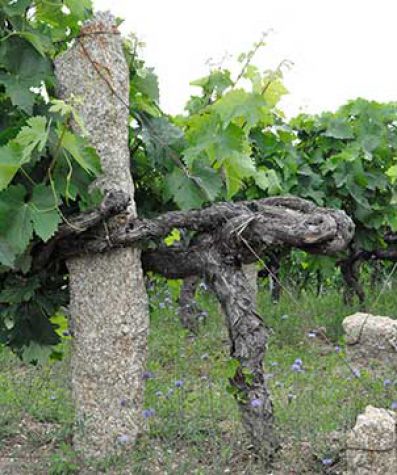 In a setting as literary as its name Pazo Casanova, with vineyards surrounded by an 18th Century wall, including a country house and raised granary, a truly idyllic place, we are welcomed by Carlos de la Peña, the current owner of this winery which has just won the Ribeiro 2012 award. A magical hillside facing westwards and lying at the D.O.'s highest point at an altitude of about 250 metres. Wines with a lot of class, and José Hidalgo acting as consultant, a splendid oenologist. 10 hectares owned and divided into three parcels. Casanova and Casanova Máxima are their only two wines, typically whites. Magnificent, the Casanova Máxima 2010, with Treixadura and Godello in almost equal parts. Five months in tank on its lees and at least three months of cellar ageing in bottle before release. In this truly beautiful spot it surpasses itself. An absolute delight.
Less bucolic, due to its semi-urban location, nearly in the centre of Beade, but also with the Miño nearby, is the winery belonging to Manuel Formigo, with its emblematic ant featuring on labels and boxes and its modest vineyards surrounding the house like a garden. The winery falls into the garage style in its purest form. The downstairs of a family house where young Manuel Formigo, an oenologist by profession, proudly shows off his Tostado de Treixadura, and his Teira X 2010 made using Treixadura grapevines over 30 years old, Albariño, Loureira and Albillo, an unusual variety locally and very old, about which he feels proud to be one of the few that grow it.
Wine tourism and the big screen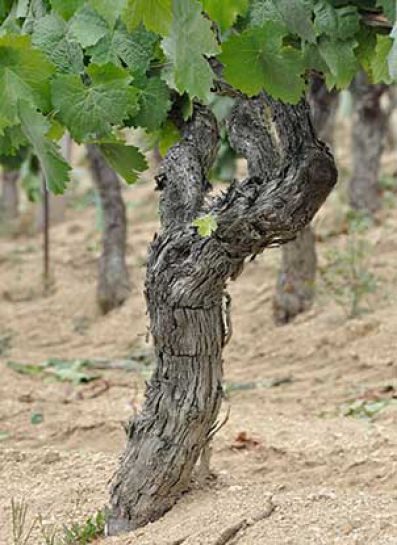 The development of wine tourism throughout the Ribeiro D.O. is gaining more support by the day. There are many wineries opening their doors and some that offer a secluded country hotel. Mention must be made of Viña Mein and its visionary owner, Javier Alen. Nearly 25 years ago this enterprising lawyer and businessman settled for the Ribeiro and quality wine tourism. Using very sound judgement and good points of reference, he involved a group of friends in the creation of what would become the benchmark of signature Ribeiro, of 21st Century Ribeiro: Viña Meín. A beautiful, remote country house, refurbished most tastefully as a rural hotel and winery attached. All set in a lovely spot surrounded by 16 ha of vineyards overlooking the River Avia, very close to San Clodio. Closer still to San Clodio, in fact just beside the Monastery, almost next door, he has another small country hotel, the Doña Branca. Charming, delightful and secluded.
Since what begins well finishes well, we must end our journey through this wonderful region with San Clodio. But this time proudly showing off a label. The arrival to the local area several years ago of the famous cinema director José Luis Cuerda has contributed to increasing its charms. He chose the heart of the Ribeiro, very close to the San Clodio Monastery, after shooting one of his feature films, namely the Butterfly's Tongue. He completely fell in with this countryside and founded his own winery and wine. As to be expected, its brand name is SanClodio and its wine is one of the region's quality benchmarks.
Let us sing a song for this saint who has given and will continue to give so much joy to the Ribeiro in times to come. Long live blessed San Clodio!
Recommended articles
Comments