New issue: Selectus Wines Magazine October 2016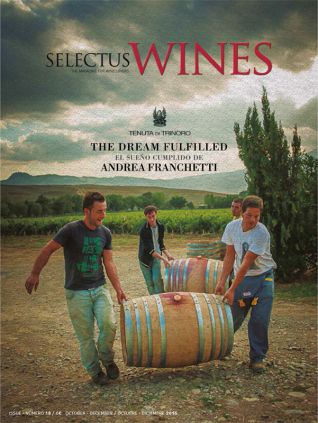 As some of our readers know, those who have followed us since our inception, Selectus Wines was the brainchild and gamble of someone who loved the world of wine and who turned his hobby into his job. It was a risky gamble in many ways, but one which is now beginning to pay off after 4½ years of hard graft, perseverance and faith, during which we have strived to be conscientious and meticulous in everything we do.
It was a similar story with Andrea Franchetti, the owner of the Tenuta di Trinoro winery in Tuscany… When he saw some land that he believed could produce good wine, he set about shaping his project with great tenacity to finally achieve the recognition he enjoys today.
Whilst on the subject of gamble-taking, last year we had the opportunity to attend the very first Haro Station Wine Experience in the Rioja region. Seven wineries from Haro's "Barrio de la Estacion" have joined forces to put on a high-end event, whose second edition this year was even more successful than the first, auguring well for future events. This year, the event's official "engineer" was our contributor, Pedro Ballesteros MW, who led the trade tasting in masterful fashion.
And of course (how could we not, with Christmas just around the corner again?), this issue includes an interesting article on sparkling wines from the other side of the Atlantic, penned by our contributor, Christy Canterbury MW .
So, relax, sit back and enjoy this latest issue of Selectus Wines.
Selectus Wines no.18 (preview)
Recommended articles
Comments