200 years of a great invention
In 1816, Madame Clicquot, a visionary if ever there was one, created a piece of equipment that would revolutionize sparkling wine making history: the riddling rack.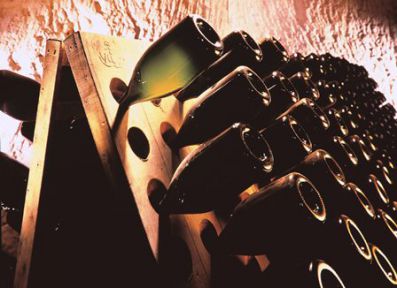 This started out as a perforated table in which bottles were placed at a certain angle, so that they were all stored in the same manner. But the main objective of placing them in this position was to force the sediment, which formed in wines during ageing, down towards the neck of the bottle. This then made the extraction process faster and more controlled and at the same time, gave the wines greater clarity and finesse. With this creation, Madame Clicquot wanted to make the "wines as clear as water from a natural spring."
This invention revolutionized the wine world and many champagne houses adopted this method of storing and ageing the wines and some continue to use it today, in the form of the famous "pupitres", found both in the Champagne region and other regions where they produce sparkling wines (Cava, Franciacorta, and so forth,….). Obviously, modernization and industrialization of the wineries also led to the introduction of automated equipment to perform the same function.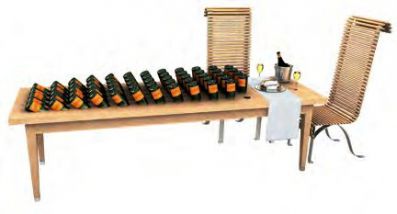 In 2005, the celebrated designer, Andrée Putman, visited the Veuve Clicquot cellars, and was captivated by both the invention and the character of Madame Clicquot. This inspired her to reinvent the riddling rack, transforming it into a contemporary design piece for the 21st century.
This design piece is usually on display in Veuve Clicquot's visitors centre in Reims, the capital of Champagne, but unfortunately, when we visited the Champagne House, the piece was in Russia, as part of an exhibition marking the bicentenary of the invention, so we could not see it for ourselves (perhaps next time...)
Veuve Clicquot is one of oldest "Maisons de Champagne" with over 500 hectares of vineyards, many of which are located in the best areas, and it has always stayed true to one of its mottos: "only one quality, the finest.
Recommended articles
Comments