Coravin launches Pivot, its most affordable wine preservation system
The new mechanism keeps the wine for up to four weeks and will cost 99 euros as a launch price, being much cheaper than its 'predecessors'. Coravin Pivot will be on sale online in Spain from November 1.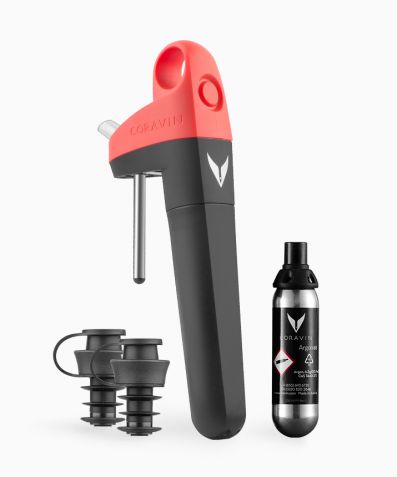 Coravin, the wine preservation system, adds a new model to its extensive range of products: the Coravin Pivot, its most differential and affordable device to date. Pivot is a system that allows the wine to be preserved for up to four weeks and is cheaper than other brand devices.
In Spain it will be available online for 99 euros as a special launch price from November 1. Starting next year, the device will be on sale in stores at a cost of € 119.
For the first time in its history, Coravin has devised a system that forces the cork to be removed from the bottle. To use it, and this is its most differential characteristic, you must place a stopper immediately after removing the cork. Next, to serve the wine, the Pivot system is inserted through the stopper and the bottle is tilted so that the spout is over the glass.
As with all Coravin models currently on the market, Pivot will use argon gas capsules, which prevents oxygen from entering the bottle. With a button, another of Pivot's novel features, the user can decide how much wine to serve. Although this method is used, the truth is that, when the cap is removed, there is minimal contact of the wine with oxygen, which is why an open bottle with Pivot will have a 'life' of four weeks.
Pivot also stands out for an optimization of the use of gas capsules, which will now allow serving 20 glasses - as opposed to the original 15 - and, in addition, the speed when serving is also increased. Also, aesthetically, Pivot loses the clamps of the other Coravin models.
This new product is designed to be used with everyday wines, which tend to be consumed more quickly. As stated by Greg Lambrecht, founder of Coravin, "we want to reach out to a slightly wider audience, not only expert wine lovers, but also those more amateur lovers of the world of wine who have a lesser degree of knowledge of the sector".
The Coravin Pivot will be available in black, turquoise, coral and gray on the Coravin website and will be sold with two caps, a gas capsule and a bottle sleeve. In other online platforms such as Amazon, Bodeboca and El Corte Inglés it will only be in black.
Pivot joins Coravin's portfolio made up of the Three, Five models (the latter dedicated to the horeca channel), the Six and the Model Eleven.
Recommended articles
Comments