Champagne growers vote to change century-old rule
Champagne growers have voted to change a century-old rule that establishes the necessary distance between vines, a move that has sparked an angry response from some sceptics.
For some 100 years, the maximum distance between vine rows has been set at 1.5 metres for Champagne growers – a distance experts believed lead to vines competing for water and nutrients in a process that gave a smaller but higher quality yield.
Any farther apart than this, experts argued, would mean that vines would not have to compete for the water and nutrients, thus leading to larger yields of lower quality grapes.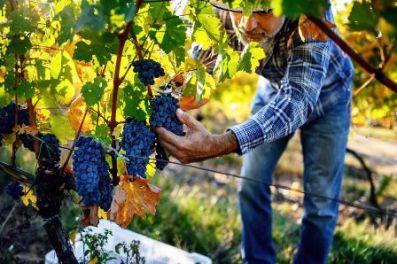 However, growers have now voted to increase the maximum necessary distance between vines – a move that those who fought for it say is motivated by the need to address climate change.
"The aim is to accompany the necessary agro-ecological transition by adapting Champagne vines to climate change, while at the same time preserving the quality and unique quality of Champagne vines, and the economic sustainability of wine growers," said Maxime Toubart, president of the Syndicat General des Vignerons del la Champagne (SGV).
The SGV conducted a study over the course of 15 years in conjunction with growers, Champagne houses and scientists which found that larger spacing between vines could lead to a 20-percent reduction in greenhouse gas emissions, per France24.
This is due to the greater distances allowing for better equipment to be used.
"It will help us to achieve our objectives of zero herbicides, 50 percent less pesticides and 25 percent less carbon emissions by 2025," Toubart said before the vote took place.
"It will facilitate our work in the vineyards and it has significant economic benefits. There is no obligation to adopt the [changes]; it is just an extra tool, another string to our bow, to be more successful in our quest to produce quality wines worthy of the Champagne appellation."
Vincent Legras, a winegrower who has been experimenting with the more spaced out vines for several years, claimed that "vines would become more resistant to drought and need fewer additives," however critics remain.
Opponents of the move fear the new ruling would lead to job losses, grape quality being compromised, and the loss of local traditions.
"Under the cover of environmental concerns they are implementing a business project of cost cutting," said Patrick Leroy of the CGT-Champagne trade union.
It is anticipated that the transition will be a slow one regardless, "over one, two or three generations," Toubart predicted.
Information from The Drinks Business
Recommended articles
Comments