Australia, in search of finesse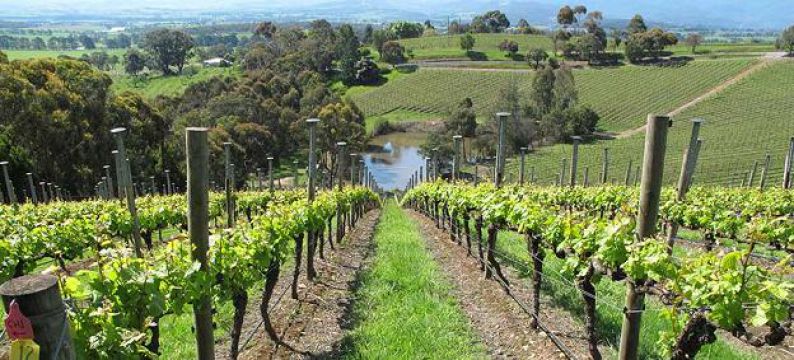 Most of us associate Australian wine with the warmth of those intensely coloured and aromatic Shirazes and weighty Chardonnays. This impression is not far from the truth, statistically speaking. The vast majority of Australian wine sold in Europe comes from the big brands. These are wines made with modern marketing in mind, very fruity, bulky, quite high in alcohol, rather mellow at times, showing evidence of aromas from the oak, frequently with residual sugar added to round off the flavour, straightforward, clean, and not very complex.
Fortunately, another Australia is coming to light, one of terroirs that are beginning to be discovered, one where the grape growers are also the ones making the wine (as opposed to the wine growers who buy up grapes, the big brands). Their wines are neither better nor worse than those from the large companies, they are simply different. In their own style, the branded wines are very good – superb sometimes. The large companies can select the best grapes from hundreds of vineyards. It is not that complicated for them to produce wines with impressive fruit and tannin concentration. A small grape grower finds it very difficult to compete on those terms. Unlike his European counterparts, who at times value their land more highly for concentration rather than refinement, Australian grape growers have no other option but to get themselves noticed for the hardest factors to obtain and appreciate - finesse, complexity and personality.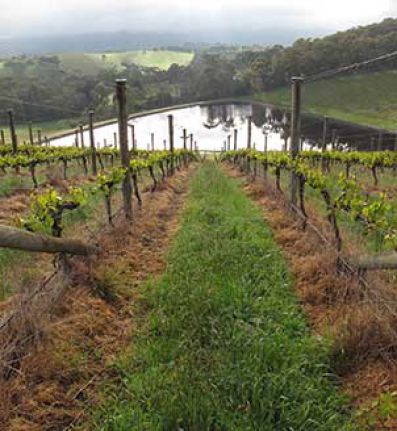 For a large number of wine enthusiasts, Burgundy and its red grape of preference, the Pinot Noir, represent the nec plus ultra of finesse. Consequently, all over the world, from Sonoma to South Africa, from Argentina to Romania, from Chile to New Zealand and from Germany to Australia, whole lifetimes and fortunes have been invested in finding that magical wine, the Pinot Noir. Rarely with any success, but always with plenty of passion.
The great Pinot Noir wines come from fairly cool climates. Yet it is not easy to find a cold climate in Australia. Suffice it to realise that Melbourne lies on the same latitude as Seville and Adelaide on the same as Fez in Morocco. However, taking advantage of such factors as the ocean's influence, orientation and altitude, and making use of the most modern vine-growing science and technology, very cool locations can be found, adapted to Pinot Noir wine cultivation. The Mornington Peninsula, the Macedon Ranges, some estates in Gippsland and especially the Yarra Valley, give us the best examples.
De Bortoli, the first Yarra producer to mention is a special case. Since 1928, they have been producing all kinds of commercial wines, some very good ones, in the Riverina, a warm region with intensive vine growing that is located a fair way north of Yarra. But in 1987, forming a couple, Steve Webber, one of the greatest Australian oenologists, and Leanne De Bortoli, decided to acquire some vineyards and establish a new winery in the Yarra Valley, adhering to a philosophy of quality and respect for the environment. Their greatest wine to my mind is their Riorret Emu 2010. A Pinot Noir in a distinctly European style, definitely undergoing very elegant ageing, rare in the Australian tradition. A wine that already appears expressive but will improve in 4 to 6 years time. At a blind tasting this wine would cause problems for quite a few experts, because it resembles a warm vintage Burgundy.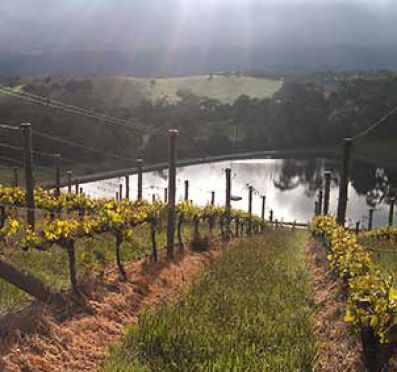 Giant Steps owes its name to a jazz album by John Coltrane. They have been producing wine since 2001. The owner, Phil Sexton, has a clever business strategy, linking up his concept of terroir wines to a very original restaurant. My favourite wine is the Pinot Noir Applejack Vineyard 2010, which stands out due to its minerality and floral aromas, in a very direct style, attaching more importance to the complexity than to the fruit.
One of the region's most emblematic wineries is undoubtedly Bass Phillip. They were pioneers in the colonisation of Gippsland with vines in 1979. Since then, their Premium Pinot Noir has become nothing less than a cult object. It is a rich wine, full of flavoursome fruit, almost crunchy in its pure concentration you might say, but elegant too. Like the majority of great wines, it proves difficult to classify, being in a wine style of its own.
One of the things I most admire in Australia is the freedom to innovate which grape growers enjoy. Instead of prattling on about plantation 'rights' (which should be called privileges) and so many other depressing blows self-inflicted by the sector in Europe, instead of raising to mythical status terroirs that don't seem to deliver anything much in the glass, many Australians and European emigrants in Australia are concentrating on understanding the whys and wherefores of quality and terroir. The Yarra Valley is a territory favouring this enquiry, and people like Mac Forbes are its pioneers. His winery is intentionally simple in the extreme, and exactly the opposite of our recent custom of building 'cathedral-size' wineries, which sometimes seem like beautiful wine factories rather than installations serving the purpose of a biological process. Mac Forbes' Pinot Noir 2010 is probably the high point of his efforts. Rounded and stylish, very balanced, profound. Excellent.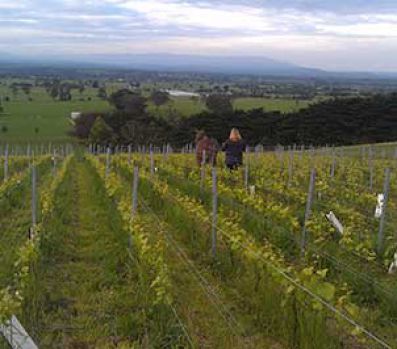 Timo Mayer is a German emigrant in Australia, who combines a love for his land with his keenness to travel. He produces Pinot Noir, Chardonnay and Riesling in the Yarra Valley and in Germany, conveying in his wines a combination of German scientific structure with Australian "joie de vivre". His Bloody Hill 2010 is intense, with great aromatic clarity. Tannic and powerful, it will reach its peak in 8 to 10 years.
William Downie has all the attributes of a wine genius, that intuition which enables him to look at the vines and location and see a truly great wine there in the making. He is a man with a mission, and puts his heart and soul into finding the one wine that will be on a par with the greatest ever, being too a unique image of a terroir. In very much the Burgundy way, he labels his wines according to their place of origin, without saying whether it is a Pinot Noir or any other variety. He has put his resources into developing a new vineyard in a virtually brand-new area in Gippsland, based on biodynamic principles. He is also the oenologist at 1000 Candles. This is a million-dollar investment made by somebody from Singapore, extremely rich but without the time to visit his vineyards. The wine was famous from the day of its conception, and sells at a high price. It didn't impress me much, and seemed more showy than profound. Bill makes much better ones. His Yarra Valley 2005 is one of the most complex, refined, profound and delicate Pinot Noirs that I have ever tasted. It is a simply magnificent wine, a signature as well as an origin wine.
The Macedon Ranges, where Bindiis located, lies very close to the Yarra Valley. Bindi is one of the most idiosyncratic and original wineries in Australia. The founder of Bindi, Bill Dhillon, is an unforgettable character. Of Sikh origin, he has retained a manner of acting and talking that reflect the purest Indian philosophical tradition, yet been capable of creating an exceptional vineyard, of just 6 hectares, in the midst of a 170 hectare estate, as only the 10th Century Cistercian monks previously did. His son Michael, now in charge, has obtained some lovely results in the expression of this piece of land. His wines are particularly individual, different, with a delicacy that borders on fragility. His Block 5 is, in my opinion, the most successful and representative Pinot Noir. It has extremely fine grained tannins, and a long and elegant finish. Very balanced.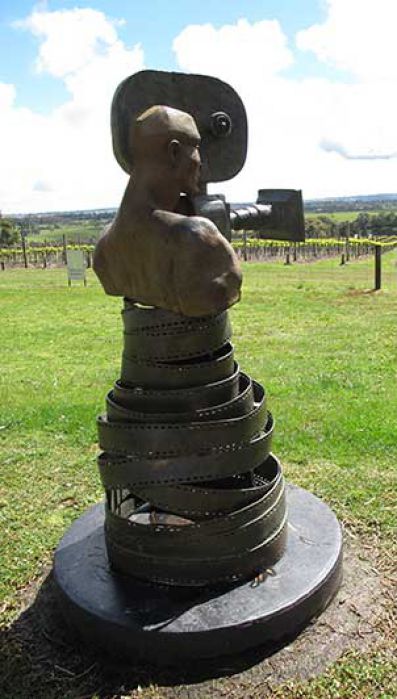 The Mornington Peninsular, very near to Melbourne, is an area exposed to urbanisation by the city's well-to-do. Luxury villas are everywhere to be seen, and this means that Mornington vineyards command a very high price. The wines are put forward as an example of cool climate Australian, but, to be perfectly honest, I have to say they seemed to me to be warmer than those from the Yarra, with fruit expression more like over-ripeness. The volcanic nature of the soils as well as the strong winds, contribute to good acidity being retained in this zone's Pinot Noirs. Some wines are very good, although a far cry from the Burgundy mould. But the prices of the wines are more a reflection of the cost of the land than intrinsic quality, being comparable to many Burgundy Premier Crus. Sandro Mosele makes one of the best wines, 'Ferrous 2010' from Kooyong, very finely executed, with a persistent and open finish, which will gain in elegance over the years. Another example is Block 6 from Yabby Lake, a warm wine, concentrated, which needs some aeration and time to open up and reveal its refinement. Yabby Lake is a recently established company, set up with some pretty impressive financial backing with the purpose of increasing the value of a terroir boasting great vine-growing and aesthetic merits.
There are a number of grape growers and plenty of wines left to mention. I am sure that within a few years there will be rather more names to single out. For now, I can confirm a process of enquiry and change exists, and I can bear witness to the emergence of a new classic wine country in the 21st Century, based on developing the concept of terroir and the person behind its elevated status. Australia, the land that invented varietal wine, which denied the existence of terroir, has engendered a wine country full of terroirs. Its best wines are characterised by their fineness and personality. They express themselves through a series of infinite nuances, which reflect both their origin and their creator's vision. And they give us much pleasure and food for thought and discussion. I suggest you get to know this new Australia - it won't disappoint you.
Recommended articles
Comments