1920 RIESLING GOLDLACK SELLS FOR €18.000
A bottle of 1920 Riesling Goldlack (TBA) from famous Rheingau producer Schloss Johannisberg has been sod for €18,000.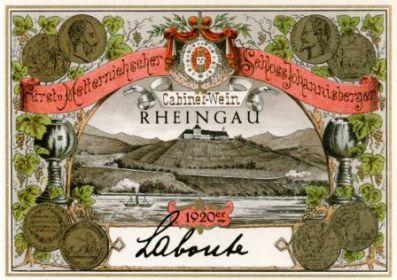 The bottle of Trockenbeerenauslese was sold at the Kloster Eberbach wine auction last weekend in the German region.
Stefan Doktor, managing director of the estate, said: "It is the highest price that one of our wines has ever received and the second highest price in the entire history of wine auctions in the Rheingau region. The value that this record price reflects makes us extremely proud".
Doktor also wrote a tasting note for the wine during re-corking of bottles in January.
He said the wine was: "Amber-coloured, shot through with gold, and with a distinctive bouquet reminiscent of marmalade, dried apricots and fig, rounded off with Assam tea, tobacco, sage and bitter chocolate.
"On the palate, the Riesling presents a delicate sweetness and a fresh, zingy acidity. The wine is characterised by its impressive depth and length, carried by its citrus aromas and herbal minerality,"
The 1920 vintage was an excellent one in the Rheingau. The spring was warm, there was a good deal of rainfall during flowering in June and there was a warm, dry summer and autumn. The harvest began on 11 October and the crop yielded 28,200 litres in total.
Information from The Drinks Business
Recommended articles
Comments