Wines from Madeira: a luxury-class wine for Christmas
The end of the year is coming ever closer upon us, bringing with it the traditional desire for sharing, eating and drinking excellent, first-rate fare. Naturally Champagne and fine Cava partly cover this delectation, but many want their Christmas Eve dinner or Christmas Day lunch to enter into the realms of the unforgettable. They want something that, without descending into the tackiness of being very expensive due to marketing or commercialism, is the very height of luxury.
I think that a luxury wine should be, above all else, an extraordinary wine, with a history and origin that should be truly great, as well as being remarkable, and offer more than family tradition. Moreover, a luxury wine ought to be complex, and require a certain amount of preparedness and experience on the part of its "imbibers" in order to be fully appreciated, as it justly deserves, when tasted. The unenlightened consumer will find these wines amazing, and most probably be interested to learn more.
A luxury wine inevitably has to be rare, of limited production and in particular should not be able to be found in a supermarket. And finally, it has to be old. There is no greater luxury than time. Mankind has been capable of inventing money, discovering new horizons and creating wonderful stories, but not expanding time. Tasting an old wine has that mystique of drinking time, of being something unrepeatable, which is perhaps one of the most appealing edifications. Fine wine is a work of art which is destroyed when it is enjoyed. This is a good reason for sharing fine wine. It is hard to find a greater intellectual pleasure than a bottle of wine that has been waiting for us since before we were born.
Vineyard on the island of Madeira with the Atlantic Ocean in the background
I am not including price in the definition of luxury. Evidently, a wine with the characteristics I have mentioned does not come cheap, but neither does it have the right to be ruinous. The true price of a wine, for the person who drinks it, is the value of the pleasure it has given. Two glasses of wine do not give twice the pleasure a single one gives. In all likelihood, someone who drinks a whole bottle will not get as much enjoyment as the person who drinks two glasses. Also, we live in times when luxury ought to be defined in terms of quality rather than quantity. A luxury wine which can be fully appreciated in small glasses and besides which, if the whole bottle hasn't been drunk, doesn't go off, is a real godsend.
You will have guessed that the wine category fitting this description is top-quality fortified wines. But be careful, as there are very few of them. The other day I was commenting on the wonderful Sherries made in Jerez, and today I would like to talk about Madeiras.
It is very difficult to find more complex and special wines than fine Madeiras. These wines come from an island whose name is enough to make us dream. Besides, those who are fond of history discover Madeira wine is connected to some important names: Washington signing the United States Declaration of Independence and Napoleon finding his last comfort over on Santa Elena.
The best Madeiras are old, sometimes very old. A good Belgian friend has been talking to me for some time about organising a tasting of fine Madeira wines which cover four centuries. It's a standing joke that I hope to live long enough for it to actually happen, because the fine wine from the fourth century, the 21st Century, isn't ready yet. This century's best Frasqueiras will start to prove interesting from 2025 or 2030, and not before. Regarding the first century, those who have had the good fortune to try the 1787 or 1790 vintages declare they have found them on top form. I have been able to taste some Madeira from the 19th, and I assure you that I'm not in the least doubt such wines can be kept for centuries. Friends sometimes ask my advice about which wine to buy that dates from the same year as the person they want to honour, and whether in fact it is a good one. If this relates to an older person, there is no doubting a fine Madeira.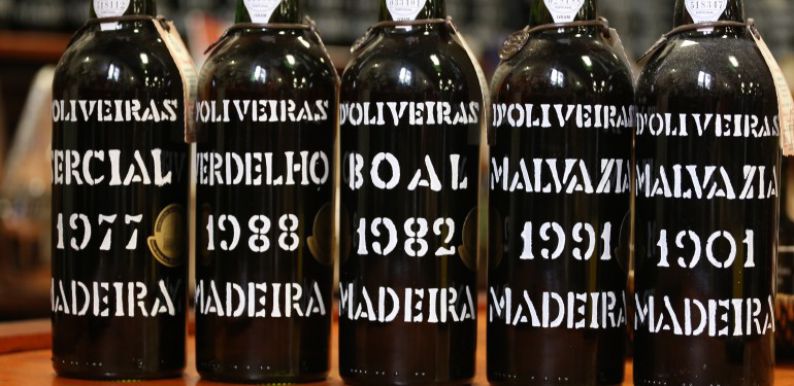 Bottles of the Oliveiras winery, with different wines produced with different types of grapes.
Great Madeira wines are a feast for the senses. Like the great works of art which they are, they require plenty of concentration. You need to go to the wine instead of waiting for the wine to come to you. Let me explain: many wines work on first impressions, with splendid wood, brilliant fruit, incredible colours and fantastic tannic density. A truly great wine is built on balance and complexity, and needs comprehension. I am therefore not interested in tales of simplifying and trivialising wine in order to increase consumption. I think that real luxury is deserved when it results from discovery and bears no relation to the coarse pleasure that occurs without true commitment.
Once you understand Madeira, you become fond of it and remain so forever. These wines have an oxidative nose, with plenty of dried fruit and nuts, like our Olorosos and Palo Cortados, which makes them distinctive on the palate due to their very superior acidity in comparison with sherry and a finish that is never-ending, open and complex. The finest are based on four grape varieties, each determining a style and level of sweetness. The sweetest are the Malmseys or Malvazias, the semi-sweet Boal or Bual, the semi-dry Verdelho, and the driest one is the Sercial. A fifth variety, the Terrantez, is closest to the Verdelho in sweetness, but very difficult to find. If none of these names are mentioned on the label, the likelihood is that the wine has been made from Negra Mole, the most common grape variety on the island, with good quality potential, but inferior to the other five.
Madeiras develop their olfactive identity through perfectly controlled oxidation. There are no fresh fruit or herbaceous aromas with these wines, but a complex expression of spicy and toasty nuances, plenty of dried fruit, almonds and walnuts, old leather, tobacco, coffee... Many Madeiras are reminiscent on the nose of our Palo Cortados and Olorosos. On the palate, Madeira is vigorous because up to 20% alcohol has been added, but it is less noticeable than in other comparable wines because it offers absolutely extraordinary acidity, which gives it great vivacity. This acidity makes Madeira totally different from any other fine liqueur wine. The finest Madeiras give themselves away on the finish – powerful, open and very long – inviting deep reflection.
Allow me to emphasise a fundamental point in wine tasting, and absolutely essential for Madeira. Tasting does not end when the wine has been swallowed. The best wines in the world stand out because of the memories they leave behind. Don't hurry to comment on a fine wine, give yourself the pleasure of heeding your own body while you try to capture the memories of a fine wine, since this way you will understand it much better.
Madeira goes wonderfully well with cheese, the very sweet ones with blue cheeses like Cabrales, and the very dry with soft cheeses like Brie. A Boal or Malmsey works wonders with a chocolate dessert. A nice coffee and a little glass of Madeira pair up nicely too. To be honest, I have a Madeira instead of a dessert and especially as a wine for reflection or a leisurely chat. I also make the most of Madeira's distinct advantage. Once you have opened the bottle, the wine lasts for a week without going off, and the best ones for two or three months. Which means that little bottle you open in December will be able to give you plenty of enjoyment until February....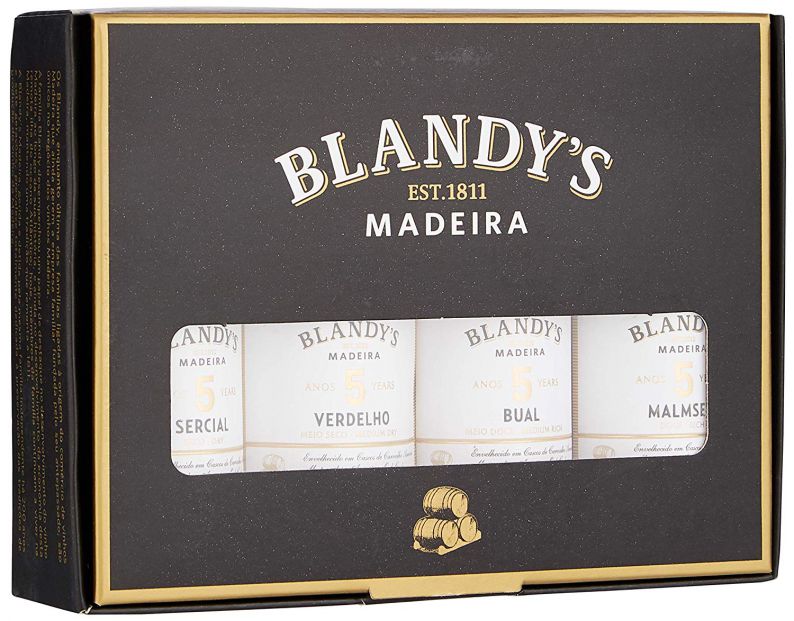 Bottles from the Blandy's winery. One of the recommendations of Pedro Ballesteros.
There is a Madeira wine to suit every pocket, but there is very little top-quality Madeira. Don't waste time looking in supermarkets as they only have cooking Madeira, which is not worthy of its name. Fine Madeiras are only found through the best specialists. As regards price, a great 1899 or 1945 costs several hundred Euros (and worth it). Vintages are generally the most expensive wines, because they are better quality and should be matured for at least twenty years. The Colheitas come next in price and then there is another wine category, the 5, 10 and 15 year old, which are top quality and cost between 30€ and 50€. I can't find anything interesting below this.
As regards producers and specific wines, I'm giving you some examples in all the price categories that I've tasted this year, which I hope can be found in Spain. Justino's 15 year old Sercial is a good introduction to dry Madeira wines, at a very popular price. The Pereira D'Oliveira Sercial 1989 is profound, elegant, complex, and very dry. Rather sweeter, Blandy's 10 year old Verdelho is a classic Madeira, balanced and powerful, another good introduction to good Madeira. Also from Blandy's, the Verdelho Colheita 2000 is a touch more gentle and complex, more integrated. The Henriques & Henriques 15 Year Old and the Pereira D'Oliveira Colheita 1981 are wines decidedly longer-lasting in the memory, and my favourites in this category.
Boal wines always amaze me with their extraordinary combination of an abundance of residual sugar and fresh, nervous acidity. In another style, only the great German Rieslings are capable of finding that balance. For the Boals I do allow myself a fair amount of money, but the enormous pleasure given by such wines as the Pereira D'Oliveira Boal 1968 (exceptionally fine) and their 1984, the Barbeito Frasqueira 1982, or Blandy's 1960 Vintage (stunning). They are unforgettable, for the powerfulness of their attack and the finesse of their finish.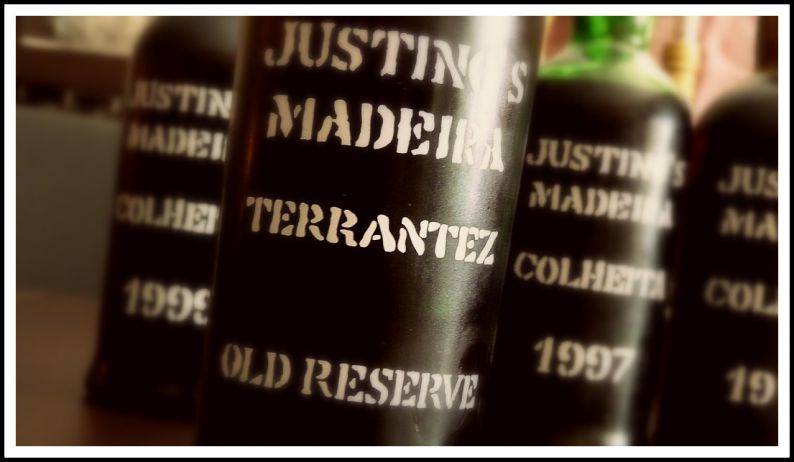 The Terrantez de Justino are one of the favorite wines of Pedro Ballesteros MW
I will end by mentioning the Terrantez, extremely rare, yet worth finding. But we are talking about luxury and exclusivity, and this wine deserves inclusion. The Blandy's Terrantez 1976 is probably one of the best Madeiras from the end of the century, unusually complex, with a wealth of expression. Its aromas of flowers, dried fruit and nuts, sweet spice and tobacco leaf, are repeated on the palate at length.
I hope that this consideration of luxury wines has been interesting and, above all, that you have a very merry festive season, since luxuries and wines are even more worthwhile with merriment.
Recommended articles
Comments