Roger Viusà: "A good sommelier can ensure you're perfectly satisfied with very few wines"
Second best sommelier of the world in 2008, best sommelier of Europe in the same year and the best of Spain the year before: an excellent letter of introduction for Roger Viusà. Yet for him, the importance of the awards does not lie in public recognition, but in having overcome a personal challenge. He taps on top of the table with a corkscrew, passionate about wine, gastronomy and everything that finds its way onto the table, so he tells us. After his early start in the Celler de Can Roca as a waiter, he grew up and matured as a sommelier in the Moo restaurant in Barcelona, until opening his own wine bar in Girona: Plaça del Vi 7. His small bar conveys the warmth and intimacy of a French bistro: uncomplicated, market cuisine, good wine and pure enjoyment.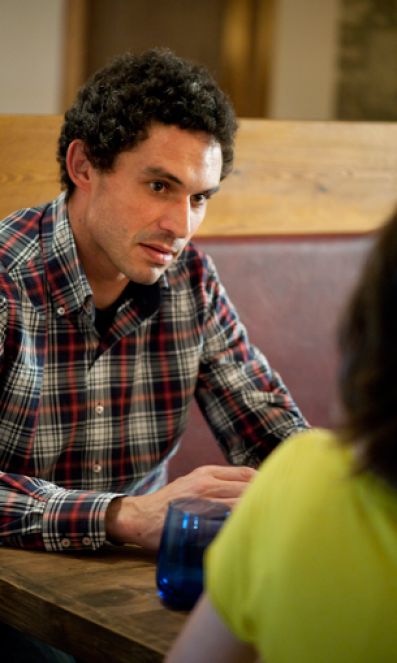 What was your first contact with the world of wine?
My senses were awakened at the Motel Empordà in Figueres (Girona). I was working as a receptionist and when all us staff sat down to eat, the sommelier would uncork a different bottle every day and I liked getting to try them. At that time the sommelier was Carles Portell and he was the first to put a glass of wine under my nose.
The restaurant was run by Jaume Subiró, who during the quiet hours in reception would let me study and read about wines and gastronomy. He put me forward for the Golden Nose; I didn't win, but I did discover that I had a special sensitivity because I got the wine right, but I lacked the methodology and knowledge. I took the sommelier course and afterwards I spent a year at the Celler de Can Roca as a waiter and from there I went on to become sommelier at Moo.
What is the role of a sommelier?
I think it now falls to sommeliers to do what chefs have done, who used to have little contact with the public, but their image has changed thanks to Arzac, Joan Roca and Ferran Adrià. The same is happening to us, 15 years ago the figure of the sommelier was disappearing and now we're starting to appear and communicate. Examples: David Seijas, Xavi Ayala, Ferran Centelles, Joan Arboix… It's happening as it did with Ferran Adrià, at the beginning what he was doing was rather bizarre but now it's not so unusual; people don't find it strange to hear words like esterification and spume. We sommeliers have to do the same: communicate plainly and get more in touch with people so they're brave enough to voice their opinions, use adjectives to describe a wine... We have to look for simple vocabulary without complicated expressions.
"A really great sommelier is one who has 25 or 50 wines and makes sure people enjoy their meal", in your own words. What constitutes a good sommelier?
A sommelier doesn't need to have grand bottles or a grandiose wine list, but with the tools to hand he must be capable of ensuring a good time is had. For example, something Ferran Adrià has achieved, when you go to a restaurant where everything is complicated you still have a good time. The sommelier is doing a great job if, with few wines, he knows how to ensure you're perfectly satisfied.
What is the relationship between sommeliers and oenologists in Spain?
I think the relationship is a very good one; there's a lot of exchanging of information, which proves interesting because we are the ones who speak to the final customer. In the end, it's about joining in and all contributions are always welcome.
Roger Viusà's Fact file
Sommelier at the Restaurant Moo in Barcelona (2004-2011)
Best Sommelier of Spain 2007
Best Sommelier of Europe 2008 (WSA – Worldwide Sommelier Association)
Second in the Best World Sommelier 2008
You have been sommelier at the Moo for 7 years. How would you describe its wine list?
It's unusual because it doesn't go by regions, but by personalities. Let me explain: over time you realise that in the wine world, like anywhere, the important thing is the people and you discover producers who work in several regions. That's when you don't look for the DO any more, but the person who makes the wine. It's people who create a difference, their way of doing things and the character they convey to the wine.
How did you arrive at the Moo?
As it happened, I was deep in conversation when I heard them saying the Moo didn't have a sommelier, so it was rather by chance. I put myself forward for it, so as to be able to get on, and if not, I would've stayed with the master at Can Roca. I thought if you can't manage to get something new going, then stay on as second under Pitu Roca.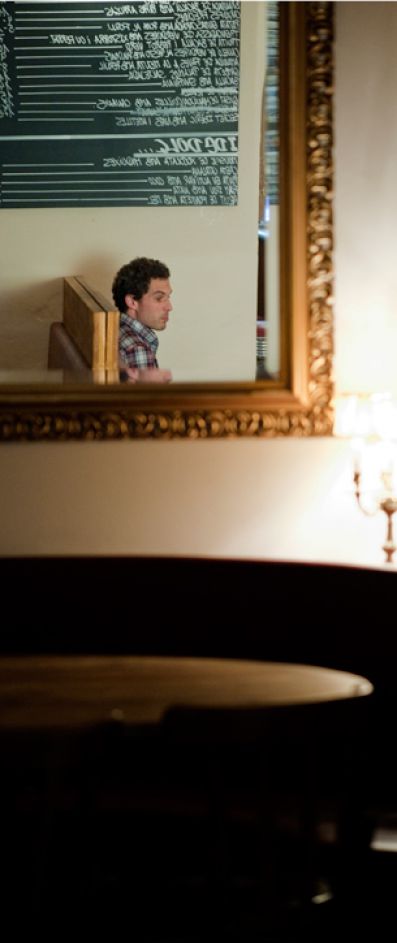 A few months ago you opened Plaça del vi 7. How did it come about?
I was inspired by the French bistros, simple bars with no tablecloths, a warm place where you can eat and drink well without paying a lot – after all we can't always be eating in Michelin-star restaurants.
What sort of cuisine is offered?
Locally-grown products, totally fresh, without too much preparation: bought and cooked. As regards the food, we work with what's in season and have a slate with the dishes of the day, as we cook what we find in the market.
What concepts define Plaça del vi 7?
An intimate atmosphere, warmth, fun - so people don't feel afraid; they can be on familiar terms with us, I can sit down with customers. Drinking a good wine doesn't need any paraphernalia, you don't need decanters, candles... The idea is easy-going, with intimate service and avoiding the rigidity and silence that sometimes surround wine.
How did you make the selection of wines?
We have around 300 references, which is fantastic. We tend towards natural wines, that have had no intervention, where the vineyards have been treated naturally, and no enzymes have been added... But we do also have other wines. It's definitely a list that comes from the heart, very personal.
In 2008 you caused a great stir by coming second in the best sommelier of the world contest with only 5 years experience. Why did you enter a competition?
I had César Cánovas as my instructor, the sommelier at Monvínic (Barcelona), and when it came up I said to myself, "I want that". I started by being champion of Catalunya and the other competitions came later. I'm a person who likes challenges and having objectives, and as well, the competitions give you the theoretical knowledge and mental agility to make improvements afterwards in the restaurant. For me it's the personal pride and the challenge, but I'm not so bothered about the rest. More often than not I've left the trophy and the gifts behind in the hotel, because I'd already won and I didn't need anything else.
What do you most like about this job?
The wine.
When you got to a restaurant, do you accept advice?
It depends on the list, the sommelier, how I feel that day, what I'm eating... But in principle no, because those of us who work in the catering business rarely go out for dinner and when I do, I don't take any risks, I want to play it safe.
Which wines do you never fail to have at home?
House wines: from the Empordà and the Roussillon.
Quick wine test
A little known winery with a great product: Carriel dels Vilars
A special grape variety: Garnacha, because it's so local.
A glass of wine should be accompanied by: Good conversation.
For you wine is: Passion, culture and location.
Recommended articles
Comments