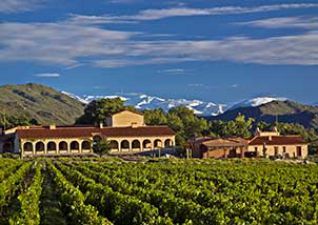 We are well aware that climate warming is one of the concerns that vine growers nowadays are most worried about. This is especially true for those who have vineyards lying at lower altitudes above sea level: that is where the consequences of drier and hotter summers are having, year after year, a more devastating effect.
Due to a lack of more temperate weather, altitude seems to be one of the most effective solutions for a problem that will continue to grow in the future: vineyards cultivated at a higher elevation will suffer the consequences of global warming less because they undergo greater contrasts between day and night-time temperatures.
So then, what are the limits of viticulture in terms of altitude? Is it possible to produce wine at more than 2,000 metres above sea level?
If you want to find out the answer, try visiting a place where such miracles do occur: the Calchaquí Valley, in the Andean foothills of Salta Province, in the far north of Argentina.
Naturally, witnessing this wondrous wine-growing feat demands considerable effort, because the area is not very accessible. To get over there you have to fly to the town of Salta –or San Miguel de Tucumán– and then pluck up the courage to travel along endless roads, most of which are unpaved, passing through extraordinary scenery: moon-like deserts, ghost towns and barren mountains, only adorned with the rich contrasting colours bestowed by mineral deposits.
Yet the journey does have its rewards, because anyone who is prepared to submit their backside to four or five hours of jolting aboard a four-wheel drive will be able to see clearly how the highest vineyards in the world grow. For very good reason, in the Calchaquí Valley wines record on their labels the actual altitude, as though it were a pole-vaulting competition: 2,200, 2,380… 2,700!
Advantages of an extreme climate
Viticulture is not new to the region: just as in the rest of America, it arrived care of the Spanish colonists. Legend has it that, in the 16th Century, the Indian chief Colomín, who suppressed the native uprisings against the invaders, was rewarded for his services with some vines. However, the growing of noble grape varieties in the area is more recent: Ascensión Isasmendi, daughter of the last Spanish Governor of Salta, introduced the first strains of Malbec and Cabernet Sauvignon in 1831.
Of course, in tropical latitudes, these vines would never have thrived had it not been for the altitude, which offers such a highly prized range: temperatures of over 35° during the day that fall to less than 10° at night. The climate is dry and the sun can obviously wreak havoc, so therefore the Salta wineries endeavour to cultivate their vines on the more protected hillsides, to counteract its effect.
In these conditions, the alcoholic maturity of the grapes always precedes phenolic maturation with an end result that astonishes even the most experienced oenologists: both the reds –mainly using Malbec and Cabernet Sauvignon, but also with Tannat, Merlot and certain other varieties – and the famous Torrontés whites –the fine jewel in Salta's vine-growing crown – often exceed an alcoholic strength of 16% volume. However, this in no way detracts from these succulent wines, full of character and personality.
Rolland accepts the challenge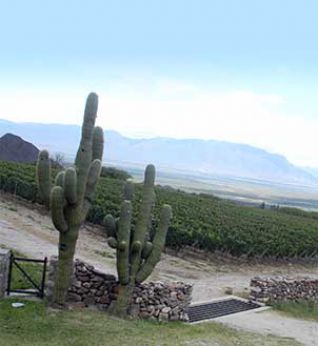 What is recent is the impressive evolution in the quality of the wines and the development of wine tourism, reflected in an official wine route and a number of hotels where luxury teams up with the colonial style: Patios de Cafayate, Hacienda Molinos, Colomé…
Undoubtedly, a significant part of the boost that viticulture has experienced in Salta over the last ten years has resulted from foreign investment.
One of the first Europeans to surrender to the special charm of the Calchaqui Valley vineyards was Michel Rolland, the guru consultant in modern oenology. The Frenchman, a frequent visitor to Argentina – he is the alma mater of Clos de los Siete, a wine-making macro project set up in Mendoza province- arrived in Salta in 1988, to advise one of the most emblematic wineries of the region, Etchart, owned by a family deeply rooted in the wine-growing field since 1850.
True to his visionary instincts, Rolland knew intuitively that great wines could be made in these parts. Consequently, he not only agreed to become involved in giving technical advice to Bodegas Etchart, but also embarked upon a new project in partnership with Arnaldo Etchart, who had taken him on. Thus, when the Etcharts sold their family winery to the Pernod Ricard Group in 1996, Rolland had already launched onto the market wines from his new company, San Pedro de Yacochuya.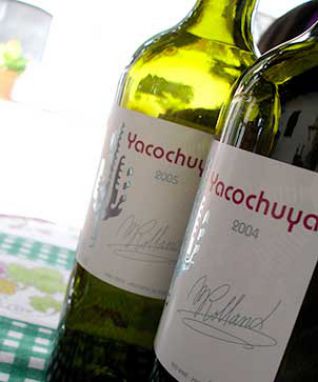 Since then, Yacochuya wines have delighted everyone who has had the good fortune to try them. Though there aren't many available, due to small-scale production. The winery, located in a lovely spot near to Cafayate –the town that acts as the nerve centre for the Calchaquíes Valleys– boasts 8 hectares planted with Malbec, 2 of Cabernet Sauvignon, 1.5 of Torrontés and 0.5 of Tannat, and some modern installations equipped with stainless steel tanks and up to 300 oak barrels. From there two ranges of wines set about conquering inquisitive palates all over the world: the more reasonable is San Pedro de Yacochuya, offering red and white; and the grander is Yacochuya.
To this latter line belong the house's most robust wines: a red coupage, meaty and with an exuberant expression of ripe red fruit aromas; and a white displaying intoxicating aromas of orange blossom and spices, with body and a delicious, oily mouthfeel, plus a startling alcohol content: 16%.
Swiss entrepreneurship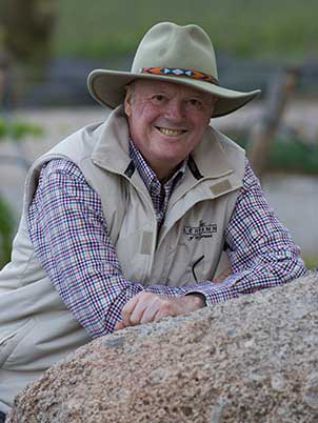 If Michel Rolland's arrival in Salta was quiet and understated, Donald Hess from Switzerland attracted much more attention, with pomp and splendour enhanced by media coverage.
A multimillionaire, Hess is certainly no novice when it comes to the wine business. In fact, he owns a group –Hess Family Estates– and he already had three other wineries in his possession before touching down in the Calchaquí Valley: Peter Lehmann Wines (Barossa, Australia), Glen Carlos Vineyards (Paarl, South Africa) and the Hess Collection Winery (Napa Valley, California).
One can only wonder how such a powerful man as Mr. Hess had found himself in Salta's lofty heights, but evidently, in one of the most hidden spots deep within the valleys, he came across the winery founded by the Spanish Governor, Nicolás Severo Isasmendi in 1831 –probably, the oldest in Argentina– which had belonged to the Dávalos family for more than 170 years.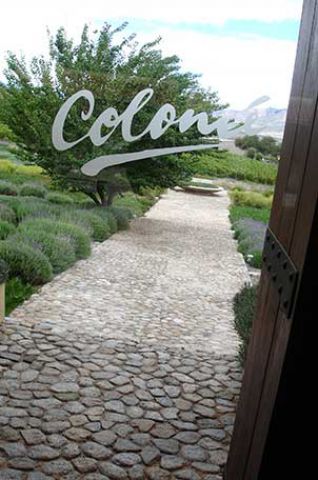 Taken by the beautiful surroundings and the powerful Malbec red wines that were being produced locally, Hess first took charge of a 350-hectare estate in Payogasta, and in 2001 purchased the old Bodega Colomé from Raúl Dávalos, with land amounting to 39,000 hectares (three of which had pre-phylloxera vineyards).
Since then, this Swiss national and his team have been involved over there in an ambitious venture by any stretch of the imagination. Today, Colomé has vineyards covering around 150 hectares cultivated according to the rigorous methods of biodynamic viticulture, a high-tech winery, a delightful boutique hotel, a restaurant that serves the local gastronomy with a modern twist and –perhaps the most eccentric of all– a monograph museum dedicated to the work of James Turrell, a conceptual artist who develops light installations.
Nevertheless, wine aficionados would perhaps be more interested in another Hess fanciful idea: the experimental vineyard at El Arenal, at 3,111 metres above sea level, which has the distinction of being the highest in the world. It comes as no surprise that it has been blessed with the name of Altura Máxima.
At the winery's Visitor Centre, all the wines from the Hess Family Estates can be tasted, including the four produced at Colomé: the reds Colomé Reserva (80% Malbec, 20% Cabernet Sauvignon), Colomé Malbec Estate and the more modest Amalaya (a blend of Malbec, Cabernet Sauvignon, Bonarda and Tannat) and the white Colomé Torrontés, probably the most outstanding of all: it is an excellent expression of the modern, affable Torrontés grape and capable of seducing palates the world over without losing the distinctiveness of its identity.
Other high altitude wines
The immense size of Colomé ought not to put in the shade other Calchaquí Valley wines and scenic locations, which are also capable of enthralling visitors.
The Raúl Dávalos wines are a fine example. The former owner of Colomé is a person with great character – with that touch of romanticism and hint of surrealism which people from Salta sometimes have- who, after selling his lands to Hess, went off to Tacuil, where he set up an extremely remote and far-distant winery (2,300 metres high), in order to make such radical wines as Viñas de Dávalos, a Malbec-Cabernet without oak ageing –Don Raúl is a bitter enemy of wood and ages his wines in cement tanks– which offers a marvellous array of complex sensations (black olive, Indian ink and red fruit aromas) and possesses an alcohol content of no less than 16.9% volume. To enjoy it in all its splendour, the bottle should be uncorked at least 24 hours in advance.
Naturally, there are other great wines from Salta. Among them is the red Gualiama, a succulent Malbec made by Salvador "Chavo" Figueroa –one of the region's most highly-regarded oenologists, who also advises Finca Tacuil– at their micro winery in Cafayate. Another is the white under the signature of expert José L. Mounier: an extremely fine Torrontés, with a very pure varietal expression, full of rose, honey and flower aromas.
Nor should we pass over the chance to try the wines of Humanao, a small winery located at Molinos –not very far from Colomé– which remains faithful to traditional methods and organic viticulture in order to extract the best potential from an old vineyard of a scant seven hectares.
Finally, located near Cafayate is El Esteco, one of the valley's principal wineries, built on the old installations of the former Michel Torino premises. El Esteco boasts a wide range of wines, yet probably its star attraction is the Patios de Cafayate hotel, run today by the Starwood chain in buildings that once formed part of the estate property. This is undoubtedly an excellent "refuge" for those who venture forth to visit the world's highest vineyards.
Recommended articles
Comments