Trump, Jeffersonian Inspiration and Making Wine Great Again.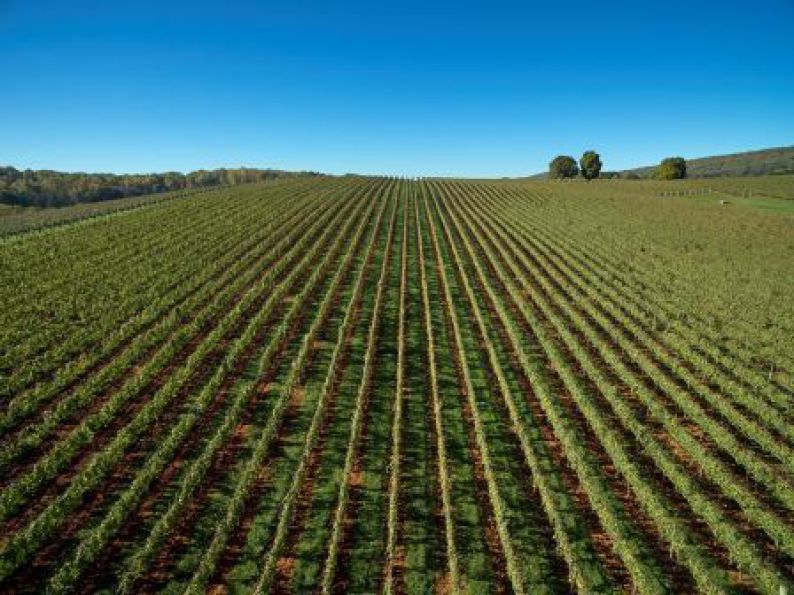 Thomas Jefferson, a founding father and the third President of the USA, said, "By making this wine vine known to the public, I have rendered my country as great a service as if I had enabled it to pay back the national debt." (He did the first but couldn't manage the latter. Not a good money manager, his personal debt upon death amounted to approximately $2 million in today's coin.)
Just over two hundred years later, presidential candidate Donald Trump told The Washington Post he can pay down the $19 trillion US national debt in eight years. (Though he has never filed for personal bankruptcy, his casino businesses have filed four times via a restructuring mechanism in the bankruptcy law.)
Debt isn't the only subject that binds these political figures. So is wine.
More specifically, vineyards in Virginia tie them together. In fact, Trump Winery is just seven miles down the road from Monticello, Jefferson's historic mansion and plantation. Yet, while Jefferson was a wine-loving bon vivant, Trump has never consumed a glass of the stuff. Moreover, he now doesn't even own Trump Winery.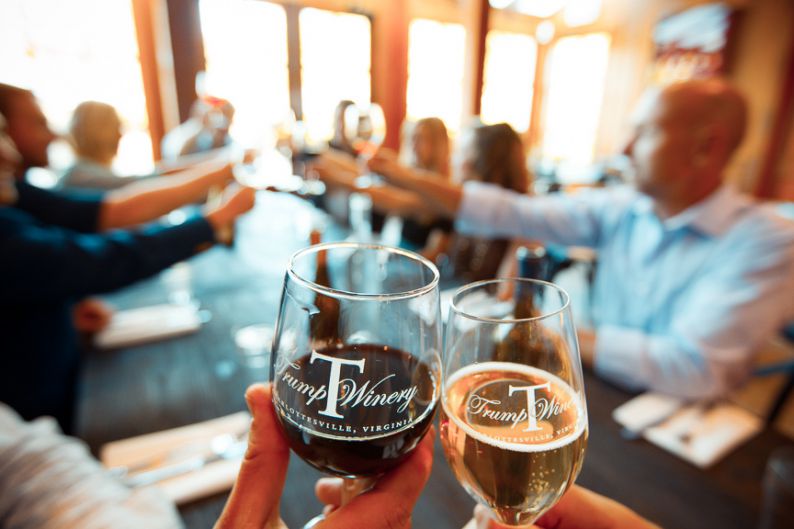 When The Donald purchased the winery in 2011 (coincidentally, out the bankruptcy of the founding Kluge Estate), he turned it over to his son, Eric. At the very bottom of the long "Legal" page of TrumpWinery.com is this: "Trump Winery is a registered trade name of Eric Trump Wine Manufacturing LLC, which is not owned, managed or affiliated with Donald J. Trump, The Trump Organization or any of their affiliates."
Whether or not he's tasted any himself, what might you expect from a sip of Trump Winery's vines and wines? I made a quick visit on a recent, rainy Sunday afternoon.
Trump Winery is in the Monticello American Viticultural Area, or AVA. Here in northern Virginia, two-and-a-half hours southwest of the nation's capital, is the "Birthplace of American Wine". Today, Virginia is the fifth largest wine producing state in the Union.
The bright red, dense and slippery clay soil impressed me as I arrived. Given Merlot's affection for such terroir, I wasn't surprised to find it grown there. The other Bordeaux varieties also are planted along with Pinot Noir, Chardonay, Sauvignon Blanc and Viognier, which is arguably one of Virginia's premier grapes. Heat and humidity pose challenges to growing top quality grapes here, and in my limited experience with Virginia vitis vinifera wines, vintages vary tremendously.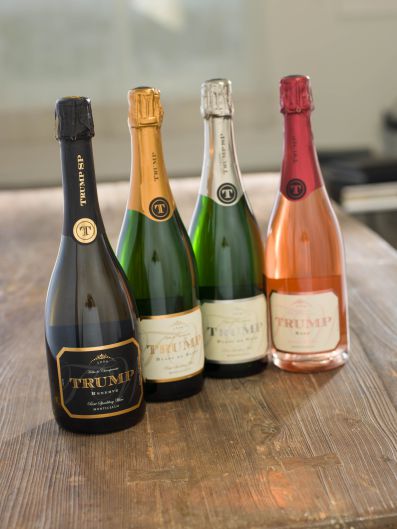 Regardless the vintage (several of different wines were available in the tasting room), I generally can say the wines are moderately concentrated, noticeably light in flavor and fast on their finishes.
The most interesting was the first, the 2009 Sparkling Blanc de Blanc made entirely of Chardonnay. Still, its distinctly tart acidity was accentuated by the less than 10 grams per liter of residual sugar, making the wine feel disjointed. I wasn't compelled to buy a bottle, but I was highly impressed by its gentle, $26 price tag. Made in the metodo classico style, it spent 36 months on the lees. This wasn't an inexpensive wine to make and age so long before release.
I might have been more inclined to buy a $24 bottle of the 2014 Pinot Noir. With a bit of chill – despite the already papery tannins at room temperature, its red cherries and licorice tones would have worked well enough with a casual lunch on the tasting room's patio, surrounded by bucolic, rolling hills.
Back in the tasting room, a shelf of "Make America Great Again" baseball caps jolted me and my companion back to reality. They prompted him to quip, "Make these wines great again." I agreed. The Kluge wines I used to buy for restaurants when I was the National Wine Director for Smith & Wollensky Restaurant Group were always rather enjoyable.
If you can't make it to the winery, you could sign-up for one of the several wine clubs "to experience the unparalleled Trump lifestyle." However, if you are nearby, I urge you to travel a bit further down the road to Blenheim Winery, singer-songwriter Dave Matthews' winery. I'll gladly drink a glass or two of any of their wines on show.
Recommended articles
Comments