Pablo Álvarez: "Ribera is an infant compared to Rioja"
He is CEO of Vega Sicilia and the other excellent wineries in the Group, as well as being a member of the owning family. With the market release of Macan 09 (the chosen one - born to reign!), he admits to having a penchant for some 60's style Riojas. Macan is the new Rioja produced by Vega Sicilia and Benjamin de Rothschild. Two great names riding out together.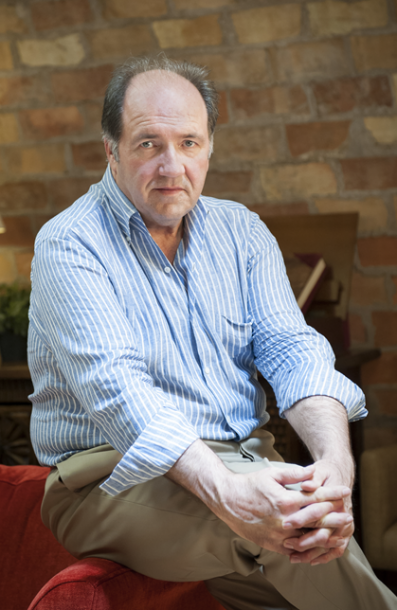 Pablo Álvarez, CEO of Vega SiciliaMonths before the market release of the long awaited Macan 2009, the first Rioja from Vega Sicilia, the entire production of around 80,000 bottles had already been allocated. Pablo Alvarez is happy to have realized his wine dream, which he openly admits is Rioja.
Did it need the Rothschild name to embark on this dream?
"Not really. Initially we wanted to go it alone but when we met and Benjamin de Rothschild also expressed a desire to do something in Rioja, we decided that we could do it together."
The idea had been around for a while, hadn't it?
"We'd been buying vineyards for around 12 years but nobody knew we were behind it until 2009. We did it very gradually. Most of the vineyards were purchased in San Vicente de la Sonsierra, known for its excellent growers. The criteria we used for the selection of the vineyards was that the vines had to be 35 years old and low production clones, and the soil of course ... We still have to buy 5 to 10 hectares because we want to be producing around 3,000,000 kilos in a few years' time. We've also purchased another 35 hectares of clean soil to plant vines a little nearer Laguardia. We want to create a rotation in the vineyards so that we have 85 hectares in permanent production and another 35,000 resting."
This long process also entails a complete design of the wine, the concept, vineyards, winery and so on ... how have you assigned the roles?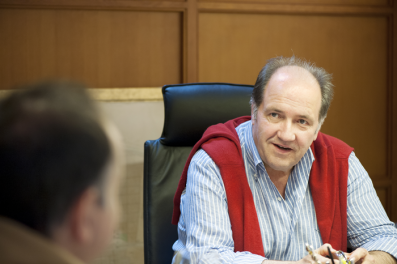 Pablo Álvarez, CEO of Vega Sicilia"We handle the technical management. We named the wine after the inhabitants of San Vicente de la Sonsierra who have always been known as "Macanes". We're currently renting a winery for ourselves, a tiny bodega that was closed but which was fairly modern. We can only handle 120,000 kilos of grapes there, we're very restricted in terms of space. The concept of our Macan is pure Bordeaux style, with a first and a second wine. We produce everything in the same way, without separation right from the start, 14 batches in 10,000 kilo tanks. At the end of the ageing process we determine what will go into Macan and what will become the second wine, Macan Clásico. There'll always be a bigger production of the first wine, but obviously as we've no history to go on, we'll have to see how it goes"
Luxury brand, affordable price
Interestingly, Porsche have brought out a new model which they've named "Macan". We don't know why they chose the name, but when great brands converge, it can only be positive. Porsche, Rothschild and Vega Sicilia,.... But don't worry, the prices for the Macan in bottle bear no resemblance to those of the four-wheeled one. The ex-cellars price for Macan is around 23 euros and the Macan Clásico is around 12 euros. Plus, of course, the inevitable VAT on both, ...
I imagine that you will build your own winery... Where and when? Using a high profile architect?
"The design has been approved. It's a simple but nice design by a Spanish architect with a foreign sounding name, Enrique Johansson de Terry. We liked him best after we ran a mini design concept contest, private, of course, as we were the ones making the decisions. We're trying to get the vinification facility ready for next year's crop. Now that there is not a lot of construction work going on in Spain, it's perfectly feasible. The rest of the winery will come later. We've already produced ​​five vintages in the rented winery and, as I mentioned, were restricted by capacity. We chose the Samaniego site in Rioja Alaves for the winery because we liked its location just below the beautiful Sierra de Cantabria".
How have the Rioja wine companies reacted to the arrival of two big names such as Vega Sicilia and Château Lafite?
"Apart from those who get worked up about everything ... they're happy ... Any famous brand coming to an area is good for everyone"
How would you describe your new Riojan baby, Macan?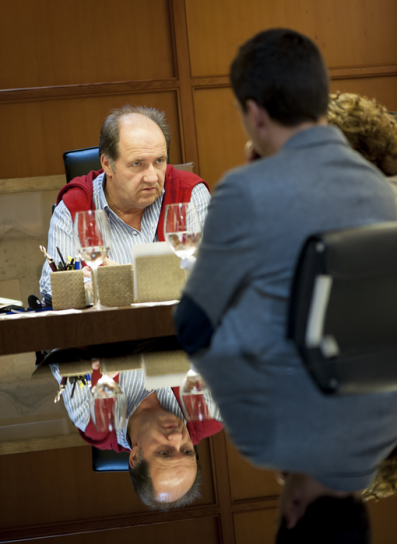 Interview with Pablo Álvarez, CEO of Vega Sicilia"It's a completely different wine. We don't like the style that Rioja has adopted in the last 30 years, lots of oak and long aging, nor do we like the latest examples of Rioja produced to a very international style in the vast majority, although they're great quality. I remember the wines from the 50's and 60's like the great Vina Reales from the CVNE or the wines from Marqués de Murrieta and Marqués de Riscal. That's what we must recover. There are wineries which work this way. Each Rioja area must rediscover its own personality, compared to the other areas and compared to other wines from around the world. In my humble opinion, if we want to maintain supremacy in the world, this is the way forward, not only for Rioja but for Spain and Europe. Rioja is about different climates, soils and very different styles. Apart from those who have been producing wine from grapes from a determined area, the identity has been lost because there's been a lot of mixing together of grapes from different areas."
You seem more excited about your new baby than your previous ones ...
"No, no ... it's just that I really like Rioja. It's Spain's greatest wine region by far .... And for any reasons. You can make great wines in Ribera too but it's an infant compared to Rioja. Ribera is an administrative, not a traditional, region. It has a history of rosé wines. Vega Sicilia was the only winery in Ribera for 70 years, specifically from 1864 up until 1927, when Protos appeared."
The great white hope
Now that you're in Rioja, will you embark on the production of a great white wine? I know you like whites,....
"Well, yes I do... maybe ... we've now got some white in Rioja, Viura, which we're selling to Muga. We tried to buy a bodega in Jerez about five years ago, the Maestro Sierra bodega, but the owner wouldn't sell. We offered to buy it and retain Doña Pilar. We'd seen some very special vineyards we wanted to buy, as well as a beautiful project, but it didn't come off ..."
As a native of Jerez, I'm sorry to hear that…
While it might seem that we are talking in Rioja, the interview is in fact taking place at Vega Siclia and Pablo Alvarez kindly takes the time to show us around the new production facilities: "Most people think that these old cellars never change, that they always stay the same, but we're constantly renovating them. This third production facility, the cooperage, the old store houses ... everything has changed "
We go into a spectacular, semicircular facility where aesthetics and technological efficiency go hand in hand. Clean, curved lines, lovely design and a harmony of wood and steel.
"This new facility is triple the size of the previous one, but handles the same volume of grapes. We now have 80 tanks here. Many tanks for the many vineyard plots, 6,000 and 8,000 kilos… we want each batch to be managed differently and instead of working 15 or 18 batches as we used to, we now handle 50. Every batch ages separately until the final blend which is what this facility has been built for. We have 6 cold rooms of 8,000 kilos. We pick a maximum of 50 tons a day - 370.000 kilos in the biggest year. The trays never touch the ground. We don't tip the grapes and they come in from the vineyards on pallets. We don't shake them up . Two forklifts take them to the cold storage rooms until the following day. We reduce the temperature by four or five degrees to enable pre-fermentation maceration for a few days. We start in Pintia because it's a more "rustic" area, and although Ribero isn't so much, we believe that more fruit and fruity aroma is extracted this way. That's the idea. There's a double sorting belt to remove the remaining leaves and twigs after stripping. The grapes are entirely de-stalked".
Oak ceilings, constant temperature, 17°C and 70% humidity so that the wood is well preserved ... "We were thinking of using concrete but no one could guarantee that we wouldn't get micro-fissures, which could cause contamination. So in the end, we commissioned these vats which, as well as temperature control, have an insulation system so that they work with the same thermal inertia that concrete produces. Each vat even has an earth wire, something to do with electrical charges, .. I'm not sure what exactly ... it's a bit over my head..."
Do you know how much each of these vats cost?
"I don't remember how much each one is worth but I calculated that it was about the same cost as using two new barrels for each wine"
Any search for excellence involves recycling and Vega Sicilia uses a considerable amount of noble wood. "We replace all wooden vats after five years. We use the old vats for conservation, for vinified wines, and when we no longer have a use for them, we turn them into cases for double magnums. We also sell some to Domaine de Chevalier, Graves Grand Cru Classé. They're only five years old but nobody in Spain will buy them."
Despite their brand new cooperage, the Vega Sicilia group is the French cooperage, Radoux's, biggest customer as it buys 3,000 barrels per year for all its wineries. We walk through piles and piles of perfectly aligned oak, which are "ageing" in the open air for two and half years before spending another 18 months under cover – a total of four years before being brought into the cooperage and turned into staves. Pablo tells me, "these ones come in green from Ohio. We dry them." Work in Vega Sicilia's super modern cooperage continues to be carried out in the traditional way, under the experienced eye of master cooper, José Enrique. Toasting the barrels with oak wood....
"Oh, don't forget to mention that we've got 200,000 oak trees planted"
Recommended articles
Comments