Oeno to sell 30-litre Boerl & Kroff 1995 Champagne for £173K
Fine wine investment firm Oeno is to sell a recently acquired 30-litre bottle of the 1995 vintage of hyper exclusive Champagne brand Boerl & Kroff for £173,000.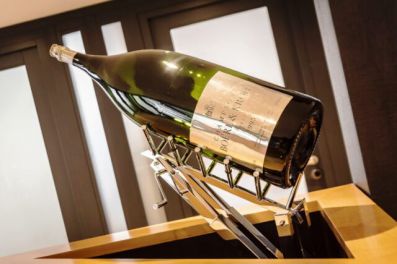 This 30l bottle, known as a Melchizedek, is one of just four produced by the house from the 1995 vintage, making it one of the rarest Champagnes on the market. The fizz is made up of 90% Pinot Noir, 7% Chardonnay and 3% Pinot Meunier. The bottle up for sale was disgorged in 2012.
Oeno is offering the Champagne, which comes with its own stand, at a selling price of £173,000, and the firm is anticipating a high level of interest in the trophy wine.
"The juices come exclusively from the first press and flow naturally, without pumping. This process allows us to use a very low quantity of sulphites and a very natural vinification," a spokesperson for Boerl & Kroff said.
Oeno recently partnered with Boerl & Kroff as the Champagne house's exclusive UK importer.
"There are only four bottles in the world of this 1995 vintage in this very large format, so it's unique," Boerl & Kroff's CEO, Stéphane Sésé, said.
"There are no more wines available from the 1995 vintage. It would be amazing to celebrate a special wedding or party with this bottle – you can serve up to 350 Champagne glasses from this one bottle alone.
"There is even a special machine to serve it because it's so big. The reason we created this is because we pride ourselves on doing something no one else dares to do, partnering with the finest craftsmen and artisans we can find," Sésé added.
The bottle cost €4,000 to create at a glass-blowing facility in Italy where the kiln was left constantly running to maintain the high temperatures required to make it. Due to its size, the bottle is housed in a reinforced box to prevent damage from vibrations when in transit.
Information from The Drinks Business
Recommended articles
Comments